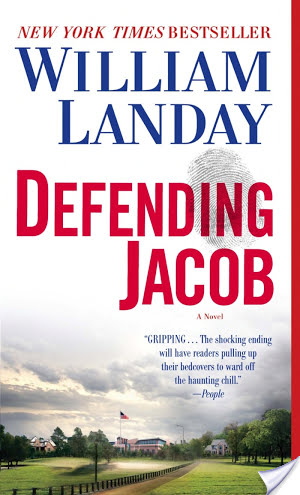 Defending Jacob

by William Landay
Published by Dell Books on 2013
Genres: Fiction, Psychological, Thrillers, General, Legal
Pages: 476
Format: Audiobook
Buy on Amazon
Goodreads


The quiet suburban town of Newton, Massachusetts is shaken when 14-year-old Ben Rifkin is found stabbed to death in a local park. Assistant district attorney Andy Barber is on the case, until it is revealed that his 14-year-old son Jacob Barber is the main suspect. The book mostly follows the Barber family in crisis mode during the Rifkin case, but the text is also interspersed with Andy's grand jury testimony that takes place six months after Jacob's trial. The context of the grand jury proceedings is a mystery until the end.
The story is told from Andy Barber's point of view. Despite having his name in the title, Jacob Barber is actually the character we know the least about. It was interesting to read the societal and psychological impact of the accusations on the family of the accused. Throughout the book Andy remains steadfast in his belief of his son's innocence and displays extreme loyalty to his son. He refuses to even consider that his young son might be capable of such a horrific crime and goes to great lengths to avoid confronting those thoughts. His wife Laurie is more conflicted, especially after learning about Andy's secret family history. Defending Jacob is a light read, but it asks many serious questions. How well do you know your family? How far would you go to protect your children? What is your moral responsibility to society? Are some people biologically compelled to kill? Are our personalities and actions shaped by genetic predispositions or the environment in which we were raised (nature vs. nurture)? It also made me reflect on the impact of our digital footprint.
The author William Landay was an assistant district attorney in Massachusetts for seven years and his experience really shines through in Andy Barber's voice. It is a fast-paced book. At one point I looked at the clock and 4 hours had gone by like nothing! The last thirty minutes of the book are what really elevated this from "liked" to "really liked." View Spoiler »Two major developments happen in the end, one that I assumed would happen and the very last one which shocked me! (And even though everything was obviously already set in stone, I was trying to telepathically communicate with Hope: "NOOOOOOOOOOOOOOOOOOOO!") « Hide Spoiler
Grover Gardner narrated this audiobook. He did such a fantastic job that I will be seeking out more of his work, regardless of author! His voice was perfect for Andy Barber (the bulk of the work) and his voices for the other characters integrated flawlessly.
This book is a page turner and perfect for a rainy Saturday afternoon. If you are someone who can watch Law & Order for 12 hours in a row, I think you will like this book! Some of the themes reminded me of The Dinner by Herman Koch, although it is a different story with completely different parents!
Related Posts