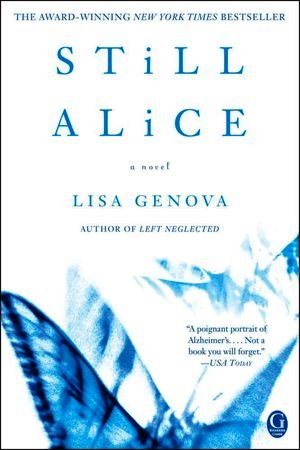 Still Alice

by Lisa Genova
Published by Simon and Schuster on August 5th 2010
Genres: Fiction, General
Pages: 336
Format: eBook
Buy on Amazon
Goodreads


"Even then, more than a year earlier, there were neurons in her head, not far from her ears, that were being strangled to death, too quietly for her to hear them. Some would argue that things were going so insidiously wrong that the neurons themselves initiated events that would lead to their own destruction. Whether it was molecular murder or cellular suicide, they were unable to warn her of what was happening before they died."
Still Alice is the psychological portrait of Alice Howland, a successful and brilliant cognitive psychology professor at Harvard. At 50 years of age, Alice is diagnosed with early-onset Alzheimer's disease. Early-onset Alzheimer's affects approximately 200,000 in the United States and can produce symptoms in people as young as 30.
The narrator tells the story from Alice's perspective. We follow Alice's life from September 2003 to September 2005, each chapter representing a month. It covers a full spectrum of topics: the anxiety of realizing something is wrong, the denial, the frequent testing and the struggles of managing life after diagnosis. In the first chapter, Alice is running her usual route through Harvard Square when she suddenly can't remember how to get home. She recognizes the landmarks, but she can't piece it all together and comprehend a way forward. The moment was fleeting, but absolutely terrifying. After diagnosis, it is heartbreaking when Alice realizes that her time left as "herself" is limited and how her priorities have changed due to this new awareness. The author makes you feel so happy for Alice when she has a minor success and then pulls the rug out from under you a few paragraphs later. The highs and lows are part of the disease and the high points slowly get overtaken by the low points.
While the story was predominately about Alice and not the family, the author also showed how each family member deals with the situation differently. Her husband's portrayal can seem a little unsympathetic, but I can understand the frustrations of seeing someone you love deteriorate before your eyes and having a difficult time witnessing it. View Spoiler »Still, it was disappointing to see how much he left Alice alone and his decision at the end (even though it may have been the rational one). In a way he treated her like she was already gone and Alice felt that. I can't help to think that things would have been different, if it had been the other way around. « Hide Spoiler
"The words, the information, the meaning in the woman's questions and in Alice's own answers were like soap bubbles, the kind children blew out of those little plastic wands, on a windy day. They drifted away from her quickly and in dizzying directions, requiring enormous strain and concentration to track. And even if she managed to actually hold a number of them in her sight for some promising duration, it was invariably too soon that pop! they were gone, burst without obvious cause into oblivion, as if they'd never existed."
The author Lisa Genova graduated from Harvard with a Ph.D in neuroscience and obviously has an enormous amount of passion for her subject. She writes Alice's story with compassion and empathy. There are only a few info dumps where you could hear the voice of the Ph.D author, a couple of which made it seem like the whole book was an extended pamphlet for Dementia Advocacy and Support Network International. Great organization, but I think the references could have been integrated more naturally and the web addresses could have been included in the postscript instead of dialogue. These instances are disrupt the flow, but do not overwhelm Alice's story.
Still Alice is one of the most terrifying books I have ever read. We've all had instances where the word we want to use is at the tip of our tongue, but remains just outside of our mental grasp. Most of us have been in the situation where we go to a room with a specific goal, but have forgotten that goal by the time we arrive at the entryway. The memory usually comes back later, sometimes within seconds. But what if those brief memory lapses were a sign of something insidious lurking deep in the recesses of the brain? What if those memory lapses started taking over your life? What if your memories were permanently destroyed, one by one? What if the destruction of memories wasn't limited to the mundane, but also affected your most precious memories and threatened to destroy your connection to your loved ones? Who are we without our memories?
"I often fear tomorrow. What if I wake up and don't know who my husband is? What if I don't know where I am or recognize myself in the mirror? When will I no longer be me? Is the part of my brain that's responsible for my unique 'me-ness' vulnerable to this disease? Or is my identity something that transcends neurons, proteins, and defective molecules of DNA? Is my soul and spirit immune to the ravages of Alzheimer's? I believe it is."
The book also mentions genetic testing. I am not sure what I would want! It is such a difficult situation. The situation gets more murky if you want to start a family. Would you still have biological children if they had a 50% chance of getting an Alzheimer's gene?
"My yesterdays are disappearing, and my tomorrows are uncertain, so what do I live for? I live for each day. I live in the moment. Some tomorrow soon, I'll forget that I stood before you and gave this speech. But just because I'll forget it some tomorrow doesn't mean that I didn't live every second of it today. I will forget today, but that doesn't mean that today didn't matter."
This is a must read for caretakers and family members of those with dementia. Still Alice gave me greater insight into the mind of someone with dementia. It is so easy to get frustrated with someone who can't think as fast as you do or is not able to operate within their previous set of capabilities, but it is frustrating, alienating and scary for them too! There were a few mentions about how on good days people might assume there is nothing wrong or maybe the bad days were just dramatics. I hear this from people with auto-immune disorders as well. This book explains that while there are good days, the disease is still lurking, barely submerged and waiting to attack again. I also have a better grasp on the importance of funding for Alzheimer's research.
I am a total sucker for medical fiction and non-fiction and I think this was a really good and thoughtful book. If you like this book, you might also like Brain on Fire or Me Before You.
Related Posts