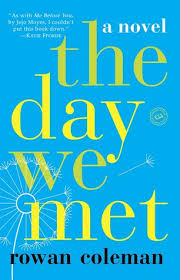 The Day We Met

by Rowan Coleman
Published by Random House Publishing Group on March 31st 2015
Genres: Fiction, Contemporary Women, Family Life, Romance, Contemporary
Pages: 352
Format: Paperback
Buy on Amazon
Goodreads


Free-spirited Claire Armstrong is diagnosed with early onset Alzheimer's Disease when she is 43 years old. Her mom Ruth moves into Claire's house to help watch over her and Claire is increasingly frustrated as her slow memory deterioration causes her to lose her independence. During one of Claire's escapes, she meets a handsome stranger and she begins to question her relationship with her husband Greg, who she has already begun to forget. Claire's 21-year-old daughter Caitlyn returns home from college with secrets and conflicts of her own.
The story is told from the alternating first person perspectives of Claire and Caitlyn.To help Claire deal with her diagnosis and preserve some of her memories for her daughters, especially 3-year-old Esther, her husband gives her a journal to record her memories. The entire family ends up attaching souvenirs and writing memories about Claire. The process is deeply cathartic for them. Entries from the memory book are interspersed throughout the book, including entries from Ruth and Greg.
It is impossible for me to review this book without comparing it to Still Alice, which I loved. An educator in a relevant field struck with early onset Alzheimer's Disease. Alice and Claire both have nonconformist daughters who are forced to "mature" when their mother is diagnosed with a terminal disease. Both women end up lost in their hometown in the very beginning. Love endures is the main theme. Introducing a character named Alice at the end didn't help break the connection either! At times I thought, "Haven't I read this before?"
This book could have benefited from introducing us to Claire before her diagnosis. We get see snippets of pre-AD Claire through the memory book, but those instances are through a nostalgic lens. I was mostly interested in the relationships between Claire and her family, but the book was dominated by Caitlyn's side plot. Most of the parts that annoyed me involved Caitlyn's story: Claire's convenient lucidity to move the plot forward, Caitlyn's convenient meeting with the perfect boy and a climatic confrontation at the professor's home that was a little too absurd and unrealistic for me. The author really tried too cram in too many conflicts into this book, when Claire's story was interesting enough on its own.
View Spoiler »I suspected Ryan's true identity, but she had such a visceral negative reaction to Greg inside the house. I wasn't sure if it was realistic for her to consistently recognize him as a completely different person outside the house. « Hide Spoiler Brains are weird! Even though it was sweet, the ending was a little too tidy. All the characters sounded the same.
I did like the memory book concept. The closeness of the family and the relationships between the individual family members were the parts that interested me most. Claire's desperation to have a friend that still sees her as herself and not a mentally ill person rang true, as did her worries about her daughter's futures and her fears that her three year old daughter Esther would forget her. As Claire's mental abilities regressed, her relationship with Esther was especially interesting. There was a poignant moment where Claire could not read a book to Esther and Esther had to explain the story to her instead. Greg's last entry in the memory book is heartbreaking. I wish we could have seen more from his perspective, because we could really see him struggling in the background.
Despite the subject matter, this book mostly has the same light mood as The Rosie Project, Big Little Lies or One Plus One. This book doesn't pack quite the same emotional punch as Still Alice or Me Before You, but I do see the appeal. Readers of Liane Moriarty and Jojo Moyes may enjoy this book.
Related Posts