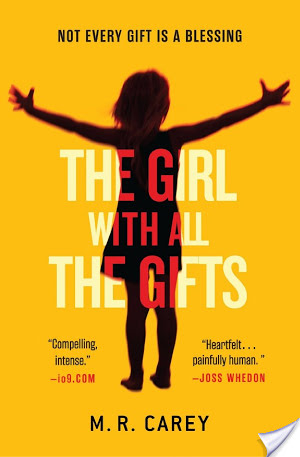 The Girl With All the Gifts

by M. R. Carey
Published by Orbit on June 10th 2014
Genres: Fiction, Science Fiction, Apocalyptic & Post-Apocalyptic, Dystopian, Action & Adventure
Pages: 416
Format: Audiobook
Buy on Amazon
Goodreads


Melanie is a brilliant little girl who loves to learn. At first it seems that she is living away at boarding school, but it is soon revealed that her living quarters resemble a prison more than a dormitory. Sweet and gruesome. Tragic and hopeful. Do the ends justify the means? It is all the contrasting elements and moral conundrums that make The Girl With All the Gifts such a great story. It is best to go into this one completely spoiler-free.
You can't save people from the world. There's nowhere else to take them.
The beginning is wonderfully written! I love how the slow reveal of Melanie's situation was handled. Melanie is a total innocent born into a less than ideal circumstances. She has so much wonder and curiosity about the world around her and it is a joy to experience the world through her eyes. She always looks forward to class with her favorite teacher Miss Justineau. The heart of this book is really the pure love between Melanie and Miss Justineau. The story gets extremely gory at times, but it is balanced out by the sweetness of their relationship. They are so fiercely protective of each other. Melanie is very self-aware and voluntarily agrees to uncomfortable restraints to protect others.
She's lived in Plato's cave, staring at the shadows on the wall. Now she's been turned around to face the fire.
The road-trip portion is where the characters really develop and where we really get insight into the minds of Sergeant Parks, Private Gallagher and Dr. Caldwell. Melanie shows so much inner strength, despite being sheltered all of her life. Helen Justineau appears perfect through Melanie's eyes, but soon her true purpose at Melanie's school and her own dark secrets come to light. Sergeant Parks is a hardened soldier capable of great cruelty, but there is gentleness under his tough exterior. Private Gallagher is an inexperienced soldier who comes across as a little dopey, but he is humanized by his backstory and capability for empathy. By the end, I even understood the cold and seemingly evil Dr. Caldwell. Her motivations were sound, even though her methods were a little, um…barbaric.
View Spoiler »You should ask yourself … why you're so keen on thinking of me as the enemy. If I make a vaccine, it might cure people like Melanie, who already have a partial immunity to Ophiocordyceps. It would certainly prevent thousands upon thousands of other children from ending up the way she has. « Hide Spoiler Which weighs the most, Helen? Which will do the most good in the end? Your compassion, or my commitment to my work? Or could it be that you shout at me and disrespect me to stop yourself from having to ask questions like that? – Dr. Caldwell
The chapters are short. Sometimes I have trouble getting into books with short chapters + perspective changes, but I have a much easier time with it when the story runs continuously through each chapter. The world is well-built and the science View Spoiler »behind the society-collapsing epidemic « Hide Spoiler is fascinating. The stakes are high and the danger is real and lurking around every corner. The ending is perfectly contradictory, just like the rest of the book, both bleak and hopeful. View Spoiler » It's just not hopeful in the way one would expect! « Hide Spoiler
The author's writing style reminded me of Liane Moriarty. Part of it may have been that I just listened to [book:The Husband's Secret|17802724], which also alluded to the Pandora myth. But mostly it was the engaging and easy-to-read writing style, with a real knack for observing the complexities of human emotion and actions.
"Denial is a stage she goes through very quickly indeed, because her reason strikes down the demeaning, treacherous thought as quickly as it rises. There's no point in denying the truth when the truth is self-evident. There's no point in denying the truth even if you have to wade through thorn thickets and minefields to get to it. The truth is the truth, the only prize worth having. If you deny it, you're only showing that you're unworthy of it."
Finty Williams, Judi Dench's daughter, did a wonderful job reading this novel. My husband described it as Mary Poppins reading you a horror story. 😀 She really brought each character to life and her voice changes for the characters were subtle and effective. That is also a credit to the author, for giving each character a distinct voice.
The Girl With All The Gifts explores the deep need to survive, even in the worst of circumstances. It also asks if the ends justify the (highly unethical) means. It exposes the good and bad in every one of us and in every situation. The story did drag a little in the middle and I am not sure I completely understand the logistics of what led to Melanie's existence. View Spoiler »I am assuming the window for conception was very short « Hide Spoiler. I don't typically seek out View Spoiler »zombie « Hide Spoiler novels, but I adored this one. It really hit many of my favorite notes:
‣ Well-developed characters, whose destiny I cared about.
‣ Coming-of-age story where a child forms a parent-child relationship with a non-familial adult.
‣ Post-apocalyptic fiction + medical fiction.
‣ Difficult to answer moral questions. There is nothing I love more than a book that makes me feel deeply conflicted!
My husband and I both enjoyed listening to this book, so it suits a wide range of tastes. I highly recommend it! It was the winner of 2015 Audie in the paranormal category. If Matilda (relationship between a smart, sweet little girl and her teacher), Warm Bodies* View Spoiler »(high-functioning/low functioning zombies) « Hide Spoiler and Let the Right One In View Spoiler »(sweet and dangerous friendship between a human and a potential predator) « Hide Spoiler appealed to you, you'd probably like this novel.
"Growing up and growing old. Playing. Exploring. Like Pooh and Piglet. And then like the Famous Five. And then like Heidi and Anne of Green Gables. And then like Pandora, opening the great big box of the world and not being afraid, not even caring whether what's inside is good or bad. Because it's both. Everything is always both.
But you have to open it to find that out."
*Referring to movie, haven't read the book.
Related Posts