I received this book for free from Goodreads First Reads in exchange for an honest review. This does not affect my opinion of the book or the content of my review.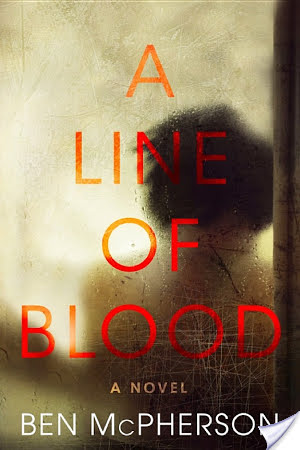 A Line of Blood

by Ben McPherson
Published by HarperCollins on September 29th 2015
Genres: Fiction, Thrillers, Suspense, Psychological, Mystery & Detective, General
Pages: 416
Format: Print ARC
Source: Goodreads First Reads
Goodreads


Solid suspense novel, about a family dealing with being under suspicion for their neighbor's mysterious death.
The truth was our enemy now; the truth would not set us free.
A Line of Blood centers around the Mercer family: Alex, Millicent and their eleven-year-old son Max. When the Mercer's cat wanders into the neighbor's house, Alex and Max stumble upon their neighbor dead in his bathtub. The scene initially appears to be a suicide, but the police soon begin to suspect foul play. There are many people who have a motive to kill the neighbor, including Alex and Millicent. The Mercer family begins to fall apart at the already loose seams, as they deal with the terrible incident and the suspicions that follow.
These people are AWFUL to each other! Alex and Millicent have a very damaged relationship. Sample conversation:
"Your cute and adorable son," [Alex] said, "thinks you're a bitch, by the way. It was hard to know what to say."
"A bitch?"
"A fucking bitch. Max's words."
My reaction to these type of things is usually more this, rather than this, so I was fascinated by this couple's relationship!
Their family dynamics are extremely dysfunctional and all of their conversations are built on half-truths and omissions. Max is always seeing and hearing things that he shouldn't. He is more aware of what is going on in his parent's marriage than they are most of the time! It is interesting how he processes all this information and the conclusions his eleven-year-old mind comes too about all these things he shouldn't know.
I thought about the rot in the floor-boards, now spreading from the bathroom to the bedroom, of the window frames that barely fitted, of the pathological mess of the life we lived: God, but the neglect of it. The house was tidy, now, but give it a week. Coming in through the front door, the neglect would be the first thing that hit you.
House, marriage, and child. She was going to leave you.
Had we neglected each other as we'd neglected the house? I didn't think so, but how do you know? Only the very naive believe that love is all you need; but the other stuff, the boundaries and the fights, the sex and the food? Hadn't we been good at that?
The book is really easy to read. It is dialogue-heavy, so it goes fast. It examines a child's awareness of the world around them and the damaging consequences of cynicism and living passively. I thought of the following books while I was reading (just based on tone), but I wouldn't click on these recommendations until you have read the book: View Spoiler »The Dinner and Defending Jacob. « Hide Spoiler