I received this book for free from Goodreads First Reads in exchange for an honest review. This does not affect my opinion of the book or the content of my review.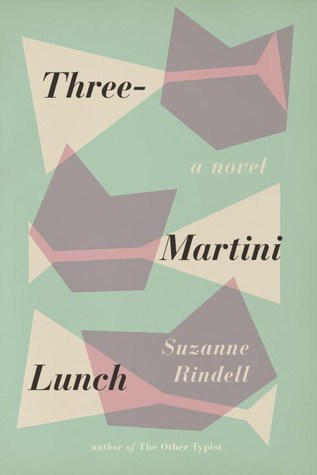 Three-Martini Lunch

by Suzanne Rindell
Published by Penguin on April 5th 2016
Genres: Fiction, Historical, Literary, Cultural Heritage
Pages: 480
Format: Print ARC
Source: Goodreads First Reads
Buy on Amazon
Goodreads


4.5 Stars. 1958, Greenwich Village: Three young people struggle to make it in the publishing industry while also wrestling with identity issues. Suzanne Rindell deftly juggles a wide range of issues: class, sexuality, racism, sexism, and anti-Semitism. I felt completely immersed in the setting. This book gave me so many emotions and I had a bit of a book hangover after finishing it!
"True bravery is rare."
James Magnuson says that this book "does for publishing what Mad Men did for advertising." That statement made me want to read this book and I was not disappointed! Three-Martini Lunch definitely appealed to the same part of my heart that is captivated by Mad Men. It has a similar atmosphere and the same deliberate pace. If you find Mad Men slowly-paced, you might find this book slow to start. For me, the time spent setting the scene made the experience more immersive. It felt a bit like time traveling! Rindell excels at giving the reader a sense of time and place. One of my favorite scenes regarding setting is in Chapter 40 when a character travels to San Francisco and describes it in contrast to New York City: "Manhattan is concrete and ambition, steam rising from a manhole in winter, a hot blast from a subway grate in summer. Its inner workings grind away at all hours, purring in the name of commerce."
It's a myth that people who live in cities are naturally more open-minded, more accepting and tolerant of difference. The truth is, whatever people are, be it saints or bigots, they simply are these things, and the city–by smashing all those different kinds of people up against one another–just makes it all that much more pronounced.
The title refers to the leisurely lunches that were popular with business executives in the 50s and 60s. ("two martinis, a little business, and a third to seal the deal.") It is 500 pages, but it is a quick read. The first half sets the stage. In the second half the plot shifts to full speed, especially the last 150 pages. I was torn between wanting to rush through pages to find out what happened and wanting to put the book down because I was dreading what seemed to be the inevitable conclusion! When Cliff and Miles discuss Miles's writing in Chapter 2, a sense of dread developed that lasted throughout the entire novel. I also felt really unsettled with Eden's relationship with her manipulative "mentor."
"We will always find one another, because-like all animals prowling this earth-we cannot bear to believe we are the only ones of our kind."
[…]
"I say this to you: Choose it, boy! Choose it before it chooses you. Because it will. You think there's a way it won't, that somehow there's a way to live your life so you won't ever catch its eye, but it will and you can't. So choose. Choose while you're young and you can believe in someone and can make it last a little while. That little while is the only eternity any of us mortals ever get to have. Don't let fate do the choosing for you; don't wait until you're old and desperate-and wretched, as my father declared, for he wasn't wrong-and you're left to fumble in terrible places and it's only your body . . . yes, only your body trying to prove to the soul that it's not alone, and failing time and time again."
The story alternates between three characters who hope to be successful in the publishing industry. The three characters cross paths in Greenwich Village, a place where being an artist comes before everything else. "Everybody felt like they were on the outside looking in all the time when really it was just that the hipster scene tended to turn everything inside out and the whole idea was that we were all outsiders together "
• Cliff Nelson has a difficult relationship with his father, a respected and well-known book editor. He is desperate for his father's approval. Cliff is mediocre in every way, but he has big dreams of becoming a writer. Unfortunately, he is more interested in the potential of fame and accolades than writing itself. "I got so caught up in my head writing imaginary drafts of the good reviews I was bound to receive, it made it difficult to write the actual novel." View Spoiler »There is a great scene that really sums up Cliff, where he is boxing while staring at himself in the mirror and he still comes out on top! « Hide Spoiler
• Eden Katz is a Jewish woman from the Midwest who dreams of being an editor one day, which she quickly discovers will be an uphill battle. Eden has to figure out what parts of herself she is willing to give up if she wants to succeed.
• Miles Tillman is a talented black writer from Harlem, but racism gives him less opportunity to succeed than someone like Cliff. He wants to live a life that makes his mother and his community proud, but in order to do that he has to deny a part of himself. Miles has to find a way to reconcile the vision of who he is supposed to be with the man he actually is. He ends up going on a quest to California to reconcile the image he has of his father with the man his father actually was, but it also becomes a journey of self-discovery. (I desperately wish the writing that resulted from this trip existed!)
"That's the funny thing about doubt." "What do you mean?" "It makes you feel rotten as hell. But if anyone bothered to think about it, it's a symptom of love. It means it matters to you. It's the brain questioning the wisdom of the heart. It doesn't mean the heart doesn't know better all along, it only means the brain doesn't understand how."
The book opens with Cliff, but we spend more time with Eden and Miles. Cliff is best in small doses anyway! He is the most aggravating character because he is narcissistic, entitled and is quick to rationalize his actions. He also has the most distinctive voice; it made me think back to Catcher in the Rye. Miles is the heart of the book. The results of Mile's quest become the central conflict between the three young people, in more ways than one.
"That's the thing about you rich people," Dolores continued. "You think you're too good to ever play second fiddle, and you can go on a hundred years pretending that's not the case! That's called arrogance, and it's like a bad tooth, only you rich folk are too hoity-toity to notice it in the mirror. At least down here when you got it, people take the trouble to knock it out of you."
All the characters in this book are struggling with identity: who they are versus who they want to be. Both Eden and Miles speak of becoming invisible in order to survive and the fracturing of self that comes with surviving adulthood. Cliff was the least reflective character and had the least amount of growth, but truthfully there was no reason for him to mature or be introspective. Society doesn't demand it of him. One of the themes is that people are complex, not all good or all bad. Eden and Miles are interesting characters because they aren't saints. They experience adversity, but they also make choices that betray themselves and others with tragic results. While I've been hard on Cliff, once I read his family history it was no wonder that he turned out the way he did. (He still made me angry though!)
…I felt a little mournful to think of things this way. It was a little like being at someone's funeral, and in a way I suppose I was mourning a version of myself that would never come to be.
This book made me feel so many emotions! I had a 'buzzed' feeling after finishing this book, almost like I had a three-martini lunch! ;D In the acknowledgments, Suzanne Rindell says this book was "born in large part from a desire to put several books in conversation with one another," followed by a list of books: On the Road, Giovanni's Room, Breakfast at Tiffany's, The Bell Jar, etc. I love that! This book is beautifully written and expertly plotted. I highly recommend it, especially for those that are interested in the time period.
(This last quote is not a spoiler, but it is the last line. I don't want to forget it!)
View Spoiler »


Memoirs are a tricky genre. It is a little-known secret: We are never the heroes of our own stories, unless we are lying.
If we choose to count ourselves among the brave, we write ourselves as the villains we are, hoping for redemption.

« Hide Spoiler
I won this uncorrected proof from the publisher via a Goodreads giveaway.
Related Posts