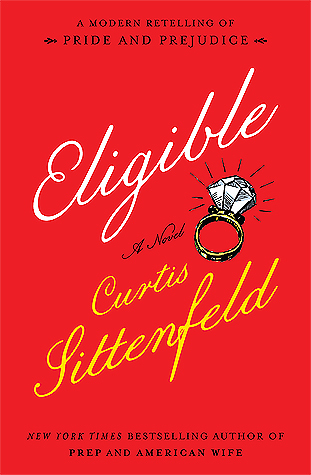 Eligible

by Curtis Sittenfeld
Published by Random House Publishing Group on April 19th 2016
Genres: Fiction, Literary, Contemporary Women, Family Life
Pages: 512
Format: eBook
Goodreads


The Bennets navigate modern life in this modern retelling of Pride & Prejudice. I feel like I have been using the words "heartbreaking" and "brutal" too much in my recent reviews, so this book was a nice break from darker topics. Eligible is a fun summer read! I've never read Pride & Prejudice, or even seen the movie, but I am going to assume there's less sex and crude language. 😉 I typically prefer my books about the wealthy to have lots of skeletons in the closet, but the dry humor made this book about engaging. I'm usually more likely to cry than laugh when reading, but I laughed a lot while reading this book. These people are completely ridiculous!
"They're in love." Mr. Bennet smiled wryly. "I suppose they are," he said. "But that's a condition that's acute, not chronic."
Jane and Elizabeth Bennet return home to Cincinnati, Ohio to assist their parents while their father recovers from heart surgery. During their stay at the Bennet estate, Elizabeth notices that the property is in a state of disrepair and discovers that her parents are close to bankruptcy. She does the best she can to help her stubborn family adjust to their new circumstances. Despite her own situation, Mrs. Bennet's main concern is getting her daughters married and taken care of, so she arranges for the sisters to attend a barbecue that will also be attended by Chip Bingley, a doctor and star of the most recent season of the dating reality show Eligible. Jane immediately hits it off with Chip, but Liz begins an antagonistic relationship with Chip's friend Fitzwilliam Darcy, a neurosurgeon.
"But don't you think the house is kind of a mess? And the yard, too?" Mr. Bennet sounded untroubled as he said, "Everything tends toward entropy, my dear. It's the second law of thermodynamics."
The book opens with a Mark Twain quote: "When the end of the world comes, I want to be in Cincinnati because it's always twenty years behind the times." That quote sets the scene perfectly! Eligible is almost 500 pages, but it is a fast read because the chapters are so short. There are 181 chapters and some of them are only a paragraph long. The book is told from Liz's point-of-view, except for the last chapter. I didn't immediately love the book, but the story really gets going after the barbecue. There was less romance than I expected; I completely forgot about Chip and Darcy when I first wrote the summary! The romantic conflicts that do arise are from miscommunication, assumptions, and withheld information. This would normally drive me crazy, but the book is written with such self-awareness that it won me over.
Time seemed, as it always does in adulthood after a particular stretch has concluded, no matter how ponderous or unpleasant the stretch was to endure, to have passed quickly indeed.
When I think of this book, I think mostly about family and the interactions between the unabashedly WASPy Bennets. A large part of the book deals with Liz attempting to help her family stand on their own two feet. The domestic drama had the potential to be boring, but the Sittenfeld's dry sense of humor and witty observations make it compulsively readable. The Bennets can be terrible people, some more than others (Mrs. Bennet and Lydia really are the worst). They are even awful to each other: "the Bennets' antipathy for one another was of such an intimate variety it was almost like affection." Even so, their family banter feels authentic. Each family member has a distinct personality (except for Kitty):
Mr. Bennet is very sarcastic and has essentially checked out of his marriage. He acts like he is above it all. He has the best lines in the novel!
Mrs. Bennet is extremely prejudiced (racist, anti-Semitic, transphobic, etc.) and has an online shopping addiction.
The oldest two sisters live in New York:
Jane (39) Yoga instructor who has not had much luck with relationships and desperately wants a child. She is very sweet and caring.
Elizabeth (38) Magazine writer in an unhealthy, secret relationship. In her family she is "a voice of reason amid a cacophony of foolishness" and the only Bennet sister who is entirely self-sufficient. She isn't perfect, but her willingness to learn and grow made me root for her.
The other three sisters live at the Bennet estate and show no signs of leaving:
Mary (30) is a professional student. She uses studying to limit her interactions with the rest of the family and she is unconcerned with finding a suitor. She leaves the house every Tuesday night to attend a secret activity.
Kitty (26) & Lydia (23) are crude and lack ambition. Kitty follows Lydia's lead. They are active Crossfitters.
Surely, if Liz had learned that anybody in her social circle in New York had eloped with someone transgender, she'd have greeted the news with support; she might even have felt that self-congratulatory pride that heterosexual white people are known to experience due to proximate diversity.
All of Mrs. Bennet's daughters end up in relationships and situations that do not meet her approval at one point or another. The supporting characters that Mrs. Bennet is so concerned about are the only normal people in the book, though that might be because we don't get to know them that well. Even Darcy, who was one of the only characters I could name beforehand, only appears sporadically. (I have to admit that even with short glimpses, I see the appeal!)
"A reality show isn't unlike the Nobel Peace Prize, then," Mr. Bennet said. "In that they both require nominations."
My favorite parts were those that involved the reality show, which was a brilliant way to show old customs in a modern light. It is funny when Liz, who has has been smug about her media-savviness the entire time, finally lets loose! I also liked that characters that weren't interested in being in relationships or having children didn't miraculously have a change of heart by the end. All the characters experience growth, even if it is just baby steps. Even Mrs. Bennet becomes the tiniest bit more open-minded, though she still manages to remain awful while doing so. I count it as progress because dealing with Mrs. Bennet types is like a 50 First Dates situation. It feels impossible to make progress that makes it through to morning!
Then she was in a different part of the club, and she and Kitty were dancing to a rap song they both knew all the words to, and Kitty was wearing a thin plastic headband with antennae off of which wobbled life-sized sparkly pink penises. How marvelous this headband was! Even more marvelously, Kitty pointed out that Liz was wearing an identical one. Truly, it was a magical night.
I'm not sure if Jane Austen fans will like this retelling, but an individual's reaction to the above passage might be a good indicator! 😀
This is the book I was hoping to read when I picked up Everybody Rise last year. Eligible lightheartedly pokes fun at contemporary life and those who have trouble acclimating to modern mores, while also providing an updated look at love and relationships. If you are looking for a silly summer read and enjoy books about dysfunctional families, this may be the one for you. I feel inspired to read Austen's Pride & Prejudice now, especially since Rosamund Pike is the audiobook narrator!
"There's a belief that to take care of someone else, or to let someone else take care of you—that both are inherently unfeminist. I don't agree. There's no shame in devoting yourself to another person, as long as he devotes himself to you in return."