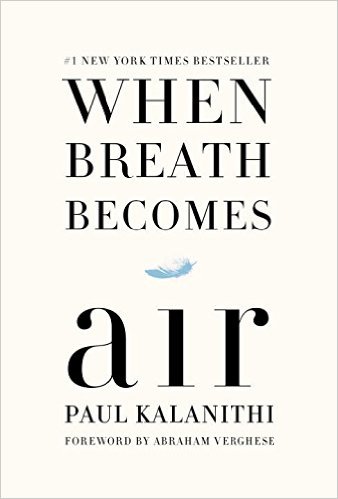 When Breath Becomes Air

by Paul Kalanithi
Published by Random House Publishing Group on January 12th 2016
Genres: Biography & Autobiography, Personal Memoirs, Medical, General, Social Science, Death & Dying
Pages: 256
Format: eBook
Buy on Amazon
Goodreads


A short and powerful memoir about living in the face of death.
At 36 years old, neurosurgeon Paul Kalanithi was diagnosed with stage IV lung cancer. When Breath Becomes Air was written in his final months. In this thoughtful and deeply personal memoir, Dr. Kalanithi explains the questions of life-and-death that drove him to become a neurosurgeon. Over the course of the book, he ponders the role of the doctor and what makes life meaningful enough to go on living.
The physician's duty is not to stave off death or return patients to their old lives, but to take into our arms a patient and family whose lives have disintegrated and work until they can stand back up and face, and make sense of, their own existence.
This is a one-sitting book. Not only is it short in pages, but it's also small in size and spacious in formatting. Dr. Kalanithi's love of language and literature is evident in his writing. The writing is poetic and he frequently references relevant passages from great books. When Breath Becomes Air is divided into two parts: Part 1: In Perfect Health I Begin and Part 2: Cease Not till Death. In Part 1, before his diagnosis, he reflects on his childhood, education, and career. He shares some of the pivotal moments in his life and we witness how seriously he takes his duty to his patients. In Part 2, after his diagnosis, he copes with becoming the patient after years of being the doctor. Always fascinated with the line between life and death, his philosophical questions suddenly become devastatingly relevant. At the end, there is an epilogue written by his wife Lucy. While most of the book is philosophical in nature, Lucy writes about the concrete details and the emotional impact of caring for Paul in his final months and of life after his passing. It is a beautiful testament to her husband.
I began to realize that coming in such close contact with my own mortality had changed both nothing and everything. Before my cancer was diagnosed, I knew that someday I would die, but I didn't know when. After the diagnosis, I knew that someday I would die, but I didn't know when. But now I knew it acutely. The problem wasn't really a scientific one. The fact of death is unsettling. Yet there is no other way to live.
While it had the potential to be completely depressing, it is more a celebration of life. There is no wallowing in grief, only the commitment to keep living: "until I actually die, I am still living." Despite the personal stakes, Dr. Kalanithi writes with surprising objectivity and rationality, almost detachment. It wasn't until Part 2, when his daughter was born, that I became emotional. After that point, it was extremely difficult to continue reading through my tears. Below is the last paragraph before the epilogue (skip if you need to), one of the most touching and heartbreaking things I have ever read:
(Directed to his infant daughter) When you come to one of the many moments in life where you must give an account of yourself, provide a ledger of what you have been, and done, and meant to the world, do not, I pray, discount that you filled a dying man's days with a sated joy, a joy unknown to me in all my prior years, a joy that does not hunger for more and more but rests, satisfied. In this time, right now, that is an enormous thing.
I admired Dr. Kalanithi's honesty, commitment to life-long learning, and for generously sharing his thought process from his final year. I desperately hoped for a different ending, even though I knew it wasn't possible. Intellectually I know that death happens every second of the day, and to everyone eventually, but it is still difficult to accept that such a thoughtful and vibrant mind could be gone from this earth. I wish he could know how deeply his book has affected so many people! I'm glad he wrote it and to know that it will be there when I need it most (hopefully not for a long time). This novel is relevant to everyone, because we are all living in the face of death. If you enjoyed Gilead by Marilynne Robinson, you will probably enjoy this book. I didn't enjoy Gilead when I read it, but I think I owe it a reread.
The earth is quickly turned over by worms, the processes of nature marching on, reminding me of what Paul saw and what I now carry deep in my bones, too: the inextricability of life and death, and the ability to cope, to find meaning despite this, because of this. What happened to Paul was tragic, but he was not a tragedy. (Lucy's Epilogue)