I received this book for free from First to Read, Penguin Random House in exchange for an honest review. This does not affect my opinion of the book or the content of my review.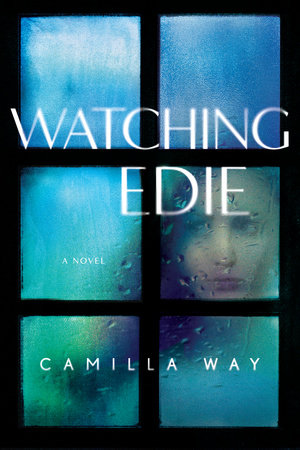 Watching Edie

by Camilla Way
Published by Penguin on August 2nd 2016
Genres: Fiction, Thrillers, Suspense, Psychological, Crime
Pages: 320
Source: First to Read, Penguin Random House
Buy on Amazon
Goodreads


A story revolving around an unhealthy friendship. The chapters alternate between Heather's perspective as a teenager and Edie's perspective as an adult. A traumatic event destroyed their friendship, but seventeen years later Heather reinserts herself into Edie's life.
"I'll look after you. Don't worry. I'll always look after you."
After (33 years old): Edie is shocked when Heather shows up at her door. The past trauma they shared comes rushing back to her. What could Heather possibly want after what happened between them? She quickly dismisses Heather, but Heather arrived in London at a vulnerable time in Edie's life. After Edie gives birth, she is hit hard by postpartum depression, which is further compounded by resurfacing memories. Heather seizes this opportunity to worm her way back into Edie's life and take control.
Before (16 years old): Heather zeroes in on Edie the moment she sees her. Heather has always been an outsider, even in her own family. She is different from her classmates and is constantly bullied. When she sees the beautiful new girl registering for school, she sees the chance to finally have a friend. Soon after their friendship develops, Edie becomes infatuated with an older boy, Connor. Heather is jealous when she sees her one chance at friendship begin to drift away. She sees it as her duty to protect Edie from Connor.
"You don't know, do you, when you're a kid, how hard it is being a grown-up? All you want is to be a grown-up too. I thought I'd be so much better at it than [my mom] was, and now that I am one, I realize how stupid that was."
Watching Edie reminded me of I Let You Go—not in the super twisty sense, but the writing style and the domestic drama/suspense split. I was more engaged with the Before chapters leading up to the mysterious event than I was with the After chapters that constantly allude to the event. The After chapters focus heavily on Edie's pregnancy and struggles with postpartum depression. Edie's PPD is empathetically handled, but I really wanted to get back to Heather! Edie occasionally thinks about the past, but she isn't able to tell the reader what happened that day since she isn't ready to deal with it.
Heather's creepy obsessiveness is the star of the Before chapters. Heather has strict parents who resent her for something that happened to her younger sister. They expect her to study hard and go to medical school. Heather's dedication to her schoolwork is pushed aside when Edie, a rebel and talented artist, becomes her main priority. Heather latches on to Edie at the first sign of affection and Edie relishes in the feeling of being idolized. Both girls showed a lot of promise in high school and I was desperate to know what happened to lead them to their sad present-day circumstances.
He never speaks about her, but you can somehow see the memory of her there still, in his eyes and his smile, the way they do remain a part of us, those people who have hurt us very deeply or whom we have hurt, never letting us go, not entirely.
I appreciated the evenness of the story. Forced romances are my least favorite part of suspense novels, but the potential for romance in this book was gradual and made sense. There were no moments that felt completely out of left field. The characters weren't overly memorable (especially the after version of Edie) and it was sometimes too easy to put down, but it did make me feel something. It was really sad in a way that I didn't expect! This story is s a good reminder that situations and relationships are sometimes more complex than they first appear. Recommended for those looking for a good book to read on a rainy day.