I received this book for free from First to Read, Penguin Random House in exchange for an honest review. This does not affect my opinion of the book or the content of my review.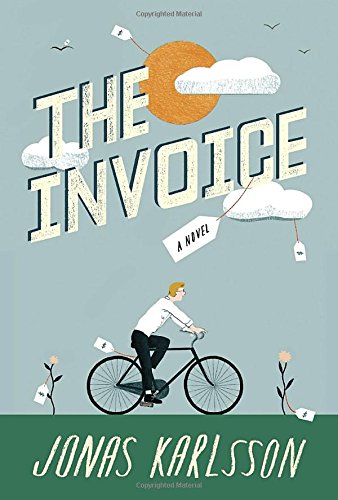 The Invoice

by Jonas Karlsson
Published by Crown/Archetype on July 12th 2016
Genres: Fiction, Literary, Satire, Absurdist, Psychological
Pages: 208
Format: Electronic ARC
Source: First to Read, Penguin Random House
Buy on Amazon
Goodreads


It didn't stir any strong emotions in me, but it was an extremely quick read.
A part-time employee at a video shop receives an invoice for 5,700,000 kronor (≃671,635 US Dollars) from World Resources Distribution. Surely it must be a mistake, so he calls the company to inquire about the absurd bill. WRD informs him that it is the debt he owes based on his 'Experienced Happiness' score (E.H.). Every attempt he makes to lower the score just makes the situation worse! There is nothing special about his life; he works a low-paying job, doesn't have many possessions, has a very small social circle, and spends most of his time at home. How did such an unambitious person with an ordinary life get such a large bill? How is he going to get out of this situation that he can't afford?
Life was just so good, somehow. It was perfectly natural that it should be expensive.
It was a very easy read! There are few words per page and it's filled with dialogue. It's a little over 200 pages and took me about 2 hours to read. (The audiobook is 3 hours and 28 minutes.) It felt like a magazine article converted into a fictional story. I think I would have enjoyed it more as a short story or if the story and characters were more fleshed out. Not everything about the premise and the agency made sense to me, so it required some suspension of disbelief. I did enjoy the over-the-phone relationship that develops between the unnamed protagonist and a representative for WRD, as well as the details about the interior workings of the bureaucratic agency.
"Think about it like this: when you go to the cinema— one day you might see a comedy, the next a tear-jerker. The experience isn't any the less valid as a result. It all gives E. H. points, you see. You know as well as I do that pain isn't a universally negative emotion, don't you?" I said nothing. "We wouldn't want to eat nothing but sweet things . . . just as little as we'd want to avoid all adversity. In fact, there has to be a degree of adversity for us to appreciate our blessings."
The Invoice is 100% about the message. It explores that nature of happiness and the life-enriching value of enjoying the little things and going with the flow. Happiness doesn't always come from the places one would think and it's impossible to make comparisons based on outward appearances. A successful life comes in many forms.
The writing style and the emphasis on message reminded me of Hector and the Search For Happiness. It's charming and the end was very sweet, but it didn't do much for me on an emotional level. I bounced between 2 and 3 stars, but in the end I felt it was just okay. It would work really well as a light-hearted read between emotionally difficult books or while traveling.
Related Posts