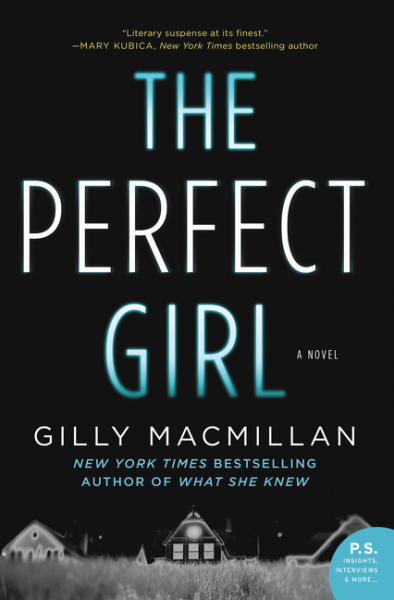 The Perfect Girl

by Gilly Macmillan
Published by William Morrow Paperbacks on September 6th 2016
Pages: 464
Format: Print ARC
Source: LibraryThing Early Reviewers
Buy on Amazon
Goodreads


Zoe Guerin is a musical prodigy with a genius IQ. Her dreams of success were shattered the night she was involved in a tragic accident that resulted in the death of three classmates. Zoe was convicted in their deaths and spent eighteen months in jail. At seventeen she has served her time and her mother Maria plans the perfect comeback–a piano recital. They live in a new community now and no one knows about Zoe's past. The plans for redemption come to a halt when the father of one of Zoe's victims storms in and confronts her in front of the entire crowd. Zoe and her mother flee the scene and wait for Zoe's stepfather Chris to return home. Chris was never told of Zoe's past run-in with the law and the unexpected reveal threatens to destroy their second chance at life. Chris is angry about all the lies and Maria sees her life slipping away again. The family never has a chance to heal, because Maria is found dead six hours later. Who killed Zoe's mother and why? Was Zoe actually guilty of killing her three classmates or was she betrayed by an imperfect legal system?
The best lies are those that are the closest to the truth.
I really liked What She Knew, so I was thrilled when I won this one! The Perfect Girl didn't even feel like the same author to me, so I don't think a reader's opinion of Macmillan's previous novel is any indicator of whether they will like this one or not. On a very basic level, it reminded me of my experience reading Jodi Picoult's My Sister's Keeper and my issues with perspectives and the character's voices.
Guilt is a good way to leverage people. … I learned it because my guilt about what I've done makes me bend the shape of myself to fit what other people want every day of my life.
The Characters (Bolded characters have their own chapters):
Zoe: The perfect girl. 🙂
Maria: Zoe's mother
Chris: Stepfather
Lucas: Stepbrother
Philip: Zoe's father
Tessa: Zoe's aunt
Sam: Zoe's former solicitor. In a relationship with Tessa.
Richard: Tessa's alcoholic husband.
The events in the book occur over twenty-four hours, with occasional flashbacks to Zoe's past legal trouble. Zoe is stubborn, driven, and emotionally cold. She has a dark sense of humor that makes it difficult for her to connect with people. We don't get to know Zoe's mother very well, but she expends a ton of energy trying to meet her new husband's impossible standards. The Guerin women lost everything after the accident and they don't want to lose their second chance at life. Zoe's aunt Tessa has her own issues with perfection. Tessa and Sam's affair exists in a perfect bubble. The rarely talk about any real issues. While Tessa looks forward to her time with Sam, she is reluctant to leave her husband. She still remembers when her marriage was "perfect" and still hopes that their relationship will improve someday.
My dislikes:
• The characters were flat and I could only tell them apart by context. The men's voices didn't sound authentic to me. Even the grief over the mother's death didn't even feel authentic. I didn't care what happened to most of the characters.
• It was too long and Part One dragged. Part One: Sunday and Monday is 225 pages, which is half the book. Most of the Monday chapters actually reflect back on Zoe's past. During Sam and Tessa's chapters, it felt like I was on the phone with someone analyzing their family members and telling me about their family drama. I didn't feel like I was actually experiencing anything and I think that's why Part One felt slow. Even Zoe's reflections felt that way and she was the one with direct experience. Part Two: Monday was more interesting because it focuses on the events of Monday and what happened to Zoe's mother, but it was already too late for me.
• There were too many perspectives, especially from those who are essentially spectators of the central story. I think I would have liked the story more if it stuck with the "Second Chance Family." I could have done without the Tessa/Richard/Sam storyline, but that was actually the part that affected me the most. Sam's last chapter was haunting.
• The family's movements through the house during a very short period of time seemed unnatural. The concert is at 7pm and Zoe's mom dies six hours later. On that dramatic Sunday night, they kept casually separating and reuniting in different areas of the home. The odd calmness of the characters mixed with a frantic energy of their movements drove me crazy!
• After the incident at the church, Lucas sends Zoe and her mom a script he wrote. He won't tell them what it's about, but he insists that it's urgent that they read it. It ends up being about his life before his father met Zoe's mother. I wasn't a big fan of PDF problems and wi-fi connectivity issues to drag out the suspense. Zoe casually mentioned the tech issues over multiple chapters (she is definitely not in a hurry to read it), which just highlighted the calculated stalling. After Act I, we don't get another glimpse of the script for 217 pages.
• Tessa's husband Richard is an alcoholic who sleeps all the time. Richard goes through a sudden and unrealistic change in the middle of the book. 
I already knew that life was unfair, and that structures society puts in place to protect you don't always work … what happened to me marked me permanently, turned me into somebody who could be pushed and pulled around, like a toy for other people to play with, somebody without a voice, and without the right to a normal life.
Unless.
Unless I'm brave enough to take control.
My Likes:
• The gradual glimpse into Maria's marriage and all the subtle hints that something wasn't right.
• The parts about injustice in the justice system, though I think it could have gone much further with that angle.
• I thought it was interesting to read about a couple struggling with fertility issues, where the man is the one desperate for a child.
• I liked where Zoe ended up at the end, even though I'm not sure how I feel about how she got there!
"It's not wrong if it ends up being right."
Everyone has problems and perfect is an impossible standard to live up to. I disagree with the blurb that states readers of The Girl on a Train will love this book. This book felt much more like a young adult novel, though it is not categorized that way. While this novel did not resonate with me, I think it will be entertaining for many. If you are interested in teens in the juvenile detention system, you might be interested in The Walls Around Us.
I don't think I have nine lives, but I hope I have three.