I received this book for free from First to Read, Penguin Random House in exchange for an honest review. This does not affect my opinion of the book or the content of my review.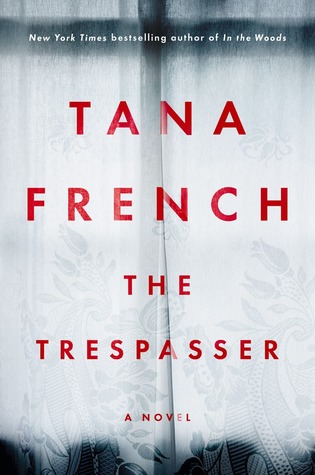 The Trespasser

by Tana French
on October 4th 2016
Genres: Fiction, Mystery & Detective, General
Pages: 480
Source: First to Read, Penguin Random House
Buy on Amazon
Goodreads


Antoinette Conway had always dreamed of being on the murder squad, but she's burnt out after two years of unchallenging domestic cases and merciless harassment from her own squad mates. One morning, the gaffer hands her and her partner Stephen Moran the case of twenty-six-year-old murder victim Aislinn Murray. There's outside pressure to charge the victim's boyfriend and wrap up the case quickly, but not all the pieces are fitting together. It has all the attributes of a lover's spat gone wrong, but there is very little physical evidence, the victim's best friend alludes to the possibility secret relationship, and Conway recognizes the victim from somewhere. Could this be the big case Conway and Moran have been waiting for?
What-if-maybe crap is for weak people. It belongs to the ones who don't have the strength to make actual situations go their way, so they have to hide away in daydreams where they can play at controlling what comes next. And that makes them even weaker. Every what-if is a gift to anyone who's looking for a hold on you, and that means us. If a guy's whole head is in reality, then reality is the only route we can take to get to him. If he's letting his mind prance off down dozens of twisty hypothetical fairy tales, every one of those is a crack we can use to prize him open.
The Trespasser, the sixth in the Dublin Murder Squad series, is my first Tana French novel. It's probably not ideal to read them out of order and I know that detectives Conway and Moran also appear in The Secret Place. However, it worked as a standalone. I didn't ever feel lost or like I'd missed out on anything. Now I need to go back and read these in order for an even richer experience! This book felt more on the literary side than many of the mysteries I've read lately. There are no wasted characters and everyone has a complete personality. Even the less important characters have little quirks that make them easy to remember; one floater has an annoying (and slightly hilarious) habit of recording every single detail during an interview. I did have to take more breaks than usual while reading. It's so dense with detail and it felt like I was following the case in real-time. When Conway and Moran weren't making progress, neither was I! It's the kind of mystery that you settle into and enjoy the ride, rather than a page turner. The pace did pick up around the 2/3s of the way through.
The truth is, if you don't exist without someone else, you don't exist at all.
It was a bit of a relief to read a book with one perspective and a linear timeline! This story is told from the perspective of Detective Antoinette Conway. She's sarcastic and jaded. She's always on the defensive because she's so used to putting up with abuse from her squad. She's convinced they're trying to drive her off the squad and she remains hyper-vigilant, always ready for the next attack. Conway's paranoia, plus the history with her dad, add an interesting layer to this mystery. Conway has a hardened shell, but every once and a while she lets us see a glimpse of the wide-eyed detective she once was. There's a part where she reveals her daydreams about her and her partner's future: "Once or twice— more— I caught myself daydreaming like a sappy teenager about our future together: about someday when we would get the decent cases, the genius plans we'd dream up to trap the cunning psychos, the interrogations that would go down in squad history. Big tough Conway going all misty-eyed; how the lads would have laughed." It's such a simple dream and in the context of all her tough talk, it made me develop a real soft spot for her. She still has a spark of love for her job and I really wanted her to get her big break and some relief from the bullying!
You can knock down a genuine belief, if you load up with enough facts that contradict it; but a belief that's built on nothing except who the person wants to be, nothing can crumble that.
Conway's partner Stephen Moran is a likable people-pleaser who is still able to dream big. Unsurprisingly, his interrogation technique is "Nice Boy Next Door." While Conway is resigned to the Aislinn Murray case being like one of their usual domestic cases, Moran convinces her that there may be more to the case. The partnership between Conway and Moran works because they have completely opposite personalities and they balance each other out so well. Their non-verbal communication makes it seem like they have their own secret language. My favorite parts were the suspect interviews, because I loved the back and forth between the detectives as they tried to manipulate the suspects into submission. As much as I loved the partnership between Conway and Moran, the interviews Conway did with Detective Breslin were my favorites. I loved the dynamic between their "Cool Girl" and "Chief Jock" techniques.
The thing about daydreams is that they don't last. One brush up against reality, and that's the end of them.
This book is about the consequences of manipulating other people's lives by creating scripts for them to live through and getting caught up in stories we create for ourselves. Even Conway, who despises people who live in a fantasy world, has conjured up stories of her own and tries to uphold a certain image. The Trespasser is an interesting story from beginning to end with fascinating characters. It's detailed in a way that made me feel like part of the squad and like I was invested in the outcome. I regret putting off this series for so long, but I'm so happy I have five more of these to read!
Related Posts