I received this book for free from NetGalley, Spiegel & Grau in exchange for an honest review. This does not affect my opinion of the book or the content of my review.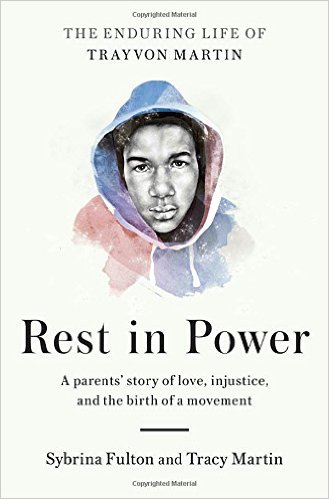 Rest in Power

by Sybrina FultonTracy Martin
Published by Random House Publishing Group on January 31st 2017
Genres: Biography & Autobiography, Personal Memoirs, Social Science, Discrimination & Race Relations, Political Science, Civil Rights
Pages: 352
Format: Electronic ARC
Source: NetGalley, Spiegel & Grau
Buy on Amazon
Goodreads


Five years ago, a neighborhood watch volunteer shot and killed seventeen-year-old Trayvon Martin as he was walking back to the residence he was staying at with his father. The shooter was quickly released, but Trayvon's parents fought to have him tried in a court of law: "We're not looking for revenge. We're looking for justice—the same justice anyone would expect if their son were shot and killed for no reason." They won their day in court and the battle played out in both in the media and the courtroom. The shooter maintained he was acting in self-defense. The trial lasted twenty-four days and ended with a "not guilty" verdict.
"We're going to stand up for justice, and stand up for what's right. This is not a black and white thing. This is about a right and wrong thing." – Sybrina Fulton
The chapters alternate between the writing of Trayvon's mother Sybrina Fulton and his father Tracy Martin. They've been divorced for many years, but they maintain a close relationship and have supported each other during this tragedy. There's occasional overlap in their stories, but it was helpful to read both their perspectives. Most of the book is devoted to the time period between the evening of Trayvon's death on February 26, 2012 to the verdict on July 13, 2013. They give us a fuller portrait of the son that never had the chance to grow into adulthood, an adventurous young man who had an interest in aviation. It's very thorough, giving a clear picture of what was happening at the time, as well as their reactions. I thought it was surprisingly candid, given the parental perspective. They write about the difficult questions asked during the deposition and Sybrina talks about the painful realization that the state hadn't proven its case beyond a reasonable doubt. They address many of the controversies and rumors that arose, including the pictures used by the media, Trayvon's texting history, and the controversial testimony of their star witness Rachel Jeantel.
"Can't you understand that none of this would be going on if they simply would have treated George Zimmerman like they would have treated Trayvon Martin?" – Benjamin L. Crump, the family's lawyer
So many out-of-the-ordinary events lined up to result in this tragedy. There are so many questions that will never be answered. The altercation happened on a rainy evening which muddied the eyewitness accounts, which are already notoriously unreliable. Of the two people who know exactly what happened, only the shooter is alive to tell their account. Trayvon's parents describe their journey to find answers and get justice: the building of a movement to bring the case to trial, gratitude for the opportunity to have their case heard, their personal reactions to the grueling legal process, frustrations with the prosecution's strategy, the sinking feeling of defeat, and their efforts to help others who have gone through similar tragedies. While the media coverage played a large part in the pressure to bring the case to trial, having their personal tragedy becoming national news also had a negative side. There were vicious attacks on the characters of Trayvon and his parents and passionate support for the shooter. False stories and mischaracterizations still circulate about the case and distract from the central issues.
Race was the elephant in the room: a white man—or at least a white-identified man—killed a black kid. So it wasn't surprising to me that so much of the coverage approached it from that angle. It worried me, though. Because we knew that once it became a racial issue, once it was more than the plain and simple act of a kid walking home shot dead—people were going to be divided. Once you throw race into the equation, mothers in the white community that could identify with Sybrina's pain of losing a child are left to choose: am I loyal to my motherhood or am I loyal to my race? They would likely never put it in those terms themselves, but I'd lived through enough events—like the O. J. Simpson case—where at some point people stop caring about the truth or the complications, all they care about is whether you're on team Black or team White. – Tracy Martin
If Jodi Picoult's Small Great Things made an impact on you, I recommend reading this book. Rest in Power is a real-life account of how far lawyers will go to avoid mentioning race and how damaging the consequences of mentioning it can be in the courtroom and with public opinion. It also addresses racial prejudice in jury pools and the challenges of ensuring a fair trial. There was a sickening moment during jury selection where a potential juror stated that "Trayvon would be alive today if his father was involved in his life," a statement that was clearly based on prejudice and speculation rather than fact. In terms of the initial investigation, it seems that the police made assumptions about what type of this case was and it wasn't as fully investigated as it could have been. The shooter was taken at his word, despite the suspicions of the investigating detective.
"And then, finally, I think it's going to be important for all of us to do some soul-searching. … Am I wringing as much bias out of myself as I can? Am I judging people as much as I can, based on not the color of their skin but the content of their character? That would, I think, be an appropriate exercise in the wake of this tragedy." — President Barack Obama, July 19, 2013.
I jumped at the opportunity to read this book, because I've never stopped thinking about this case. We have no way of knowing exactly what happened that night, but it seems very clear that there was ample opportunity for that evening not to end with Trayvon Martin's death. While I was already familiar with most of the details on a surface level, it was enlightening to read the parents' perspectives and it brought me to tears several times. It had me crying from the introduction! Unfortunately, this story does not stop with Trayvon. Stories like his have made the news frequently, including the murder of Jordan Davis (his killer is currently serving life without parole after a retrial). Trayvon's parents continue to keep their son's name alive through the Trayvon Martin Foundation, an organization that works to prevent similar tragedies from happening and offers support to those who've been affected by gun violence.