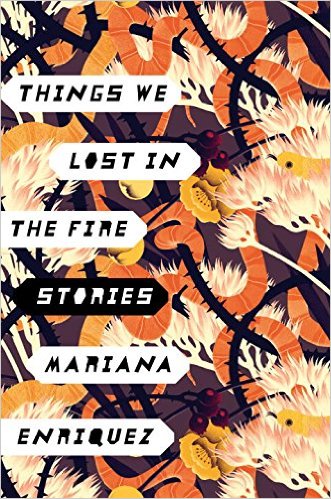 Things We Lost in the Fire

by Mariana Enriquez
Published by Crown/Archetype on February 21st 2017
Genres: Fiction, Literary, Psychological, Hispanic & Latino
Pages: 208
Format: Electronic ARC
Source: NetGalley
Buy on Amazon
Goodreads


3.5 Stars. Twelve macabre short stories set in Argentina. It's very dark and disturbing.
We all walk over bones in this city, it's just a question of making holes deep enough to reach the buried dead. (No Flesh Over Our Bones)
Tens of thousands of people were disappeared or killed from 1976 to 1983, when Argentina's military junta committed "crimes against humanity within the framework of [a] genocide." While not overtly mentioned, the horrific tales in Things We Lost in the Fire are intertwined with Argentina's past. Past atrocities refuse to stay buried, always lurking in the back of the collective mind. These stories take place on top of mass graves. These stories feature police brutality, depression, drug addicts, poverty, self-harm, and children deformed by pollution. The shrines to saints on every corner make all of these horrors feel even more haunting.
Many of the characters are resigned to the awful events they witness. Some of them end up not helping those in need, either because of lack of resources or helping could lead to worse consequences for themselves. In "Green Red Orange," a man withdraws from the world and gets immersed in the deep web, where the worst of humanity is viewed as entertainment. Most of the characters are stuck in unhappy relationships. They resent their partners, but can't bring themselves to leave.
Except for the first story, my favorites were in the second half:
The Dirty Kid – A middle-class woman thinks the homeless boy who lives across from her home is the victim of a savage murder. She can't rest until she finds out if it's true. She regrets doing so little for the boy, despite witnessing the terrible conditions he lived in every day.
An Invocation of Big-Eared Runt (read it at link) – My favorite! A man who leads murder tours is fascinated by a long-dead child murderer. At home, he resents how his wife transformed into a different person after the birth of their child. The quiet ending left me feeling uneasy about this family's future.
The city didn't have any great murderers if you didn't count the dictators—not included in the tour for reasons of political correctness.
No Flesh Over Our Bones – A woman becomes obsessed with an abandoned human skull.
Under the Black Water – A district attorney investigates the case of two teenagers murdered by police officers. Months later, a witness tells her one of the victims has resurfaced. There's no way he survived, so she goes to investigate. When she arrives and sees all the shrines have disappeared, you know it's about to get terrifying! The nearby river's pollution is bad, but it might be covering for something even worse.
Things We Lost in the Fire – After a rash of domestic violence, women begin setting themselves on fire. The old women's conversation at the end chilled me to the bone.
"Burnings are the work of men. They have always burned us. Now we are burning ourselves. But we're not going to die; we're going to flaunt our scars."
Honorable Mention:
The Neighbor's Courtyard – A depressed social worker sees a chance at redemption when she spots a chained boy in her neighbor's courtyard. I loved how the details of this story unraveled. It went from realistic to crazy at the very end, so I'm not sure what to think of this one!
I loved the mix of history and horror. My favorite stories were those where the line between real life and the bizarre was the most blurred. Enríquez was masterful at creating a creepy atmosphere and building tension. I could feel the knot in my stomach getting tighter as each story progressed. My biggest complaint is that many of the stories felt incomplete. The tension would reach a fever pitch and then it would just end. There were moments in each story that I loved, but many times I was left with a ton of questions and no theories to ponder. If you enjoy supernatural tales and the dark and twisty characters of Gillian Flynn or Roxane Gay (Difficult Women), you might enjoy this short story collection. I recommend reading it in the dark!
Another book that deals with Argentina during the late 70s:
<a href="https://www.goodreads.com/book/show/25387852-the-case-of-lisandra-p">The Case of Lisandra P.</a> – It has mixed reviews as a suspense novel, but some of the most powerful sections are when people talk about their experiences during that time period.