I received this book for free from NetGalley in exchange for an honest review. This does not affect my opinion of the book or the content of my review.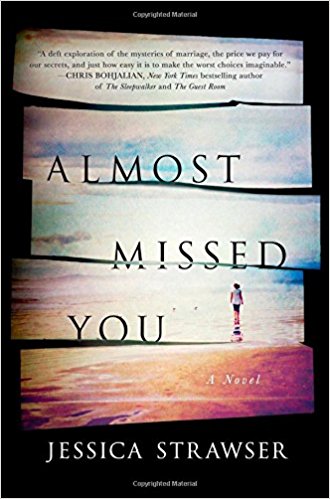 Almost Missed You

by Jessica Strawser
Published by St. Martin's Press on March 28th 2017
Genres: Fiction, Contemporary Women
Pages: 320
Source: NetGalley
Buy on Amazon
Goodreads


Violet has a good life. Her husband Finn and three-old-son Bear are her entire world. While on a family vacation in Florida, Finn offers to take Bear back to the hotel room for a nap so that Violet can get some much-needed relaxation on the beach. Even when she's alone, all she can think about how lucky she is to have such a wonderful husband and son. She returns to their room refreshed and happy, but is shocked to find that there's no trace of either Finn or Bear. Only her belongings remain. It's like they were never there! She's completely devastated: "She was acutely aware that mother was both a noun and a verb, and left without the ability to take action, the reality struck her that it was no longer possible to be who she was without Bear." Where are Finn and Bear? How could her beloved husband do this to her?
It was never all that hard to rationalize your way through doing something wrong when it was a way to get what you wanted.
I really enjoyed reading Almost Missed You! I almost forgot I was reading a book. The writing faded away as I got caught up in these characters' emotional journeys. The surprises are evenly distributed throughout the story, which kept it interesting. Both of the marriages in this book look happy from the outside, but they are on shaky foundations. The characters are deeply flawed, but I understood the fears and anxieties that were driving them. My heart even ached for the character that made me the angriest. I wished that it all could've turned out differently! Tone-wise, it reminded of Caroline Leavitt (Cruel Beautiful World). The story alternates between three characters:
• Finn's story starts six years prior, during his chance meeting with Violet. They lost touch after that initial meeting and it was years before they met again. People always love hearing the fortuitous way that they found each other after a series of missed connections. What was the path that led Finn back to Violet?
"Nobody talks about the stuff that really haunts them. If you're talking about it, on some level you're dealing with it, or at least acknowledging it. If those walls could talk, the stories they'd tell you might make it seem like a spooky place, or a sad place, or even a possessed place, but I'd be willing to bet it would seem less haunted as soon as the mystery was gone."
• Violet is easygoing and agreeable. She's never been a worrier and she typically takes the path of least resistance. She feels completely blindsided when her loving husband kidnaps her child. But maybe she had only been seeing what she wanted to see this whole time. She's surprised when some "new" feelings actually don't feel so unfamiliar after all. Every odd behavior takes on a new significance in light of new circumstances. Once she's honest with herself, all the weird things that didn't seem like a big deal individually add up to something being majorly wrong. Did she misinterpret all the signs along the way? Was the charming man she met at the beach all those years ago the same man she reconnected with? Did she ever really know Finn?
"Before you batten down the hatches and go to sleep at night, what are you writing in your captain's log? That you saw a port and tied up to it? Or some other story, about the stars navigating you into the path of another ship?….All I'm saying is, whatever you've been writing down for yourself in that captain's log, make sure it's honest."
• Caitlin is an anxious person. These are her thoughts when her father-in-law suggest she take medication: "Beneath her smooth surface, Caitlin was far too anxious to take an anti-anxiety pill. What if it affected her strangely? What if she didn't feel like herself? Or what if she liked it too much? What if she did something out of character in front of the boys? No. Not for her." She and Finn have been best friends since their school days, but she also became very close with Violet. They became mothers at the same time and were able to support each other during the sleepless infant days. When Finn and Bear go missing, she knows she should contact Violet about what she knows–but she also needs to ensure that her own family comes out of this situation unscathed. Caitlin has always worried about outside forces destroying her family, but it turns out the biggest threat was the person she trusted the most.
"All the wrong people know all the wrong secrets here."
In Almost Missed You, secrets fester in the darkness. These characters feel like they have to deal with their troubles alone, but perhaps everything would've turned out better if they trusted their partners rather than suffering in silence. This book explores the natural impulse to romanticize the past and create a compelling story of our lives. Violet tends to find meaning in strings of coincidences and ignore any evidence that doesn't fit. She's always looking for outside signs to confirm her life choices, but maybe the universe more chaotic than that. All the coincidences that make up a life–is it fate or random?* Violet and Finn have two different worldviews that they neve really discussed or reconciled.
Fans of domestic fiction who like a little bit of mystery should definitely check this book out. I'm excited to see that Jessica Strawser has another stand-alone coming out in 2018!
---
*My recent nonfiction reading made all the coincidences feel more realistic for me: Weaponized Lies by Daniel J. Levitin // Logical Fallacies – Illusory Correlation & Framing of Possibilities, especially the part about the chances of running into someone in a place you wouldn't expect.
Related Posts