I received this book for free from NetGalley in exchange for an honest review. This does not affect my opinion of the book or the content of my review.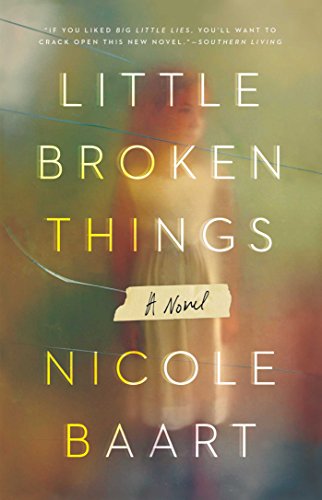 Little Broken Things

by Nicole Baart
Published by Simon and Schuster on November 21st 2017
Genres: Fiction, Contemporary Women, Romance, General, Family Life
Pages: 368
Format: Electronic ARC
Source: NetGalley
Goodreads

After over a year of avoiding her family, Nora sends her younger sister Quinn a cryptic text: "I have something for you." Quinn is eager to see Nora after all this time, but she's surprised when Nora shows up to their meeting with a six-year-old girl. No explanations, no timeline—just a plea to keep the girl safe and hidden for a few days. Nora flees before Quinn has the chance to refuse. What has Nora dragged Quinn into?
Sometimes the surface is not an accurate indicator of what lies beneath.
The Sanfords appeared to be a typical suburban family to the outside world, but there were deep fractures forming behind closed doors. The chapters alternate between the perspectives of the three Sanford women:
• Quinn and Nora's mother Liz is a problem-solver, though she's never been comfortable examining any problem too deeply: "sometimes getting lost in the details was better than stepping back to look at the whole, ugly picture." Anytime her thoughts get too close to the heart of an issue, she immediately shifts her attention elsewhere. Over the years, she made many compromises trying to keep her family together and maintain their perfect facade. It cost her; time flew by and everything she was trying to preserve disintegrated. She centered her identity around being a wife and a mother, but now her husband is dead and her children want little to do with her. After years of taking a back seat in her own life, she's finally in charge. She's determined to fix her family's problems, even if things have to get a little messy first.
Liz was no idiot. She knew that their lives were far from perfect, that things simmered just beneath the surface of their shiny facade. Shadowy things that hinted of discontent, of darkness that she could only begin to imagine. Weren't they all just a knife blade away from madness? From obsession? From giving in to every lust and desire and impulse? Or even just one. One slip would be more than enough.

But life was hard and self-flagellation was for the weak. People pitied those who refused to help themselves. Who couldn't make a mistake and then, proudly, stand back up in the middle of their own mess and smile. I meant to do that. I knew all along.

Liz chose dignity.
• Nora (27) is the middle child. She's rebellious and passionate. She escaped her family as soon as she could.
• Quinn (26) is an eternal optimist and eager to be loved. She idolizes her older sister Nora who is kind of a mythic figure to her. Quinn craves stability and will do anything to keep the peace. It surprised everyone when she ran off to Los Angeles and married an artist. Now both Quinn and her husband Walker are unemployed and temporarily living at her mother's rental property in Key Lake, Minnesota. Not only do they have financial stress, but Liz has made no secret of her disapproval for Walker.
[Liz] was a good peacekeeper. Shush now, be content, let it go.
Peacemaking—now that was a different thing altogether. That was bombs and battles, wars waged for the sake of starting over, from the scorched earth up, on something pure and worthy. Peacemaking meant casualties, and Liz was all too willing to fall on a sword of silence if it meant life could go on the way it always had.
DISLIKES
• This book is recommended for fans of Liane Moriarty. Both Baart and Moriarty have a talent for examining complex emotions and uncomfortable thoughts, but what I like most about Moriarty's writing are the moments of lightness and her wicked sense of humor. Little Broken Things didn't make me feel the same range of emotions, though I liked the rare moments of joy that appeared.
• Nora's character was elusive to me. I never fully understood Nora's complete devotion and self-sacrifice for her best friend. The one thing that would have made sense to me didn't pan out. It was interesting that all the Sanford women experienced uneven relationships, or at very least felt on unequal footing with their partner.
• I liked when Liz reflected on her marriage and her alienation from her children, but overall she was so unlikable and self-serving that I kept looking to see how many minutes were left in her chapters. I was not interested in her party planning, even though her focus on the superficial made sense! To be completely fair, I think my recent reading of Celeste Ng's Little Fires Everywhere reduced my tolerance for this type of character (and for meaningful art projects at the end). One small thing that endeared me to Liz was her reflexive impulse to make passive aggressive comments or offer unsolicited advice and the immediate regret she felt as she was doing it! Nora and Quinn both have positive manifestations of Liz's most annoying qualities, so it would've been interesting to get more of a glimpse of pre-marriage Liz.
• The characters had a tendency jump to conclusions and repeatedly assert those conclusions as fact. This is especially annoying when it happens so early in the story that you can assume they're probably misguided!
• "I think I have a God complex."  These characters had a frustrating habit of trying to handle HUGE problems on their own. I often wished they would consult the police, a lawyer, or even each other and let me get on with my life. 😀
• Predictable. I figured out all the twists as the characters were introduced, so the reveals were underwhelming.
Kids grow out of the sweet mommy stage so quickly, morphing overnight into titles that sound more adult. Don't be fooled—it's a sort of letting go, that moment when the near-perfect queen of the universe becomes a little more human, a little less divine. 
LIKES:
• I enjoyed Baart's writing and insights. I wanted to see how the story played out.
• Quinn! I related to her the most and I really liked her character arc from beginning to end. I especially enjoyed reading her conflicted feelings about marriage, motherhood, and her sister. One of my favorites scenes was when she becomes overwhelmed during a gathering of old high school friends. She no longer fits into the small town life that she once reveled in. She has difficulty being surrounded by all the young families while she is trying to get pregnant.
Quinn was not a woman who knew. Who had crossed the divide and bore the scars to prove it. She both loved and loathed herself for it.
• The BEST part was Quinn trying to win over six-year-old Everlee—all the painful rejections and the small victories. If you read the "Acknowledgements" section at the end, you'll understand why those scenes were so special!  While Quinn is trying to bond with Everlee, Liz is trying to reconnect with Quinn and failing. She wants so badly to have a relationship with her daughter, but she can't overcome her own flaws to make any progress.
They were too far apart and far too close all at the same time. Perpetually missing each other.
Who is Everlee? What is Nora running from? What tore the Sanford family apart—was it one big explosion or the build-up of multiple tiny fractures? Will this broken family be able to put themselves back together again? Will the Sanford women learn that it's okay to be vulnerable? I preferred the small family conflicts over the big central drama. This book is at it's best when dealing with conflicted family relationships. The characters can't help feel the inescapable pull towards their family (biological or chosen) even after they've been hurt numerous times: "How could she begin to explain the way she felt for her husband? The pretty layers that peeled back to reveal something dark and rotting beneath? They had lived a good, solid, respectable life. But that didn't mean that she loved him. That she would mourn his loss. And yet." I've overdone it on the suburbia/"behind closed doors" type books lately, so that might have affected my enjoyment. Fans of domestic dramas like Cruel Beautiful World by Caroline Leavitt and The Fall of Lisa Bellow by Susan Perabo might enjoy this story.