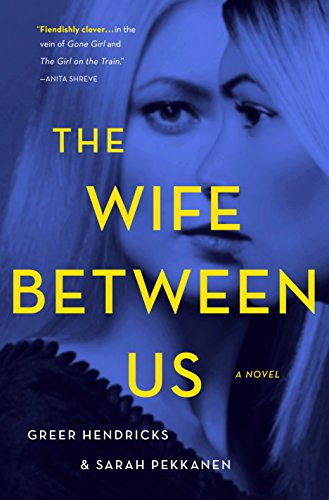 The Wife Between Us

Published by St. Martin's Press on January 9th 2018
Genres: Fiction, Thrillers, Suspense, Contemporary Women
Pages: 352
Format: Electronic ARC
Source: NetGalley, St. Martin's Press
Buy on Amazon
Goodreads


3.5 Stars. It's best to avoid reading anything about this book. It's extremely easy to unintentionally slip into spoiler territory. A blank slate is best!
I've surrounded myself with lies. Sometimes I am tempted to succumb to them. It might be simpler that way, to quietly sink into the new reality I've created as though it were quicksand. To disappear beneath its surface. It would be so much easier to just let go, I think. But I cannot. Because of her.
The chapters alternate between a man's ex-wife and his new fiancée. When his ex-wife finds out he's engaged, she decides she must stop the wedding from happening. My immediate thoughts during the first few chapters:
The man: Walking red flag!
The fiancée: Sweet, but naive. She's jumpy and the harassing phone calls she's been receiving aren't helping.
The ex-wife: *groan* Another suspense novel about a heavy drinker obsessed with a past relationship?
It's a slow-starter that took me two attempts to finish, but once I finally reached "Part Two" it became an exhilarating read! My preliminary review went out the window when suddenly my every thought became a spoiler, even though I hadn't actually predicted any of the upcoming twist-and-turns!
We all layer them over our remembrances; the filters through which we want to see our lives.
This story deals with the imperfection of our perceptions and the incomplete pictures of ourselves we present to others. We see what we want to see and we present ourselves the way we want to be perceived. Sometimes the signs of what's ahead are there all along, but we aren't ready or willing to see them. Things that look obvious at a distance aren't always so clear up close and it can be easier to focus on the details rather than deal with the whole messy picture. Romantic love can further cloud perceptions by softening our critical impulses and compelling us to disregard inconvenient details. Even our own bodies can betray us by making it easy to conflate romantic arousal and fear.
The most compelling part of this story was [spoilerthe gradual transformation of a woman as she is altered by the events in her life. We see a woman become a completely different person over the years, from vibrant and chatty to depressed and defeated. The changes happen so gradually that she doesn't realize they're happening, although those around her see it clearly. I loved the fiancée's relationship with her best friend. I could relate to the difficulties of watching a friend fall head over heels with someone who sets off an internal alarm. Sometimes it seems like there's only one acceptable answer to "So, what do you think?!"—especially when all you have is your intuition and concerns that can be easily explained away. The ex-wife's relationship with her aunt was also great!/spoiler]
Maybe being in love carries the requirement of filtered vision; perhaps it is so for everyone. In my marriage, there were three truths, three alternate and sometimes competing realities. There was Richard's truth. There was my truth. And there was the actual truth, which is always the most elusive to recognize. This could be the case in every relationship, that we think we've entered into a union with another person when, in fact, we've formed a triangle with one point anchored by a silent but all-seeing judge, the arbiter of reality.
Part of the fun of this book was that at the same time these women are trying to sort their lives out, the authors also want the reader to confront their own blind spots and biases. In terms of enjoyable mystery/suspense/thriller stories, I'd place it in the Clare Mackintosh (I Let You Go) grouping rather than the Gillian Flynn/Tana French category. I'm rounding up to four stars because I really liked the execution of the story. It reminded me of a faster-paced thriller View Spoiler »(The Girl on the Train) « Hide Spoiler that most everyone has read, but it's different enough to stand out on its own. I really appreciate a moment that makes me gasp and go reread sections (more than once in this case). I think this book is worth the read just to talk about it with everyone else!