I received this book for free from NetGalley, St. Martin's Press in exchange for an honest review. This does not affect my opinion of the book or the content of my review.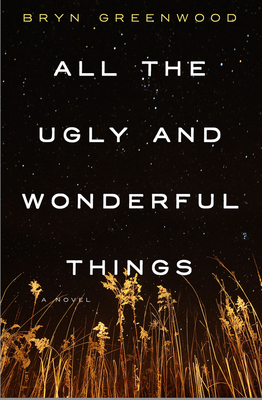 All the Ugly and Wonderful Things

by Bryn Greenwood
Published by St. Martin's Press on August 9th 2016
Genres: Fiction, Literary, Coming of Age
Pages: 352
Format: Electronic ARC
Source: NetGalley, St. Martin's Press
Buy on Amazon
Goodreads


Nothing belongs to you.
Eight-year-old Wavonna Quinn has lived a tough life. Her father is neglectful, her mother is a drug addict, and she has full responsibility of raising her baby brother. When one of her father's associates, Kellan, crashes in front of the Quinn's farmhouse, an instant connection forms between Wavy and Kellan. Twenty-year-old Kellan takes on a paternal role and Wavy develops an innocent crush on him. As time progresses the relationship crosses more and more boundaries; the type of things that might be okay between a parent and child, but are eyebrow-raising for a family friend. When Wavy turns 13, the relationship escalates significantly. There is major fall-out when the extent of their relationship is exposed.
Summer had so many tricks. The nights lasted longer than the days, even though the angle of the Earth's axis meant that was impossible. The night couldn't be longer, but summer made it seem that way. Summer sneaked time for me, taking a minute from February, three minutes from English class in March, ten whole minutes from a boring Thursday in April. Summer stole time to give me another hour under the stars with Kellen.
Bryn Greenwood delicately handles a controversial subject. She doesn't take a stance; she lets the characters tell their stories. The writing sets the stage perfectly, but it never gets in the way. It is primarily set in the mid-1970s/mid-1980s in the rural midwest, within driving distance of Tulsa, Oklahoma. The story is revealed through multiple perspectives. We hear from both Wavy and Kellan, but we also hear from outsiders who witness this relationship slowly unfold. The outsider perspectives reminded me of watching a Dateline special, where family and friends analyze their loved one's lives after a tragic event. Some of the individuals are uncomfortable with what appears to be happening but say nothing, while others are actively encouraging it. A character who has only known Wavy as an adult is eventually introduced and it was interesting to see her reaction to the situation.
Wavy made the face that meant, "Do you know what it's like being me?" I honestly didn't want to know, because she was pretty fucked up. I liked to play at tragedy, but she drank it out of her baby bottle.
If you've seen Sons of Anarchy, you'll have a hint of the type of environment Wavy grew up in, except these people cook meth. To give you a sense of what the Quinn kids are dealing with, here is eight-year-old Wavy talking about her 2-year-old brother: "At least pretty soon he would be big enough to take care of himself. Next year." Wavy is a unique and memorable character. She hates being touched and she refuses to talk or eat in front of others. She is gutsy and determined:"The harder a thing was, the more likely she'd be able to do it." Kellan and Wavy are both from neglectful homes and neither have a model for healthy relationships, romantic or otherwise.  The relationship doesn't begin with a romantic or sexual component. Neither of them are used to being treated as important and they seek each other out for the emotional connection.
God also didn't want you to "pollute yourself." Touching yourself for pleasure wasn't what God designed your temple for, according to Charlotte. Either God was stupid or Charlotte was confused, because my temple was clearly designed for that.
A relationship between a grown man and a young girl/teenager is an uncomfortable subject. There were several parts that made me queasy. The author never lets you forget how small and young Wavy is. Sometimes I even became uncomfortable with my own reactions! By the end, I was frequently irritated with Wavy's aunt who was only trying to protect Wavy. As Wavy grows into adulthood, her aunt's actions felt more about punishing her than protecting her. But even with my irritation, I know I would feel the same way in her situation!
I kept coming back to the Gospel. Wavy spoke in Apocrypha.
I didn't finish the book thinking, "Wow, this is an ideal situation." Nothing in Wavy's life is ideal. The author does an amazing job of illustrating how this happened for these two people. She doesn't shy away from the ugly or the wonderful. (Perfect title, by the way!) This book is about the gray areas of life, even those that will be unpalatable for most. All the Ugly and Wonderful Things is not for everyone and that is completely understandable! There is a line in Robert Ebert's review defending accusations against the movie Pretty Baby and this sentiment made me think of this book: "It's an evocation of a time and a place and a sad chapter of Americana." Likewise, the relationship between Wavy and Kellan is a product of a certain environment. If you are able to compartmentalize and see this story as the unique experience of two people, then I highly recommend this book.
I mostly liked high school. I liked learning things. How numbers worked together to explain the stars. How molecules made the world. All the ugly and wonderful things people had done in the last two thousand years.
---
Wavy loves stars and some of my favorite passages were those with space imagery. My favorite passage:
I'd been wrong about the Earth's rotation slowing. It went on as steadily as always, and the afternoon was long gone. To the west, Venus and Jupiter held court with the setting sun. A few days before, the Magellan spacecraft had reached Venus, and started sending back pictures. Below the horizon lay Orion, resting until autumn, when he would rise over the meadow with only the cows to see him.

I thought then of Voyager 1 and 2, so far away. They were launched the same year I met Kellen, and now they had reached the end of our solar system. Although their programs were being powered down one by one, they traveled on. NASA said that in another twenty-five years, they would exit our heliosphere and cross into interstellar space. In another three hundred thousand years, Voyager 2 might reach as far as the star Sirius, but it would never come home.

I was moving forward into space, but I would never come home again.