I received this book for free from Goodreads First Reads, St. Martin's Press in exchange for an honest review. This does not affect my opinion of the book or the content of my review.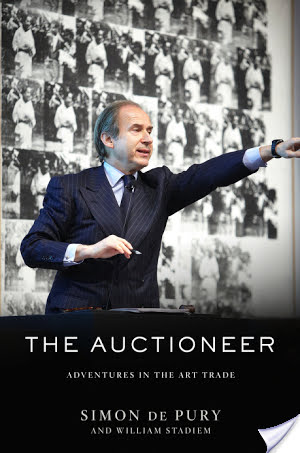 The Auctioneer

by Simon de Pury
Published by Macmillan on May 3rd 2016
Genres: Art, Art & Politics, Business Aspects, Biography & Autobiography, Personal Memoirs
Pages: 240
Format: Print ARC
Source: Goodreads First Reads, St. Martin's Press
Buy on Amazon
Goodreads


Auctioneer Simon du Pury shares the story of his life. He explains what lead him into the art world and describes his ascent from a Sotheby's intern to the "Mick Jagger of auctions." He also introduces us to the men who had a great impact on his life and career: Swiss art dealer Ernst Beyeler, auctioneer Peter Wilson, and art collector Baron Heini Thyssen. There were many interesting anecdotes, but the art and auctioneering aspects were overshadowed by the intricate details of the lives of the rich and famous. Despite my interest in the arts, I think I was the wrong demographic for this book.
In art, knowledge–of the art, and of the buyers–was power, and knowledge meant business. Ignorance could only be measured in misery and failure, never bliss.
I really liked Hannah Rothschild's The Improbability of Love and my educational background is in the fine arts, so I thought I would really enjoy The Auctioneer. However, it was too much Top 1% gossip for me. The 1-percenters are going to play a large part in a book of this topic, but it was just too many details. I ended up skimming through many sections of the book, because many paragraphs read like lists of names and places. Not only do we learn about the lovers, finances, and estates of the central players, but we also learn those details about people in their immediate social circle. The gossip didn't entertain me because I had no clue who 90% of these people were and there were too many to get to know them well via the text. It might have a different effect for the wealthy and/or those that came into adulthood during the 1980s. All that being said, de Pury has an amazing memory! As a brief example of what I am talking about, here is a random sample:
Denise had just had the house redecorated by the interior decorator of the moment, Renzo Mongiardiano, an Italian former theatrical set designer who had been discovered by Stavros Niarchos to redo his Kulm Hotel in St. Moritz. Once Niarchos "discovered" Mongiardiano, so did the rest of the Jet Set. He also had the Kennedy imprimatur, thorough Lee Radziwill, so he was unstoppable.
(I actually did know who the Niarchos family was, thanks to Paris Hilton 🙂 ) So why did I keep reading? There was some interesting information, it was just buried in a sea of proper nouns. While I found the text dry, Simon du Pury himself is full of personality. The writing style is pithy. Every time I thought he was getting a little pompous, he would display some self-effacing humor. The humor is not always politically correct. It seemed overly irreverent and out-of-touch to compare business struggles to atrocities that largely affected the lower classes, whether tongue-in-cheek or not. I thought it was an odd direction to go in the current political climate.
Was I delusional? Maybe, but if you love art, and you believe in art, you always know that art will come back, and take you along with it.
I admired Simon de Pury's vision. He is not afraid to push boundaries and shake things up. He is honest about his failures, as well as his successes. His career has had many highs-and-lows and he walks us through all of them. One of my favorite anecdotes was from the beginning of his career when he accidentally sliced into a priceless work of art. Can you imagine? He also tells the highly entertaining story of how a jilted lover got revenge on him via an art auction. The Auctioneer gives a real-world glimpse at the eccentric buyers and sellers that could have stepped right out of Rothschild's fictional book. My jaw dropped when I read about the buyer who spent over $150 million on two paintings by very famous artists and publicly expressed his wish to be cremated with them!
The moral is that if you buy the best, in the long run, if you can stay the course, you will not overpay.
I love books about unique careers and I would have loved more insider information about auctioneering and art, within the context of de Pury's career. He briefly discusses how the face of collectors has changed from royalty to MBAs and how different cultures view auction practices. The back cover teases a reveal of a "[high] crime of an industry known to the elite few, until now." There are two things that I think that sentence could be referring to and the most interesting of the two is revealed in the first twenty pages. The ways in which art and auctions are impacted by historical events and the role art plays in politics is also interesting. How World War II affected the art world, even now, is endlessly fascinating to me. During his career, de Pury was able to play a part in global politics. During his time with Thyssen, they were asked to provide paintings to set the proper mood at Ronald Reagan and Mikhael Gorbachev's Geneva Summit in 1985. There is also a really interesting section about an auction he held to give exposure to Russia's "unofficial" artists.
I ask not for whom the gavel tolls. I know it tolls for me.
Simon de Pury has had an amazing life! The man designed his own Swatch watch! In my plebeian eyes, that is the pinnacle of success! 😉 However, I prefer memoirs that are more personal. I enjoyed the introspective tone of the final page of this book, more than the gossip of the previous chapters. The name-dropping reduced my interest in this book considerably, but I think the audiobook may have been slightly more enjoyable. The sample I listened to was read with the exuberance that I imagined de Pury speaking with. I've also enjoyed listening to a series of Simon du Pury interviews from Big Think.
While The Auctioneer was just an okay read for me, ArtNet's review claims the excessive name-dropping is "the most enjoyable, and creative, aspect of the book." Just like in art, it is all a matter of preference! If you are a fan of contemporary art and would like a glimpse into the lives of the obscenely wealthy, this book may be for you. Or if you are like me, and are interested enough in the subject to dig through piles of names to get to the good stuff, it might be worth a read.
Some positive reviews, because I may just be the wrong demographic for this book: Kirkus | Publisher's Weekly. The first six chapters are available through Amazon's Look Inside feature.