I received this book for free from Chronicle Books, NetGalley in exchange for an honest review. This does not affect my opinion of the book or the content of my review.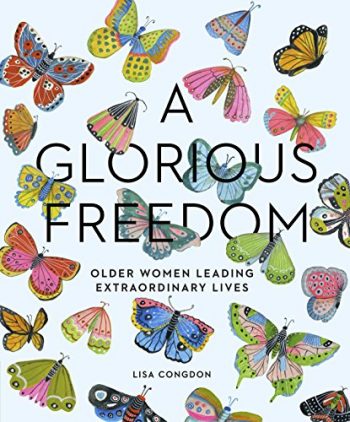 A Glorious Freedom

by Lisa Congdon
Published by Chronicle Books on October 3rd 2017
Genres: Art, Individual Artists, General, Design, Graphic Arts, Illustration, Self-Help, Aging
Pages: 152
Source: Chronicle Books, NetGalley
Buy on Amazon
Goodreads


"There's are no points in life when we need to give up things we love."

– Chrissy Loader

, writer and filmmaker
Youth is so valued in American culture that it can be easy to forget that there are benefits to aging too. A Glorious Freedom was compiled and illustrated by artist Lisa Congdon. It features interviews, essays, and profiles from extraordinary women over forty who found success during the second half of their lives. The benefit of experience has given these women the wisdom to know what they want and the confidence to go and get it.
"The fear of getting older is about the false notion that one's power was rooted in the things that youth offers us—namely, beauty. My advice would be to see that for the lie it always was. Our power is never about how pretty we are. Our power is about how we live our lives. Start living it."

– Cheryl Strayed

, author of bestselling memoir Wild
I'll admit that at the second mention of "life coaches" I thought this book might not be for my demographic. But as I kept reading,
I found relatable situations and wonderful advice.
I haven't had children at this late point in my life, so I really appreciated the different approaches to family life: women who had their children when they were young, women who've had their children later in life, and those who decided not to have children at all. On that last point, one essay that really interested me was 
The Unexpected, Exhilarating Freedom of Being Single at 41
 by Glynnis MacNicol.
There are also stories of women who completely changed their careers, proving that it's never too late to pursue your dreams. 
One woman left her dentistry practice to become a writer at age 50, and another left her writing career to go to medical school at age 53! They talk about the pivotal moments that inspired them to alter their life's course and how they made it happen.
"I think the biggest thing is not to compare yourself to your younger self. … You have to set new goals for yourself." – Dara Torres, competitive swimmer and 12-time Olympic medalist
One of the biggest inspirations to me was Betty Reid Soskin, who at 95-years-old is the oldest park ranger in the United States. In her interview, she speaks about the importance of staying active. She has been
blogging about her experiences
since 2003 (
Why she started her blog
). Many of the interviews and essays were from creatives, especially writers, so I enjoyed the profiles the most because there was a wider range of experiences: from
Sister Madonna Buder
, who at 82 years old become the oldest person to complete an Ironman triathlon, to
Katherine Johnson
(
Hidden Figures
), who against all odds became an indispensable member of NASA's manned space mission team at age 40.
"The average life expectancy, especially for women, is between 80 and 90. I tell them, Some of you are 60, and what are you going to do for the next thirty years? Sit there and brood about what didn't happen, or make it happen now?"

– Zoe Ghahremani

, author
Middle age is not the end of the road—it's just the beginning. As a woman in my mid-30s who's starting to get a little nervous about what's waiting for me around the corner, I found this book to be a source of comfort and inspiration. It made me see that some things that seem like flaws when you're young, such as invisibility or vulnerability, can become your greatest assets. This beautifully-illustrated book would make a great gift. I could see Oprah featuring it on one of her book lists!
You can see Lisa Congdon's artwork, including some illustrations from this book, at her website. I recommend checking out Chronicle Books catalog, because they publish a ton of unique, giftable books.