I received this book for free from NetGalley in exchange for an honest review. This does not affect my opinion of the book or the content of my review.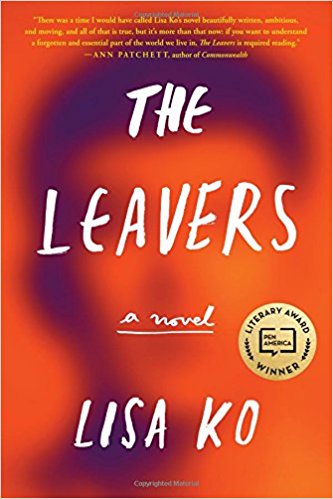 The Leavers

by Lisa Ko
Published by Algonquin Books on May 2nd 2017
Genres: Fiction, Coming of Age, Asian American, Cultural Heritage
Pages: 352
Format: Electronic ARC
Source: NetGalley
Buy on Amazon
Goodreads


"I promise I'll never leave you."
Deming Guo/Daniel Wilkinson has never had much stability in his life. He was born in New York to an undocumented Chinese immigrant, but was sent to live with family in China when he was only one year old. He was sent back to New York to live with his mother when he turned six. Five years later, his mother disappears without a trace. Peilan/Polly Guo left for work one morning and never returned. At the age of eleven, the people he thought were his family place him in the foster care system. He's adopted by a white family in a suburban community.
You could play it one way and play it another, the same note sounding different depending on how you decided to hear it. You could try to do all the right things and still feel wrong inside.
Deming's feelings towards his adoptive parents are complicated. He desperately wants their approval, but he's never sure what they want from him. They mean well and give him a comfortable life, but they're out of touch. They insist on complete assimilation, even going as far as changing his name to Daniel. Occasionally they try to incorporate their own conception of Chinese culture into his life, but they don't ask for his input and there's no consideration of how varied cultures can be in such a large country. They aren't sensitive to his unique circumstances and develop a "colorblind" approach to parenting him. When he overhears a racist comment, his adoptive mother panics and insists that he misheard. She often seems to view life in China as inferior to life in the United States. She doesn't realize her view of China may be biased, that her life isn't the only type of life worth living, or even that her suburban community insulates her from some of the United States's own problems.
It was a funny thing, forgiveness. You could spend years being angry with someone and then realize you no longer felt the same, that your usual mode of thinking had slipped away when you weren't noticing.
With all that he's been through in his twenty-one years, it's no surprise that Deming/Daniel struggles with issues of identity and belonging. He blames himself for his mother's disappearance. He feels unwanted and undeserving of love. A fear of letting people down forces him to keep people at an arm's length. When he's uprooted from Chinatown and placed in the predominately white and middle-class Ridgeborough, NY, he has to learn to navigate a completely different culture. He endures a constant onslaught of thoughtless comments and is exhausted by being both invisible and conspicuous at the same time. All throughout the book, he's forced to compartmentalize his feelings and be careful about what he reveals to each person in his life. He can't even completely relax with his closest friends: "Be careful. They're not on your side. It's important to be strong." He tries so hard to fit in, to the point of losing himself altogether: "Daniel was malleable, everyone and no one, a collector of moods, a careful observer of the right thing to say." The issues that Deming struggles with from having few family connections and a complicated parent really resonated with me. One of the most heartbreaking moments was when he felt embarrassment at referring to his mother as "Mama," because "it felt like he was claiming something that didn't belong to him."
Everyone had stories they told themselves to get through the days.
I was really interested in Daniel's perspective on life, but his chapters felt uneven. He had so much going on in his life, and his musical obsession and gambling problem were a little boring for me. Peilan's chapters took the book to the next level. Peilan has never been content to stand still and lives for the excitement of new beginnings. She writes about growing up in China, the series of events that brought her to the United States, and the struggles of starting over in a place far away from everything she'd ever known. She immigrated to the United States in hopes of a better life and financial success, but moving up the economic ladder is almost impossible between low-wage jobs, unexpected expenses, and mounting debt. Despite the new location, she finds herself encountering similar roadblocks as she did in China. She manages to build her own little family in the New York, but she feels isolated when her son speaks in rapid English that she can't understand or she hears her boyfriend exchanging family stories with his sister. She also feels suffocated by motherhood and the heavy responsibility of guiding her son in the right direction.
Daniel preferred disorder to order, liked the trees in the spaces between buildings, leaves touching the low roofs of older homes. The city looked like it was trying to build itself up but would never fully succeed. This was an underdog's city, ambitious and messily hungry, so haphazard it could collapse one night and be reassembled by the following morning.
When Deming remembers his short relationship with his mother, he remembers being "enough" and not having to try so hard to be accepted. Despite spending only five years together, there are many parallels to how Deming and Peilan experience the world. They find comfort in disorder, knowing "that nothing stayed the same for too long, that each day was a new opportunity for reinvention." They both experience synesthesia. They imagine other versions of themselves leading different lives. They both feel their pasts and everyone who has touched their lives as a physical weight. Getting to know Deming and Peilan as individuals shows how family bonds go much deeper than the biological.
"We can't make ourselves miserable because we think it'll make them happy. That's a screwed up way to live."
There's also the recurring theme of a parent's expectations conflicting with their child's needs and desires. There are both parents who see their child's successes and deficiencies as a reflection of themselves and those who don't expect anything from their children at all. In addition to the forced assimilation, Daniel's parents dissuade him from being a musician. They want him to follow in their footsteps. Both his biological and adoptive mothers had parents who expected little of them because of their gender. They were both were determined to shatter those low expectations, but it was still a source of resentment. Will Daniel ever grow comfortable in his own skin and learn to live for himself?
Over the years, he had thought about what his life would have been like if Mama and Leon hadn't left, if Vivian hadn't taken him to the foster care agency. It was like watching water spread across dry pavement, lines going in all directions. …. But today he could only see himself where he was right now, the particular set of circumstances that had trickled down to this particular life, that would keep trickling in new directions. …. All this time, he'd been waiting for his real life to begin: Once he was accepted by Roland's friends and the band made it big. Once he found his mother. Then, things would change. But his life had been happening all along.
Did Peilan leave Deming by choice or was she taken from him by force? The Leavers is a thought-proving story about belonging, identity, and what it means to be a family. These flawed characters make awful choices and even made me angry sometimes, but I could understand how they evolved into the people they were and how they were able to rationalize their choices. The characters fool themselves to protect a life they've grown accustomed to, but they can never completely escape what they're running from, regardless of the distance they put between themselves and their problems.
The author Lisa Ko was inspired by a real-life story. Spoiler Alert: There are some parallels, so don't read if you haven't read the book!