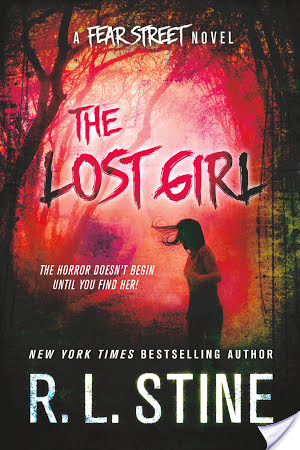 The Lost Girl

by R. L. Stine
Published by Macmillan on September 29th 2015
Genres: Young Adult, Horror & Ghost Stories
Pages: 272
Format: Print ARC
Source: Goodreads First Reads
Buy on Amazon
Goodreads


I won The Lost Girl (Fear Street Relaunch #3) by R.L. Stine in a Goodreads First Reads giveaway. I am not the target demographic for this series, but I do think there are as many wonderful young adult novels as there are wonderful adult novels. I just didn't think this was one of them.
I read so much R.L. Stine when I was younger, so for nostalgic reasons I was really excited when I won this book. Fear Street is young adult horror series that takes place in the really creepy Shadyside, Ohio. Within the series past characters sometimes reappear and past plots are sometimes referenced, but each book stands on its own and you can read them in any order. In this novel, a mysterious girl shows up at Shadyside High School. Michael, a high school senior, becomes fixated on her and invites her into his group of friends. After a weird and tragic event during one of their outings, violent things start happening to his friends. Who is this mysterious person after them and how can they get life back to normal again?
Barnes and Noble lists this series for the 12-17 age range. Aside from the extremely gruesome deaths (one particularly disturbing one involves a horse and honey+oats!), it reads more for the lower end of that range. I did like some aspects of the back story and how the yearbook committee and cemetery assignment tied in, but ultimately this book wasn't much fun to read because it was so shallow. Thankfully, it was a quick read.
Some things that aggravated me while I read this book:
"Everyone knows girls aren't good at math. Why does Mom expect me to be so special?" (Beth Palmieri, 1950).
• The intention was probably (hopefully) supposed to laugh at Beth's 1950s ridiculousness, but it just made me irritated the rest of the novel. If the purpose was to poke fun at the past, the following lines were a little more effective at conveying that intention and the line I quoted was an unnecessary addition.
"Pepper likes to send texts with no whole words, only bunches of letters like OMG or LMAO and then a string of emojis. I was never good at languages. You can ask Mr. LeForet, my French teacher. The other day it took me twenty minutes to decipher a text from Pepper that said: I'll meet you after school at your house." (Michael, present-day high school senior)
• One-dimensional characters, which I was expecting. The protagonist comes across like a senior in life, rather than a senior in high school. If R.L. Stine didn't write this, I am assuming that is the demographic of the ghostwriter! The characters are just a short list of traits and a longer list of fashion choices. The villains are over the top.
"Today was such a happy day for the Palmieri family." A few pages later: "And it's a great day for the Palmieri family."

"And his girlfriend, Kathryn Layne, is part of our group, too." A few pages later: "Kathryn is Diego's girlfriend."
• Repetitive and assumes the reader has a terrible short term memory.
"I'm so frightened, so horribly frightened."
• Unnatural dialogue.
"I could smell the food from the lunch room. Sometimes they have these really good pizza bagels. They're so small, I have to grab at least six of them, but they're really tasty."
• Random information for no reason. And no, pizza bagels do not figure into the plot! I could use less of the unnecessary info and more answers about everything. View Spoiler »What is up with Beth's powers? Why exactly did she steal that ring and misrepresent how she got it? What is "the bloods" thing about? What happened with Diego? « Hide Spoiler
• Super obvious direction. View Spoiler »When a weird and mysterious character shows up in Shadyside with the same physical description as the missing girl in the prologue, there is really no question about her identity. Even more so when a second character appears with a matching physical description. Beth steals food so we know she is most likely not a ghost, which leaves…. « Hide Spoiler
• The ending. Seriously? View Spoiler »Beth emerges in the present through a time tunnel, and she instantly changes from an average teenager to an ultra vengeful mastermind out for blood. It turns out that Beth teams up with the rapey guy from the beginning and he "loved her so much." Ugh. « Hide Spoiler
The Fear Street Relaunch may be okay as an intro to horror for younger teens who can handle death and violence, but they will probably outgrow the series quickly. My curiosity has been quenched and I won't be reading more books in this series.