I received this book for free from NetGalley in exchange for an honest review. This does not affect my opinion of the book or the content of my review.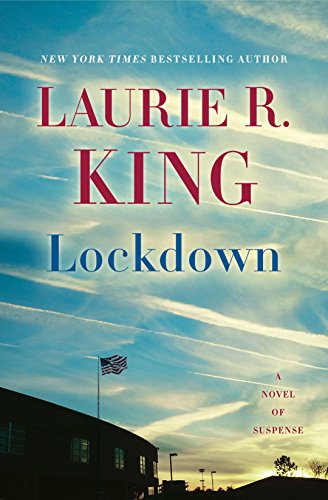 Lockdown

by Laurie R. King
Published by Random House Publishing Group on June 13th 2017
Genres: Fiction, Mystery & Detective, Historical, Traditional, Women Sleuths
Pages: 400
Source: NetGalley
Buy on Amazon
Goodreads


It's Career Day at Guadalupe Middle School and Principal Linda McDonald needs the day to go smoothly. The school is in a low-income area and many of the residents are immigrants. The community is also still reeling from both the murder of a teenager by a gang member and the mysterious disappearance of a sixth-grader. Career Day is a chance to bring the students together and show them all the great things that their future could hold. But for some, the future seems too daunting and there's no hope in sight. As the minutes tick by, the people inside Guadalupe Middle School march closer to disaster.
A school had always been a place to incubate hopes and dreams, in a village like Tío's or in the biggest of cities. But for many of the children here, parental hopes had turned to adult expectations, and the warmth of the incubator felt more like the focused burn of a magnifying glass in the sun. He had first noticed it in the ball games—baseball and what they called soccer here. Mothers and fathers screamed at their players, not in appreciation but in command, even condemnation. Did no one still believe that childhood was a time for joy?
Guadalupe Middle School is located in the farm community of San Felipe, California. It's a "school bubbling with hormones and suppressed rage, with threats all around it" attended by "seven hundred–plus adolescents on the brink of boiling over, into impatience, mockery, even the violence that was never far away." All middle schools have their problems, but this one suffers from "indifferent staff, poor choices, and school board neglect." The school has made great strides since Linda McDonald became principal, but maintaining stability always seems to be an uphill battle. There's a little bit of everything in this book: guarded secrets, gangs, murder trials, corporate intrigue, missionaries, international terrorism, vengeful mercenaries, a missing kid, alcoholic fathers, accusations of pedophilia and domestic abuse…and even a ghost story! The entire book covers the minutes between 12:13 AM to 1:25 PM. The climatic event doesn't begin until the last 15% of the story. The main action didn't affect me emotionally, but I loved the urgent build-up to it. The omniscient narrator chapters reminded me of some of my favorite parts of The Martian!
It fascinates me to think how we all happen to be here, to think of the tales behind each one of us, the ways our stories not only brought us here, but how they will change how we go forward, together and apart.
The chapters of Lockdown alternate between a diverse set of characters: a principal, a school volunteer, a janitor, a coach, a school psychologist, a cop, five students, and one guest speaker. The problem with such a large cast of characters is that the detailed back stories felt like both too much and not enough. Many of the characters could've carried an entire book by themselves. Several of them ended up in San Felipe after escaping violence in their home countries. I'd love to read more about the school janitor who ended up in California after losing everything and Mina's mother's escape from Iran in the 1970s. A series with Officer Olivia Mendez would be pretty awesome too!
These were children who had long outgrown childish naiveté: raised with televised violence, playing games of graphic death, taught by their parents to mistrust any political, economic, or even religious authority. Eleven-year-old girls with braces on their teeth and sparkly unicorns on their notebooks breathed out the cynicism of a Nihilist. And yet, even the oldest, most sneering of these adolescents harbored secret pockets of hope, a hidden belief that the world might still hold out an outstretched hand in place of a fist.
The common thread between the students is that they are all struggling with their identities. They don't like what they see in the mirror and the adults in their lives pressure them to be something other than what they want to be. They are stuck in the awkward transitional phase between child and adult. As much as they keep secrets and wall themselves off from the adults that care about them, they still seem to be aching for someone to reach out to them and break through their defenses. The faculty of Guadalupe Middle School are trying to figure out how to get through to these kids, many who don't have the best of home lives. It's a tough position to be in, because there's a thin line between gaining a kid's trust and pushing them further away.
Guadalupe was a tapestry built from jagged and mismatched pieces that, with care, could find a fit. Unlikely shapes, from a myriad of sources, joined by skilled hands and the eye of a believer. The broken, the lost, and the hidden from view, made into something new.
The theme of Career Day is "Unexpected Threads" and the goal is to show how everything ties together. Principal McDonald says in her speech that "a school is a tapestry of threads." Her husband muses that the roughest threads can be beautiful and the most delicate of threads can become a noose. Officer Mendez wonders if a sweater is a more apt metaphor, because it can all fall apart with the slight pull of a loose thread. In the end, Principal McDonald realizes the school is more like a mosaic than a deliberately woven tapestry. As all these disparate characters from diverse backgrounds are brought together, they set each other on new and unexpected paths: "Everyone's histories wove together to create a thing of beauty. Or ugliness, sometimes."
I rounded up my rating because I enjoyed Laurie King's writing and her ability to create compelling stories for her characters. I would be interested in reading more of her books. It's just that by the end of Lockdown, I didn't feel much payoff for getting so invested in several of the characters' lives. One character was noticeably one-dimensional next to the more well-developed characters and that person dampened some of the emotional power for me.
If you liked this book, you might enjoy The Light Fantastic by Sarah Combs (school shooting/threads/a ton of characters). If the ghost story interested you, I recommend reading the short story "Adela's House" in Things We Lost in the Fire by Mariana Enríquez.