I received this book for free from Macmillan, NetGalley in exchange for an honest review. This does not affect my opinion of the book or the content of my review.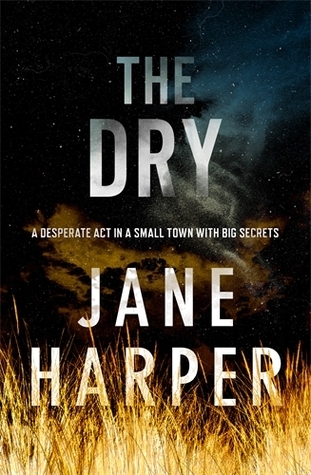 The Dry

by Jane Harper
Published by Macmillan on January 10th 2017
Genres: Fiction, Mystery & Detective, Police Procedural, Thrillers, Crime
Pages: 320
Format: Electronic ARC
Source: Macmillan, NetGalley
Buy on Amazon
Goodreads


It was a cry that had come from too many lips since he'd returned to Kiewarra. If I'd known, I would have done things differently. It was too late for that now. Some things had to be lived with.
Times are tough for the people of Kiewarra, Australia. Crops are drying out because of a never-ending drought and money is running out. Tensions are already high in the community when a respected family is found murdered. Karen Hadler and her six-year-old son Billy are found shot to death in their home. The father Luke Hadler appears to have committed suicide in a nearby field. Only thirteen-month-old Charlotte was left unscathed. Federal Agent Aaron Falk, Luke's childhood best friend, returns to his hometown for the first time in twenty years to pay his respects. The problem is no one wants him there. When Luke and Kyle were sixteen, their friend Ellie was found submerged in the river with rocks in her pocket. No one believes the boys' alibi and both Aaron and his father suffered under intense suspicion.
"Born and bred here, or forever an outsider, seems to be the Kiewarra way."
"Born and bred isn't a free pass either," Falk said with a grim smile.
Aaron planned to get out of town quickly, but Luke's parents want him look through Luke's financials and see if he can find a motive or possibly something that might exonerate Luke. Aaron is reluctant to stay in this suffocating town for one second longer than necessary, but he has a hard time saying no to Luke's grieving mother, who was also like a mother to him. He begins working with Sergeant Raco, who was only employed one week before the murders rocked the community. New clues are few and far between and the investigation is slow. The case has a few weird anomalies, but most of the evidence points to Luke being the killer. Aaron knows that Luke wasn't always the easiest guy to be around, but could he have really slaughtered his family?
On arrival, as the empty moving truck disappeared from sight, [city natives] gazed around and were always taken aback by the crushing vastness of the open land. The space was the thing that hit them first. There was so much of it. There was enough to drown in. To look out and see not another soul between you and the horizon could be a strange and disturbing sight.
I knew I was going to like this book from the moment I finished the creepy prologue where we follow the blowflies! It was totally a pull-the-covers-a-little-tighter moment. Despite the wide open spaces, Kiewarra feels oppressively claustrophobic. The town is like a powder keg about to explode. Even the children can't escape the looming feeling of disaster: "the rawness of local life had seeped into the kids' paintings at the school. Sad faces and brown landscapes." I loved the moments of Aaron wandering around town getting a fresh look at his old stomping grounds. One of my favorite scenes was the horror Aaron experiences after seeing the current state of a river he spent so much time in. I'll probably never say something like this again, but the occasional redback or huntsman spider lurking in the corners added a lot of character!
Scattered through the present-day story are flashbacks revealing the history between the high school clique of four: Luke, Aaron, Ellie, and Gretchen. Luke was the big personality of the group and kind of an ass. He got entertainment out of making his friends squirm. Sensible Aaron was Luke's faithful sidekick. He was starting to develop feelings for Ellie and thought he'd have better luck with her if he was more confident like Luke. Ellie was moody and mysterious. She tried to spend as much time as possible away from her drunkard father. Gretchen, the newest member, was the bubbly blonde who Luke latched onto immediately. The group spent much of their after-school hours together, but they drifted apart after Ellie's death.
The relationships between the townspeople all felt authentic. Aaron's badge impresses no one: "Out here, those badges don't mean as much as they should." No one wants Aaron digging around to expose the town's secrets and his former classmates are eager to put him in his place. Rallied together by Ellie's father and cousin, many of the townsfolk are committed to running him out of town by any means necessary. But it isn't all trouble for Aaron. He strikes up some friendly relationships with some of the town's newcomers. After an awkward funeral scene where people begin to recognize him, he reunites with Gretchen, the only other surviving member of their crew. Their history comes bubbling to the surface with their easy rapport and subsequent flirtations.
"Death rarely changes how we feel about someone. Heightens it, more often than not."
The past and present collide in the insular farming community of Kiewarra, Australia. Did Luke kill his family or was he framed? What happened in Ellie's final moments? Are the two mysteries linked somehow? Being back in his hometown is difficult, but Aaron can't help but want to know what really happened and maybe even clear his name, even though it's too late to salvage his most important relationship. The Dry is a compelling mystery with an immersive setting and complex relationships.