I received this book for free from Ballantine Books, Goodreads First Reads in exchange for an honest review. This does not affect my opinion of the book or the content of my review.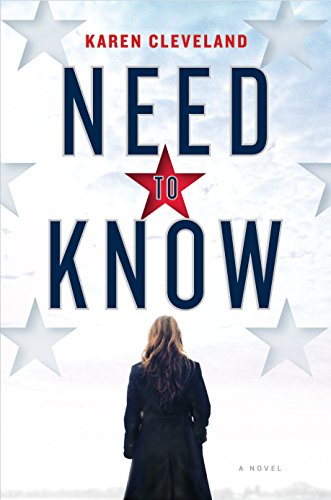 Need To Know

by Karen Cleveland
Published by Ballantine Books on January 25th 2018
Genres: Fiction, Thrillers, Suspense, Espionage
Pages: 400
Format: Print ARC
Source: Ballantine Books, Goodreads First Reads
Buy on Amazon
Goodreads


CIA counterintelligence analyst Vivian is close to a big breakthrough at work. Her department is trying to find Russian sleeper agents living in the United States and she's developed an algorithm to identify likely handlers. Her eagerness to break the case dissipates when she gains access to a suspected handler's computer and finds a file that makes her question every decision that she's made for the last decade. When forced to choose between her oath to the U.S. Constitution and keeping her family together, what will she do?
"Frequently, people who go along a treasonous path do not know they are on a treasonous path until it is too late."

 – John Brennan, the former director of the C.I.A, testifying in front of the House Intelligence Committee (

May 23 2017

)
• ↑ That was basically me the entire time I was reading this book! Vivian feels cornered and acts irrationally. She makes increasingly terrible decisions as the story goes on. Of course, people act in ways that don't make sense all the time. It can be hard to see the big picture when you're in the thick of things, especially when your family is at risk! I ended up accepting it and actually started cheering on her bad choices, because I wanted to see what the consequences would be!
• Vivian feels guilty about all the time she's missed out on with her four young kids. The kids run to their dad for comfort, not her. She has always wanted to leave her job and stay home with them but never had the opportunity. The domestic angle makes Vivian relatable, but it also slowed the story down a little. I felt like skimming when child pick-up and evening routines interrupted the spy stuff!
"Sometimes we think that shielding the truth will protect those we love the most."