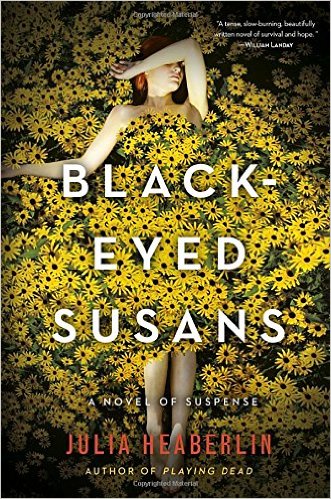 Black-Eyed Susans

by Julia Heaberlin
Published by Random House Publishing Group on August 11th 2015
Genres: Fiction, Thrillers, Suspense, Contemporary Women, Psychological
Pages: 368
Format: eBook
Buy on Amazon
Goodreads


My grandfather once told me that God puts pieces in the wrong places to keep us busy solving puzzles, and in the perfect places so that we never forget there is a God.
Fun-to-read suspense novel that takes place in Texas with an amnesiac narrator. I had a four-star time reading it.
I used to stand in this garden and pretend. The blackbirds stringing across the sky were really wicked witches on brooms. The distant fringes of wheat were the blond bangs of a sleeping giant. The black, mountainous clouds on the horizon were the magical kind that could twirl me to Oz. The exceptions were brutal summer days when there was no movement. No color. Nothingness so infinite and dull it made my heart ache. Before the monster, I would always rather be scared than bored.
When Tessa Cartwright was a teenager, she was buried alive along with other human remains in a field of black-eyed susans. Tessa had little memory of the event, but her testimony was enough to sentence one man to death. Two decades later the man convicted for the crimes is about to be executed and mysterious patches of black-eyed susans have been appearing on her property. She has begun to doubt whether the man is prison is the one who committed the crimes, but she is is scared to confront the past and she has a daughter to protect now. Tessa is under pressure from the his lawyer Bill to remember anything that might exonerate his client. The investigation has little hard evidence to go on, so their only chance at freeing who they believe to be an innocent man is to jog Tessa's memory. Will she be able to remember in time to save a potentially innocent man?
And the smile. I know that smile because I've worn it, the one that pulls at thirteen muscles and strikes a match for all the other smiles in the room and makes you appear perfectly normal and happy.
The narrator is referred to Tessie when she is a child and Tessa when she is an adult. The book is divided into three parts. The first part is "Tessa and Tessie," which alternates between Tessa when she is a teenager in 1995 and Tessa in the present day. Some of my favorite chapters were those between young Tessie and her psychologist. Tessie is so defiant and so different from the older, more fearful Tessa. The second part is "Countdown" which alternates between testimonies at the trial in 1995 and the countdown to the convicted's execution in the present day. View Spoiler »The third part is "Tessa and Lydia" which alternates between Tessie's eccentric friend Lydia in the 90s and Tessa in the present day. « Hide Spoiler
"I thought there would be more people. Where are all the people who scream on Facebook?" "On the couch. Screaming." (at an execution)
This one was a lot of fun to read. The creepy house and the creepy flowers had me hooked from the beginning. Tessie's childhood friendship with Lydia was also intriguing. They were really morbid kids! There are quite a few aspects that make Black-eyed Susans stand out. It takes place in the Dallas-Fort Worth area and the author adds a lot of Texas flavor to the story. It was fun to recognize many distinctly Texas places and quirks. The book also explores the ramifications of Tessa not remembering, when Tessa and Bill witness an execution in Huntsville. The author goes into the logistics of an execution, as well as the ramifications of the death penalty and incidences affecting the wrongly accused. The forensic science was also really neat, especially the part with the forensic geologist explaining how they identify a person's geographical history from bone.
He believed that a person's most profound flaws or virtues emerge in great crisis, or they remain buried forever. I remember leaving his office that day thinking it was sad that ordinary, dull people die all the time without ever knowing they are heroes. All because a girl didn't go under in the lake right in front of them, or a neighbor's house didn't catch fire.
I did not care for the super obvious and needless romance with Bill and the appearance of Tessa's ex-boyfriend Lucas was completely forgettable. I got a little bored of Tessa's View Spoiler »mostly fruitless « Hide Spoiler digging, but at least she was doing something! View Spoiler »I wish the investigation had led to the conclusion or at least to the person who had the answers, rather than a character appearing and explaining everything. I also wish Tessa would have regained a little more of her memory. I don't need all the gory details, but a little more than what we got would have been nice! « Hide Spoiler
"There is a reason you feel the need to blame yourself," he continues. "From all accounts, you were a very careful girl. If you accept the blame—decide you took a rare misstep—you can reassure yourself this was not a random event. If you blame yourself, you can believe that you are still in control of your universe. You're not. You never will be."
I also had issues with the structure. There are very short chapters and constant of back-and-forth between time periods and/or characters. Sometimes I don't mind that type of structure, but it made me feel like I was getting an incomplete picture with this one. I felt like I was trying to piece together the mystery, while I am also trying to piece together the story. That feeling was enhanced by the fact that you don't get all the answers with this book. You get the main answer, but there are still many questions at the end.
"Closure doesn't exist," she responds smoothly. "Just…awareness. That you can't ever go back. That you know a truth about life's randomness that most other people don't."
Overall it was a good book and lovers of thrillers by Gillian Flynn or Paula Hawkins will like it.