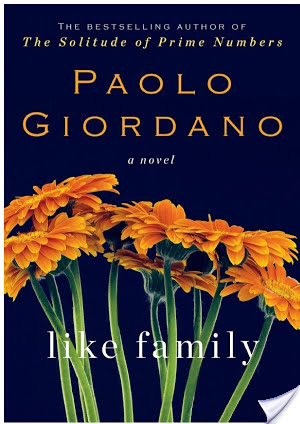 Like Family

by Paolo Giordano
Published by Penguin on December 1st 2015
Genres: Fiction, Literary, Family Life, Psychological
Pages: 96
Format: Print ARC
Source: Goodreads First Reads
Buy on Amazon
Goodreads


In the long run, every love needs someone to witness and acknowledge it, to validate it, or it may turn out to be just a mirage.
I received this book from a Goodreads First Reads giveaway. Mrs. A is hired to help a young couple during a difficult pregnancy, but ends up working for them for eight years. She becomes much more than a maid and a nanny to the young family. When Mrs. A becomes ill and eventually passes, it becomes evident that she was the glue holding the family together. Like Family explores grief, marriage and the families we choose for ourselves.
Death realigns roles according to a formal order of importance, instantly mending the sentimental rules that allowed oneself to break in life, and it didn't matter much that Emanuele was the closest thing to a grandson that Mrs. A had known or that she'd liked to consider us, Nora and me, her adoptive children. We were not.
Like Family is a very small book, both in page number (146) and size (5″x7″). It is filled with beautiful writing and wise insights, but I felt so detached from the characters and their relationships in this character-driven novel. The story is told through the random musings and recollections of the husband, an unnamed physicist. The cold and rational writing style may partially be due the translation, but it could also be because the author is a former scientist. Whatever the reason, the writing made me feel disconnected from what should have been a deeply emotional story. The characters were so walled off from each other and that never felt fully rectified.
A family just starting out is sometimes like that: a nebula of self-centeredness in danger of imploding.
One of the inscriptions in the beginning of the book alludes to this novel being semi-autobiographical. The book does feel deeply personal, but I felt like I was just plopped in the middle of a sad situation without any reason to care. It was missing some element of "life" or "heart." I think this book might work better for someone who has been in similar circumstances and can more easily fill in the gaps.