I received this book for free from LibraryThing Early Reviewers in exchange for an honest review. This does not affect my opinion of the book or the content of my review.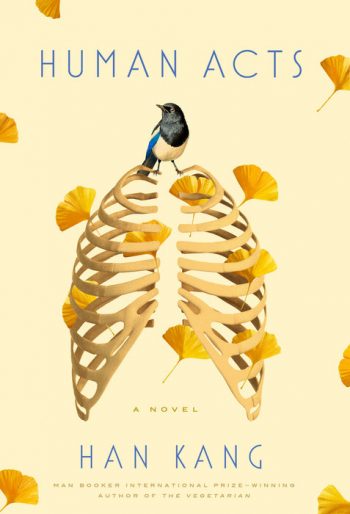 Human Acts

by Han Kang
Published by Hogarth on January 17th 2017
Pages: 224
Format: Print ARC
Source: LibraryThing Early Reviewers
Buy on Amazon
Goodreads


Another powerful book by Han Kang, author of The Vegetarian.
After you died I could not hold a funeral,
And so my life became a funeral.
Some historical background: After 18 years of authoritarian rule, South Korean President Park Chung-hee was assassinated on October 26, 1979. Hopes for democracy were dashed when Army Major General Chun Do-hwan seized power in a military coup on December 12, 1979. On May 17, he placed the entire country under martial law under the pretext of national security concerns. The next day university students in Gwangju held a demonstration protesting his oppressive actions. Government troops were sent to forcefully suppress the opposition, but their brutality did not deter the citizens of Gwangju. People from all walks of life came out to defend their community. The fighting continued until May 27, when government forces succeeded in crushing the rebellion. (More detailed information on the Gwangju People's Uprising at the Korean Resource Center.)
In Human Acts, fifteen-year-old Dong-ho's best friend Jeong-dae is killed during a demonstration. Dong-ho ran for safety and feels immense guilt for leaving his friend behind ("There will be no forgiveness. Least of all for me"). The dead bodies are collected in a gymnasium so that families can walk through to find and identify their loved ones. While Dong-ho searches for his friend amongst the dead, he's recruited as a volunteer and incidentally becomes part of the rebellion. Dong-ho is killed by government troops. The chapters that follow are a collection of individual experiences all connected by the Gwangju Uprising and Dong-ho's death.
Our experiences might have been similar, but they were far from identical. What good could an autopsy possibly do? How could we ever hope to understand what he went through, he himself, alone? What he'd kept locked away inside himself for all those years.
The book covers a thirty-year period, from 1980 to 2013. Each chapter is from the perspective of a different person in a different year, but they are all living with the effects of that week in 1980. We hear from Dong-ho, his best friend's spirit, an editor that deals with censors, a man and woman who were imprisoned and tortured for their political activities, and Dong Ho's mother. The epilogue is told from author Han Kang's perspective. During the time of the Gwangju Uprising, she was only 9 years old and her family had just moved from Gwangju to Seoul. While she was out of harm's way, knowledge of the event left an indelible mark on her. She writes about what compelled her to write this book and about the real-life Dong-ho.
You feel the weight of an enormous glacier bearing down on your body. You wish that you were able to flow beneath it, to become fluid, whether seawater, oil, or lava, and shuck off these rigid impermeable outlines, which encase you like a coffin. Only that way might your find some form of release.
The introduction by translator Deborah Smith provides vital historical context and notes about her translation process. She also translated The Vegetarian. Both books are relatively short, but every single word packs a punch. The writing style is accessible, but the content emotionally difficult. There's a visceral physicality to the language and I felt the impact of every word. Han Kang has a remarkable ability to sum up a person or a relationship in just a couple of sentences. That ability is showcased of the portrayal of the relationship between Jeong-dae and his sister Jeong-mi. There are so many moving scenes, but one of my favorites is in "The Editor" chapter, which details the performance of a play with a censored script. It shows how impossible it is to suppress everything. Dong-ho's confusion about the displays of patriotism in a nation where the government is attacking its own citizens and the discussion of what a nation is also made an impression on me.
At that moment, I realized what all this was for. The words that this torture and starvation were intended to elicit. We will make you realize how ridiculous it was, the lot of you waving the national flag and singing the national anthem. We will prove to you that you are nothing but filty stinking bodies. That you are no better than the carcasses of starving animals.
The Vegetarian was the more unique reading experience, but Human Acts evoked stronger feelings in me. I prefer realism and Human Acts is more grounded, while The Vegetarian is surreal and dream-like. However, in both books characters suffer from the long-lasting effects of trauma and the desire to escape the confines of the body. There were several events in Human Acts that reminded me of The Vegetarian, especially in "The Editor" and "The Factory Girl" chapters. I think that reading The Vegetarian would be an even richer experience after reading Human Acts.
Is it true that human beings are fundamentally cruel? Is the experience of cruelty the only hinge we share as as a species? Is the dignity that we cling to nothing but self-delusion, masking from ourselves this single truth: that each one of us is capable of being reduced to an insect, a ravening beast, a lump of meat? To be degraded, damaged, slaughtered–is this the essential fate of human kind, one that history has confirmed as inevitable?
In Human Acts, people's lives suddenly become unrecognizable. Many of them feel an instinctive call to protect their freedoms and the future of their nation, even in the face of almost certain defeat. Through the characters, we explore the push and pull of nobility and barbarism on human nature. What does it mean to be human? If we aren't innately good or bad, is there a way to steer us towards our better impulses? There are several instances where a character assumes decency in another, only to be proven wrong soon after. As bleak as many of the perspectives are, Kang doesn't ignore the good in the people. She also writes about the helpers and the soldiers who disobeyed their orders. It's been about six months since I read this book and I still get the same pit in my stomach when I think about it. It's a tough read, but worth the time.
Some of those who came to slaughter us did so with the memory of those previous times, when committing such actions in wartime won them a handsome reward. It happened in Gwangju just as it did on Jeju Island, in Kwantung and Nanjing, in Bosnia, and all across the American Continent when it was still known as the New World, with such a uniform brutality it's as through it is imprinted in our genetic code.
NOTES:
• I highly recommend reading the informative interview with Han Kang over at The White Review.
• I've read a number of books about citizen uprisings from all over the world and there's a common thread that runs through most of them: United States support of these oppressive government crackdowns.
• The election of Park Chung-hee's daughter Park Geun-hye in 2013 reopened old wounds. She is currently suspended from office while undergoing impeachment proceedings.
• Related Books: Green Island (citizen uprising/martial law/brutal regimes/Asia), The Buried Giant (collective memory/scars from the past), Between the World and Me (destruction of the body).