I received this book for free from Macmillan, NetGalley in exchange for an honest review. This does not affect my opinion of the book or the content of my review.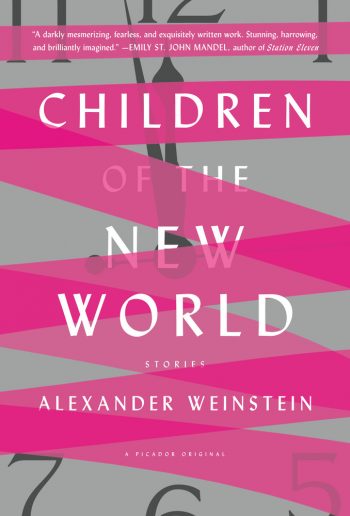 Children of the New World

by Alexander Weinstein
Published by Picador on September 13th 2016
Genres: Fiction, Literary, Science Fiction, Collections & Anthologies, Short Stories (single author)
Pages: 240
Format: Electronic ARC
Source: Macmillan, NetGalley
Buy on Amazon
Goodreads


If you love the TV series Black Mirror, this book is for you! This collection of thirteen short stories features a variety of imagined futures where technology has become so embedded in day-to-day life that it's impossible to live without it. Many of the characters have grown so dependent on virtual reality that they've forgotten how to connect with people in the real world. Some of them seem to want more offline connections, but are clueless about how to obtain them. One of the reasons books like this are so unsettling is because it's easy to see how these tech-obsessed societies developed and gradually became the norm. In Migration, a man still holds on to the more traditional values of his youth, but his younger wife is unbothered by the cultural changes since these new technologies were always part of her life.
It all made me want to turn off my layers, go back to the old days, and stay disconnected. But you do that and you become another old guy buried in an e-reader, complaining about how no one sends emails anymore.
My favorites:
• Saying Goodbye to Yang: In a world where people prefer cloning to conceiving naturally, the couple in this story decided to adopt a little girl from China. They also purchased a life-like robot named Yang to serve as her brother and ensure that she would remain connected to her culture. One morning, Yang has a catastrophic malfunction and fixing him isn't an option. The father realizes how much Yang has become part of the family and how little he knows about the world, including their neighbors.
• The Cartographers – A company creates complex memories that are beamed into customer's minds. They're so well-done that it's difficult to distinguish the difference between real memories and fake ones. One of the owner's addiction to creating false memories makes it difficult for him to make real memories with his girlfriend.
• Heartland – Companies exploited all of this community's land and resources, leaving the citizens with a wasteland. They're forced to make difficult decisions to survive. With very few jobs available, a family uses their children to make ends meet. How far are they willing to go?
• Children of the New World – A couple who was unable to have a child in real life is devastated when a virus destroys their virtual family.
• Rocket Night – Every year, a local elementary school sends the least-liked child to space. The casual detachment of the narrator made this one extra eerie!
Some days I think it was; that there's no way to share the totality of yourself and still be loved, that secrets are the glue that holds relationships together.
• Openness – This one takes place in a world where you can easily share your most inner self with others. You can control which parts of yourself people can access by locking specific layers. Can a couple survive revealing all of their layers?
We were the first generation to grow up with layers, a group of kids who'd produced thousands of tutorials on blocking unwanted users but not a single one on empathy.
• Ice Age – Tensions escalate between an igloo community and their wealthy neighbor who's wasting dwindling resources. The close-knit community focused on survival is permanently altered when material possession becomes an option.
My favorites tended to be the ones about couples and families surviving in a technologically advanced world. The tales are bleak and depressing, but also interesting and unique. I love speculative fiction and weird short stories, so this book was a perfect fit for me. As with all short story collections, I liked some stories more than others. There were only two that didn't appeal to me at the time (The Pyramid and the Ass and the very short A Brief History of the Failed Revolution). I calculated four stars by averaging my scores for each individual short story, so I rated most of them very highly. You can sample some of Alexander Weinstein's short stories at his website. I look forward to reading more of his work in the future!
If you enjoy this collection of short stories, you might also want to check out Slipping by Lauren Beukes (available 11/29/16) and Some Possible Solutions by Helen Phillips.