I received this book for free from St. Martin's Press in exchange for an honest review. This does not affect my opinion of the book or the content of my review.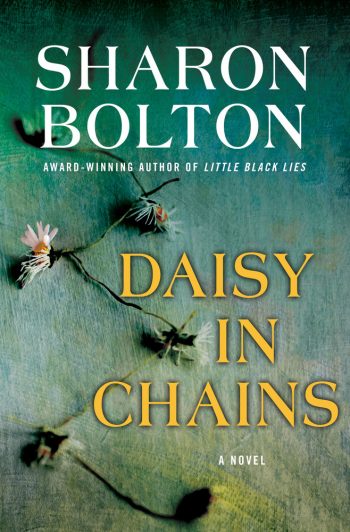 Daisy in Chains

by Sharon Bolton
Published by Minotaur Books, St. Martin's Press on September 20th 2016
Genres: Fiction, Thrillers, Suspense, Crime, Legal, Psychological
Pages: 352
Format: Electronic ARC
Source: St. Martin's Press
Buy on Amazon
Goodreads


3.5 Stars. Solidly entertaining crime novel that doesn't make the detective work easy for you.
Handsome and charismatic doctor Hamish Wolfe was convicted of murdering three overweight women. He's also suspected in a fourth case involving a missing woman whose body hasn't been found. His only hope for exoneration is Maggie Rose, a true crime writer and defense attorney with a history of overturning convictions. She's hesitant to take on his case, but she can't resist his charms.
No one should be convicted on the strength of a flawed case. The best, strongest, soundest system of justice in the world is the one that allows itself to be scrutinized and challenged. I scrutinize. I challenge. (Maggie)
I read Daisy in Chains within twenty-four hours, so it's certainly compelling! The pacing was perfect and Bolton kept me alert. Every time I thought I'd figured a character out, something would happen to make me doubt myself. This book is perfect for people who hate when they successfully guess the ending! The framework of clues and the timing of their reveals was masterful. There were an abundance of lightbulbs moments where I later realized "Oh! That's why this scene was so strange!" or "Oh, that's why there was such an emphasis was on ______!" It's set around the Somerset coast and the parts about the area's cave system are really interesting. Letters and articles are interspersed between the chapters. Maggie is considering writing a book about Hamish's case and my favorite inclusion was the chapters from the rough draft.
If you have ever wondered what hell is like, let me tell you. It is knowing that one final blow will destroy you, and that you will spend the rest of your existence waiting for that blow to strike. (Hamish)
The chapters alternate between the perspectives of Maggie, Detective Sergeant Pete Weston, and Hamish. Maggie is an interesting lady! She has a no-nonsense attitude, a blunt manner of speaking, and blue hair. This book is a standalone, but I liked her enough that I was hoping that she was part of a series! Detective Sergeant Pete is likable and seems like a good guy. His relationship with Maggie is an uneasy one, especially since she is investigating a case that he wants to remain in the past. They don't fully trust each other, but there's a mutual respect between them. Hamish is a difficult one to figure out. Sometimes he acts like a caring doctor who was wrongly accused, but other times he comes across as cold-blooded and manipulative.
I really enjoyed when Maggie would visit Hamish in prison. There's a strange electricity when they are together and I couldn't figure out who was manipulating who. Sometimes it seemed like Maggie was getting caught up in Hamish's web of deceit, but it also seemed like she was playing her own game! Maggie also has interesting interactions with a group named the Wolfe Pack, a colorful group of characters who are committed to proving Hamish's innocence.
!——-Non-spoilery assessment of my feelings at the end, but skip the next part if you want to know absolutely nothing.——–!
View Spoiler »
It did lose me some at the end. I prefer stories that are either 100% ridiculous or dish out the ridiculousness gradually. This one was so serious the entire time and then piles on all the crazy in the final chapters. There are several gasp-worthy moments right on top of each other and I think the final reveal was a little overboard for me. While I love how Bolton laid out her clues, I still finished feeling like I was lied to. I'm not sure if that's a fair assessment or not, but I didn't change my mind after rereading a chapter that led me astray. The story has so many layers that I'm not sure I finished with a complete understanding of every aspect, such as character histories and how everything fell into place perfectly. I'm really curious to see how it holds up with a full reread. This would be a great book to read with a buddy, so you have someone to discuss it with! « Hide Spoiler
!——–It's safe now!——–!
'I don't need to believe in your innocence,' [Maggie] says. 'Just to convince others of it.'
Serious issues are addressed during the story, like fat-shaming and women who fall in love with prisoners. I didn't draw any strong conclusions on those subjects in relation to the story, but the topics are very interesting. Daisy in Chains is an overall enjoyable read and a great book to curl up with on a rainy day. I'm happy to have another author to add to my list for when I'm in the mood for crime fiction.