I received this book for free from NetGalley in exchange for an honest review. This does not affect my opinion of the book or the content of my review.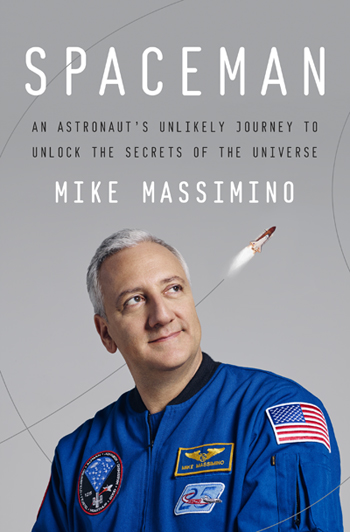 Spaceman

by Mike Massimino
Published by Crown/Archetype on October 4th 2016
Genres: Biography & Autobiography, Adventurers & Explorers, Science, Physics, Astrophysics, Science & Technology
Pages: 336
Format: Electronic ARC
Source: NetGalley
Buy on Amazon
Goodreads


Inspiring and relatable. It made me want to work at NASA!  I would've had to do some serious thinking about my future career path if I'd read this book in high school!
Mike Massimino served as a NASA astronaut from 1996 to 2014. During his career he was on the crew of two spaceflights, the final two Hubble Space Telescope servicing missions. Spaceman: An Astronaut's Unlikely Journey to Unlock the Secrets of the Universe is the story of Massimino's life as an astronaut, from the boy with a dream in Long Island to becoming a Hubble guy, "one of the Jedi." His path to outer space wasn't easy; he was rejected by NASA twice. When he made the final round of astronaut selection, he almost lost the chance because of poor eyesight. (I've never been more invested in someone passing an eye exam!) With hard work, dedication, and the support of a team, he was able to achieve his lifelong dream.
Life is not about achieving one great thing, because once that thing is over, life keeps going. What motivates you then? The important thing is having something you love doing, and the greatest joy is that you get to wake up every day and do it.
At a press conference following the STS-109 mission, a NASA administrator tells the crowd: "Somebody asked if we're going to send kids into space. We have sent kids into space. We sent Mike Massimino." What makes this book so fun to read is that Mike Massimino has such a positive attitude and never lost his sense of amazement at what he was tasked to do. He displays a sincere appreciation for the planet we get to live on and a genuine commitment to seeking and sharing knowledge. He didn't always take the ideal path, but one of the most enduring lessons of the book is that sometimes the decisions that seem like mistakes might be the things that help you out in the long-run. He shares both the successes and frustrations of his career.  Even when he officially became an astronaut there were still problems to overcome, such as finding a niche and mastering difficult skills in training. I loved that he comments on imposter syndrome. It's comforting to know that even those at the top of their field struggle and inspiring to see how they work through those issues.
We have this idea in America of the self-made man. We love to celebrate individual achievement. We have these icons like Steve Jobs and Henry Ford and Benjamin Franklin, and we talk about how amazing it is that they did these great things and built themselves up out of nothing. I think the self-made man is a myth. I've never believed in it. I can honestly say that I've never achieved anything on my own. … I owe everything I've ever accomplished to the people around me—people who pushed me to be the best version of myself.
I genuinely loved the entire book, but I especially loved the parts when he officially becomes an astronaut. What's it like to fly a supersonic T-38 jet plane? What's the perfect soundtrack for looking out at Earth from the space shuttle? Massimino tells us all the interesting things that astronauts get to experience and sheds light on details that I wouldn't even think to wonder about, but he also describes how all these experiences feel: the surge of panic and doubt when preparing to enter the shuttle for the first time, the overwhelming pressure of making high-stakes repairs when there's no room for error, and the awe-inspiring feeling of floating above Earth. I felt such a rush during the spacewalks. The moment where everything he knew intellectually became amazingly and terrifyingly real brought tears to my eyes. Massimino also addresses the devastating loss of the STS-107 crew in the 2003 Columbia disaster and lets us get to know the members of that crew on a more personal level. We learn the impact the disaster had on the space program and the changes that were made to protect future crews.
During the final Hubble repair mission in 2009, Massimino became the first person to use Twitter in outer space. He's still active on Twitter to this day. It was refreshing to read about the positive impact of social media and how it can be used as an educational tool. I was also really impressed by the camaraderie between those working in the space industry and how everyone went above and beyond to help their colleagues, on both personal and career levels. The final Hubble Telescope servicing mission was a very stressful situation, but I really loved reading about how the whole team came together to solve the problem. 
Our sun has been there for a bazillion years, and this has been happening for a long, long time and there's nothing we can do to stop it. People are going to come and go, live and die; bad things are going to happen and good things are going to happen. But nothing we do is going to change this cosmic dance that's been going on since the beginning of time.
Going to space is awesome and so is this book! I'll never work at NASA, but I felt like I did for a few hours! While most of us will never visit outer space, it's filled with important life lessons that are applicable to everyone. Massimino really emphasizes the importance of exploration and how you can accomplish almost anything with hard work and the support of a team. This book showed me the human side of space travel and gave me a whole new appreciation for the people who risk their lives to explore the universe. I greatly admired the commitment to serving a purpose greater than oneself. I experienced a wide range of emotions while reading this book: laughter, tears, wonderment, and edge-of-my-seat suspense. I would recommend this book to everyone, but especially young people about to embark on their journey to adulthood. You might want to have the movie The Right Stuff readily available, so you can watch it when your done with the book!
Every person who goes to space, every person who gets to peek around the next corner, is someone with the potential to help change our perspective, change our relationship to the planet, change our understanding of our place in the universe. Which is why we go to space to begin with.
Side Note: If you ever get a chance to tour one of NASA's facilities, I highly recommend it. We went on the 90-minute tram tour of Johnson Space Center and it's by far the coolest thing I've done in Houston! I just found out there is an even more awesome 4-hour tour!