I received this book for free from LibraryThing Early Reviewers in exchange for an honest review. This does not affect my opinion of the book or the content of my review.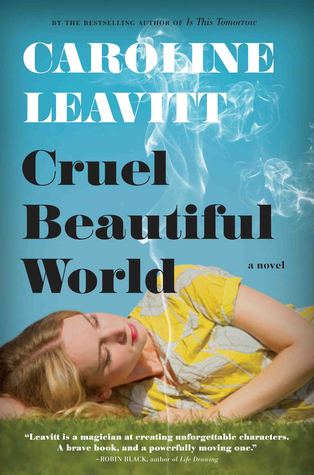 Cruel Beautiful World

by Caroline Leavitt
Published by Algonquin Books on September 19th 2016
Genres: Fiction, Literary, Contemporary Women, Coming of Age, Family Life
Pages: 352
Format: Print ARC
Source: LibraryThing Early Reviewers
Buy on Amazon
Goodreads


"Why do you always have to think about the worst things?"
"Because the worst things happen all the time."
A character-driven novel about the messiness of love and coping with loss. Sixteen-year-old Lucy runs away with her thirty-year-old English teacher, leaving only a vague note for her adoptive mother and older sister to find. They don't know if they'll ever see her again and Lucy's mysterious disappearance leaves a hole in their lives that can never be filled. Lucy is excited to be an "adult" and has romantic ideas of what a lifetime with William will entail, but she soon realizes how little she knows about him.
[Iris] had seen that poster in Lucy's room, that ridiculous sentiment that you don't belong to me, and I don't belong to you, but if we find each other, it's beautiful. What a stupid thing to say! Of course people belonged to each other. Love owned you. It kept you captive.
It's 1969, and the Vietnam War is in full swing. The Manson murders and the subsequent trial dominate the news. There's a heightened awareness of all the danger in the world. Lucy and her older sister Charlotte had been inseparable since their parents died over a decade ago, but they've been drifting apart recently. Charlotte is busy with schoolwork and preparing for college. As the "big girl helper," Charlotte always had a closer bond with their "distant" relative and adoptive mother Iris. Iris is 79 and planning to travel the world once both girls leave the house. Free-spirited Lucy is feeling left behind and has no idea where her life is heading, unlike her studious sister who has her entire life mapped out. When her English teacher William shows an interest in her, she finds love and a purpose.
"You don't know what you're seeing sometimes, when you see it," [Patrick] said. "You don't know how bad it can get."
I was expecting an intense plot, but it's actually an introspective, character-driven novel. The chapters alternate between the perspectives of Lucy, Charlotte, and Iris. Later, we get the perspective of Patrick, a man Lucy meets near her new home. These people have experienced more than their fair share of miscalculations and heartbreak. They reveal their hopes, fears, doubts, and regrets. They all had big ideas of how their lives would go, but nothing turned out as planned. Despite the many decades between Iris and Lucy, they are so much alike! They were both determined to have better lives than their guardians, but their lives still end up full of complications. For better or worse, they both end up getting trapped in someone else's story and putting aside their own needs for the people they love. Likewise, Charlotte and Patrick both end up putting their lives on hold because they feel guilt about their inability to protect the people who depended on them. There's an overarching fear that one only gets one chance at life. Will any of them ever be able to stop blaming themselves and give themselves a second chance?
[Patrick] had read that the reason there were ghosts was that the living tethered them to life, that the dead lingered not because they needed closure but because the living did. And the living needed to do only one thing for the dead: let them go. And they could never do it.
I really liked the scenes at and near Lucy and William's rustic home in the woods. A threatening atmosphere surrounds the isolated home. Life with William isn't exactly what Lucy expected, but she tries to make the best of it. William becomes increasingly paranoid, manipulative, and possessive, causing Lucy to feel lonely and restless. She has little to occupy her time besides writing and taking care of William. She develops an anxiety over the Manson trial that felt a little forced. Part of it was the marketing; the name Manson screamed out at me, so I was expecting more of a connection than news stories seen on the other side of the country. I didn't feel as strongly about the Vietnam War references since that was part of Lucy and Charlotte's life via student protests. However, the news events add to the anxious atmosphere and give Lucy a new framework to view her life. But even as she begins to develop a more nuanced view of William, it's still difficult for her to resist the strong pull of love.
Sometimes you couldn't fix things, you couldn't make them better, and you had to live with that. It didn't make you a bad person, the way she had thought. It made you human.
I've talked a lot about Lucy, but it's about so much more than her running off with a teacher. Looking back on this book almost a month later, it's not the plot or historical setting that have stayed with me. It's the process through which these characters learned to cope with their pain and begin again after loss. They have to learn to allow themselves some happiness in the present and that life can't be fully lived in anticipation of the worst case scenario. For all the heartbreak and ugliness in the world, there's also love and beauty waiting to be found.  It also shows how inescapable the pull of love can be. I think I would've liked even less closure in the end (I can't believe I'm saying that!), but I know these characters will stay with me for a long time.
____________________________
Books I thought of while reading:
• I'd categorize it with A Place We Knew Well in terms of the general feel, even though there are plenty of differences. History was the bright spot in A Place We Knew Well, whereas it was the characters in Cruel Beautiful World.
• Good Morning, Midnight – the focus on the characters coming to terms with past decisions.
• I Will Send Rain – The mother-daughter relationship
____________________________
My favorite passages:
An argument in Chapter 23.
-AND-
"Falling in love with children was different from giving your heart to an adult. Oh, it was so much better! [Iris] remembered the way she had fallen for Doug, how she couldn't sleep because she kept thinking about him, how when she saw him she wanted to kiss him. Later she felt deep comfort that he was around. But it was love with edges and complications. Loving the girls brought her deep peace, something she could sink into like a blanket."