I received this book for free from NetGalley, Simon & Schuster in exchange for an honest review. This does not affect my opinion of the book or the content of my review.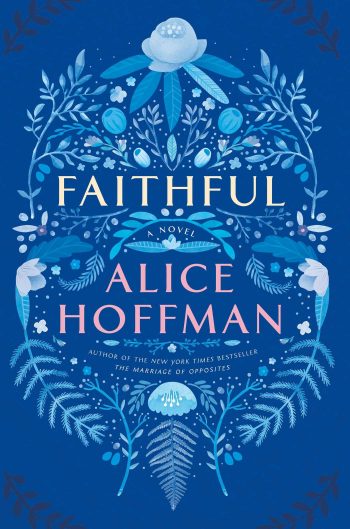 Faithful

by Alice Hoffman
Published by Simon and Schuster on November 1st 2016
Genres: Fiction, Contemporary Women, Magical Realism, Literary
Pages: 272
Source: NetGalley, Simon & Schuster
Buy on Amazon
Goodreads


A beautifully written coming-of-age tale about transformation, redemption, and learning to let go. When Shelby was seventeen, she was the driver in a car accident that put her best friend Helene in an irreversible coma. Helene is trapped inside herself and subjected to an endless stream of visitors convinced that she produces miracles. Shelby blames herself for Helene's misfortune and has dedicated her life to paying her penance. "She is stopping her life, matching her breathing so that it has become a counterpart of the slow intake of air of a girl in a coma." She suffers from major depression, anxiety, survivor's guilt, and post-traumatic stress. Faithful follows the slow and painful process of Shelby rebuilding her life over a ten-year period.
In fairy tales, such things happened, you stole from someone, then were handed their fate as a punishment.
The writing is gorgeous! The prose is so effortless and I almost forgot I was reading. I loved how Hoffman added little bits of magic to everyday life through her word choices. The most magical parts of the story are when Shelby periodically receives anonymous postcards with inspiring messages like "Be something," "Feel something," and "Trust someone." The postcards are the one thing she looks forward to in life. They give her a subtle push to start living again, one step at a time. Each chapter is a transformative event in Shelby's life. Shelby's path to healing is messy! She makes maddening choices and there are many ups-and-downs in the story, but the general trajectory is towards healing. Even the bad decisions push her forward. She's determined to coast through life with no attachments, but new relationships, a love of animals, and the postcards keep her from completely drifting away. Each new experience, good or bad, makes her open up a little more.
People say if you face your worst fear the rest is easy, but those are people who are afraid of rattlesnakes or enclosed spaces, not of themselves and the horrible things they've done.
Shelby is wrestling with some really tough issues and her unpleasantness made the first chapter a bit of a chore. I was hooked once she meets Maravelle (Mimi) Diaz in Chapter 2. Mimi is the first person Shelby befriends that didn't know her before the accident, so it's a pivotal moment for her. One of the most memorable chapters is when Shelby babysits Mimi's children and has to be responsible for people other than herself. Her close relationship with Mimi's children forces her to look at her own mom in a more nuanced way. Shelby's evolving relationship with her mother was the most emotional part of the book for me. The moment she steps out of her emotional fog realizes how deeply and unconditionally she was loved was so moving.  "How can you hurt the one woman in the world who waits up for you at night till you're safely home? Who puts up with your moods and your disappointments in life? Who remembers you when you were young and handsome and had faith in the world?" The deepening of the mother-daughter relationship had me sobbing!
!——-Vague assessment of my feelings towards the end, but skip the next part if you want to know absolutely nothing.——–!
This is one of those books where there's a constant stream of dramatic events. As much as I loved Mimi and her family, I thought their serious issues tipped it over into the too much category. I enjoyed the story most between the introduction of Mimi and the resolution of the postcard situation. Shelby stumbles across the identity of the postcard sender and it felt so random and anti-climatic. Even though I was happy that Shelby found happiness, I couldn't get into one of the relationships in the last quarter of the book. The connection was so sudden and there's only a passing mention of this person in an earlier conversation. I groaned when they said, "It was always you, Shelby." Romance, fate, fairy tales, etc., but I just couldn't keep my fairy tale lenses on for that. That's the second person in the book who wouldn't have had a chance with her before the accident and was fixated on her from afar. I also wish that Ben got a better ending than he did because I liked his "first" ending better!
!——–It's safe now!——–!
She read the color-coded series of Andrew Lang's fairy tales to her mother. They became lost in an enchanted cottage with vines growing over the window. It was dark and it was quiet and they could hear each other softly breathing. Every story had the same message: what was deep inside could only be deciphered by someone who understood how easily a heart could be broken.
The people in this book are deeply flawed, but they also have goodness inside of them. The angels in Shelby's story aren't perfect people, but they were there to guide someone through their lowest moments. Faithful shows the potential for transformation in everyone. Shelby thinks the accident permanently transformed her into a monster. She's built a protective shell around herself because it's easier than letting people in, but her goodness can't be trapped inside forever. She sees life as a novel where a person carries all their past experiences with them from chapter to chapter. In order to fully heal she has to realize that while her past will always be a part of her, it doesn't have to define her. She doesn't have to stay stuck in one story. Punishing herself in Helene's name isn't fair to Helene either. She'll never be able to move forward if she continues to punish herself and carry her past guilt with her.
She thinks of the way angels arrive, when you least expect them, when the road is dark, when you're bleeding and alone and hopeless, when you're sleeping in a basement, convinced that no one knows you're there.
Faithful is one of those books that I enjoyed while I was reading, but I haven't thought about since I put it down. While it wasn't particularly memorable for me, I have a feeling that Hoffman will become a go-to author for me for the times where I want to just disappear into a story. Shelby's story is extremely relatable and I could see it being a comfort to anyone who has struggled with similar issues. The themes reminded me of Cruel Beautiful World. I wish that Shelby could meet CBW's Patrick*–too bad they're fictional characters!
She thought she knew what her future would be like, but as it turns out life is far more mysterious than she would have ever imagined. What is behind you is gone, what is in front of you awaits.
___________________
"[Patrick] had read that the reason there were ghosts was that the living tethered them to life, that the dead lingered not because they needed closure but because the living did. And the living needed to do only one thing for the dead: let them go. And they could never do it." – Cruel Beautiful World