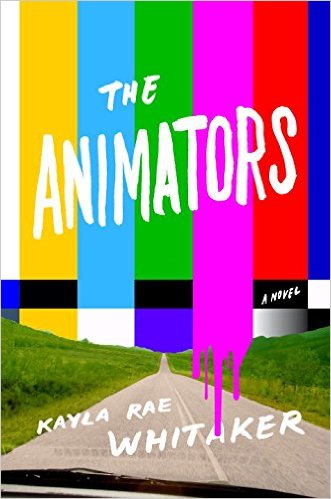 The Animators

by Kayla Rae Whitaker
Published by Random House Publishing Group on January 31st 2017
Genres: Fiction, Literary, Contemporary Women, Family Life
Pages: 384
Format: Electronic ARC
Source: NetGalley
Buy on Amazon
Goodreads


How silly it is to assume that what we're dealing with is not something that will, in turn, deal with us.
Sharon and Mel met while attending the same art program in college and have worked together ever since. Ten years later, their careers have taken off with Nashville Combat, an animated feature based on Mel's childhood. The success exposes cracks in their relationship. Mel's antics are taking a toll on the friendship and Sharon feels like she constantly has to babysit her. When Sharon's capacity for creation is suddenly threatened, everything changes. Sharon has always worried that Mel is the real creative force in the duo, but it turns out that Sharon has her own story to tell–but what will it cost to tell it?
"It's the greatest thing you can do for something," [Mel] said. "Giving it movement. Possibility."
The Animators really appealed to my art-school heart! The writing buzzes with energy. It bounces to several settings and we get to experience New York, Florida, and Kentucky. Sharon and Mel create animated films for an adult audience and the content is gritty and raw. The duo, especially Mel, live a stereotypical artist's life: dysfunctional families and lots of drugs, alcohol, sex. It rarely felt overbearing, probably because the story is told from Sharon's point of view and the overlying focus on the act of creation. I did have a semi-panicky moment in the beginning because I wasn't loving it, even though it matched my interests and was so highly rated. About a quarter of the way through, the course of Sharon's life is altered and everything fell into place. At that point, I began to see where the story was heading and what was driving the characters. There was one late revelation that I didn't like. It was a little too much on top of everything else and I thought it toppled into "Really?!" territory. However, it didn't overshadow my favorite parts!
When she looks up at me, her eyes are big, blank; they seem separated from her face. And I see something I have never seen before in Mel: self-removal. Inside, she has fled. The ability of anyone who has ever been on the receiving end of something violent to grasp the details that remind them of their humiliation—smells, colors, sounds—and blur these details so that they become foreign, someone else's property. It is a cultivated skill, requiring time, experience, unspeakable mental real estate. It is, for the desperate, the only chance to leave what happened with the part of yourself that is still yours. Children learn it. Boys, but more often, and more closely, girls. When girls learn it, they learn it for the rest of their lives, inventing two separate planes on which they exist—the life of the surface, presented for others, and the life forever lived on the inside, the one that owns you. They will never forget how to make themselves disappear. To blend into the air.
The best part was reading about two talented women creating together. I fell in love with them both, flaws and all. They are complete opposites in almost every way: physical attributes, personality, and what drives them to create. The differences create an interesting dynamic between the two women. Mel likes being at the center of their art, while Sharon uses art to escape. Mel is outgoing and unafraid, always brimming with new ideas. Sharon is the one that reels her back in and pushes them towards a finished product. Mel lives in excess and makes fast friends wherever she goes. Sharon feels like an outsider and is constantly trapped inside her own head. As different as Mel and Sharon are from each other, they both share a passion for their work. They have a strong bond and know each other intimately. Mel is a total mess, but she goes above and beyond when Sharon needs her most. They balance each other out. Mel pushes Sharon forward and, in a way, Sharon keeps Mel grounded.
A project always begins like a pimple on the back of the neck. You can't see it, but you can feel it, rising just under the surface. And it drives you crazy. It swells, gains definition, becomes visible. The bigger it gets, the more it presses into the back of your spine. The more it presses, the less you can focus on anything else. Working on it every day is just a way of scratching the itch until you've finished its business and it slowly starts to shrink back down.
When Sharon and Mel are engaged in a project, their insatiable need to create radiates off the pages. Their art is portrayed as a living, breathing organism continuously changing, until the final piece is released into the world and continues to morph in the minds of the audience. It's exhilarating to witness Sharon and Mel bounce ideas off of each other and get absorbed in their work. Sharon and Mel both end up using art to work through their past traumas. What are the benefits and pitfalls of exposing your most vulnerable self to the world? They have to address their pasts to move forward, but is there a cost? Can you use your life in your work without altering what actually happened? How much of your story is yours? What, if any, responsibility do you have to the people you include in your work? They also have to confront the joys and anxieties of having people relate to their work.
I spent years trying to outrun myself, Mel says. Trying to make enough noise to drown myself out. It makes me ashamed to admit this. But it's okay to let yourself catch up. It's okay if you work to catch up to the things that have happened to you. You do it for yourself. But also for the people around you. The people who deserve to experience you, undiluted, honest. Your genuine self, given to them.
I liked that the focus was on Sharon, even though sometimes I was dying to get into Mel's head. I feel like I've heard variations of Mel's story many times before. Even though Sharon is in her thirties, it still feels like a coming-of-age tale. It shows how there's not some set point where we stop "growing up": "I've spent one of the best nights of my life checking the door for someone who never came. I'm not supposed to be at the margins anymore. I am thirty-one years old. This shrinking feeling was supposed to have been absolved by now." She has a successful career, but she hasn't really come into her own yet. We watch as she hopefully overcomes her past to feel more secure in herself and confident in her talent. Sharon is upfront about her creative insecurities. During her college years, she remembers seeing everyone's work at critique and seeing only what she could do if she was more talented. Even at the pinnacle of success, she sometimes thinks of her art as "a miracle, a freak intersection of luck and circumstance." I think most creators will be able to relate to the fear that your brain is permanently out of ideas or that you've already had your best ideas! She also talks about bouncing between creative pursuits and the fear of committing to one and failing.
The work will always be with you, will come back to you if it leaves, and you will return to it to find that you have, in fact, gotten better, gotten sharper. It happens to you while you are asleep inside. The world in which we work is a place where no one is a ghost, a world in which the potential for anything walks and breathes, alive. And this is reason enough to have faith. To keep going.
One thing I appreciated most about this book is that it surprised me by going places I didn't expect. It was a fascinating look into hand-drawn animation, an art form I knew little about. However, it doesn't get too bogged down in the technical and the real heart of the novel is the friendship between Sharon and Mel. I enjoyed witnessing the ebb and flow of Sharon and Mel's relationship and watching them navigate their personal lives and careers.