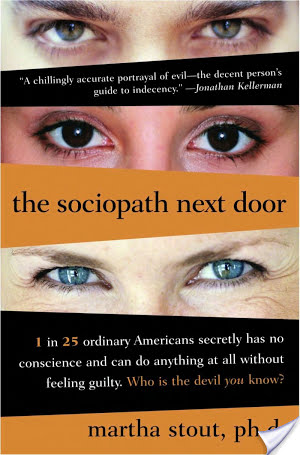 The Sociopath Next Door

by Martha Stout, Ph.D.
Published by Potter/TenSpeed/Harmony on February 8th 2005
Genres: Psychology, Personality, Social Psychology, Interpersonal Relations
Pages: 241
Format: eBook
Buy on Amazon
Goodreads


"Psychologically speaking, conscience is a sense of obligation ultimately based in an emotional attachment to another living creature (often but not always a human being), or to a group of human beings, or even in some cases to humanity as a whole."
The last few books I have read featured sociopaths and/or narcissists, so this book caught my eye! As the cover and title suggest, it is alarmist and sensationalist. It was also a bit shallow and repetitive.
The parts I found most interesting in this book were:
 Thirteen Rules for Dealing with Sociopaths in Everyday Life
The case studies were cartoonish, but they were effective in illustrating that a sociopath is not necessarily the psycho murderous criminal you might imagine. (ex. The slacker story.)
Interesting discussion on conscience.
The book is about 10 years at the point and many of the experiments Stout references are much older than that. In fact, you've probably seen these studies referenced many times before in other books. Even so, it is interesting to read the results of these older experiments.
I think this book would be most useful for people who have dealt with or are dealing with an actual sociopath. I could also recommend it for someone who wants a quick overview on conscience and sociopathy.
Related Posts