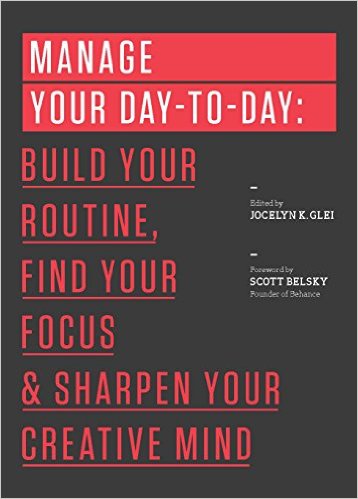 Manage Your Day-To-Day

Published by Amazon Publishing on 2013
Genres: Business & Economics, Management, Leadership
Pages: 253
Format: eBook
Buy on Amazon
Goodreads


Stop doing busywork. Start doing your best work.
Are you over-extended, over-distracted, and overwhelmed? Do you work at a breakneck pace all day, only to find that you haven't accomplished the most important things on your agenda when you leave the office?
The world has changed and the way we work has to change, too. With wisdom from 20 leading creative minds, Manage Your Day-to-Day will give you a toolkit for tackling the new challenges of a 24/7, always-on workplace.
Featuring contributions from: Dan Ariely, Leo Babauta, Scott Belsky, Lori Deschene, Aaron Dignan, Erin Rooney Doland, Seth Godin,Todd Henry, Christian Jarrett, Scott McDowell, Mark McGuinness, Cal Newport, Steven Pressfield, Gretchen Rubin, Stefan Sagmeister, Elizabeth G. Saunders, Tony Schwartz, Tiffany Shlain, Linda Stone, and James Victore. Plus, a foreword from Behance founder & CEO Scott Belsky.
Manage Your Day-to-Day is composed of 20+ short essays divided between four topics: Building a Rock-Solid Routine, Finding Focus in a Distracted World, Taming Your Tools, and Sharpening Your Creative Mind. Each section is concluded with a helpful list of the key actionable items. The essays are brief and many of the pages are just enlarged quotes or section dividers, so it was a really quick afternoon read.
It's not about ideas, it's about making ideas happen.
I read this book because I have been really struggling with routine, gaining momentum and the creative process. I knew many of the tips mentioned in this book beforehand, but it is nice to have a concise manual to refer back to when I am stuck in a rut. It was helpful to read the psychology behind why the methods work, so I can be more consistent in my application of those methods.
"Don't wait for inspiration; create a framework for it."
The main message of this book is to regularly schedule a few hours each day for your creative work and stop wasting so much time on the internet. That message shows up in most of the essays, so it does get a little repetitive. However, I did find at least one great tip in most of the essays. I really liked the parts that discussed how artists and writers like Ray Bradbury and Haruki Murakami schedule their time and escape creative block.
With one eye on our gadgets, we're unable to give our full attention to who and what is in front of us– meaning that we miss out on the details of our lives, ironically, while responding to our fear of missing out. – Lori Deschene
The essays that were most useful to me: Laying the Groundwork for an Effective Routine by Mark McGuinness, Harnessing the Power of Frequency by Gretchen Rubin, Learning to Create Amidst Chaos by Erin Rooney Doland, Q&A: Reconsidering Constant Connectivity with Tiffany Shlain, Creating for You, and You Alone by Todd Henry and Letting Go of Perfectionism by Elizabeth Grace Saunders. I thought Taming Your Tools was the weakest section, because it was repetitive and much of it was already addressed in the previous sections. The "screen apnea" chapter was a little weird.
"What I do every day matters more than what I do once in a while."
I have already started implementing some of the tips in this book. My favorite tips so far are:
Don't start the day off with a computer/smartphone
Do creative/challenging work first
Create a space specifically for creative work, away from technological distraction.
Write down intrusive or anxious thoughts that occur during your creative time and schedule time to deal with them later.
There are many more tips, but I probably shouldn't write the whole book!
This book would be most useful for creatives who are struggling with their routine, perfectionism or creative block. It would probably not be as useful for a person who frequently reads the time management genre. Because of its concise nature and repetitiveness, I would recommend borrowing this through the Amazon Prime Lending Library or saving a few dollars by buying the ebook.
"There can be an intense egoism in following everybody else. People are in a hurry to magnify themselves by imitating what is popular — and too lazy to think of anything better. Hurry ruins saints as well as artists. They want quick success, and they are in such a haste to get it that they cannot take time to be true to themselves. And when the madness is upon them, they argue that their very haste is a species of integrity." – Thomas Merton (1949)
Related Posts