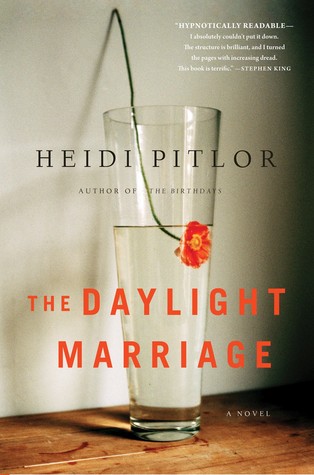 The Daylight Marriage

by Heidi Pitlor
Published by Algonquin Books on January 5th 2016
Genres: Fiction, Mystery & Detective, General, Psychological, Family Life
Pages: 272
Format: eBook
Buy on Amazon
Goodreads


When in her other life had she finally lost her desire for the next moment and then the next? It seemed to have happened slowly, not in one sudden blow, but over thousands of ordinary minutes, in the tiniest of choices meant to lead her toward a well-defined future, the sort that had been chosen and lived by so many other people.
Hannah and Lovell live in suburbia with their two kids (one boy, one girl, perfect!). Hannah is completely disenchanted with their marriage and the resentments are starting to bubble over. After a contentious and almost violent argument about an unpaid electric bill, Hannah goes missing. Did she run away? Was she a victim of foul play? Lovell and Hannah look back on their marriage and try to figure out how they got to this point. The story alternates between Hannah and Lovell's perspectives.
Hannah had asked him more than once whether all his charts and graphs, all his statistics—didn't they ever grow tiring? Do you ever get sick of trying to predict the precise movement of every molecule in the atmosphere? When you look so close at something, doesn't it start to disappear? Doesn't it lose its fundamental it-ness? "No," he had responded. "When you understand something, you see more, not less, of its essence. This 'fundamental it-ness,' or kinetic energy or pedesis or whatever you are actually talking about, is the basis of everything I do." She had just shaken her head as if she thought he had misunderstood her questions.
The Daylight Marriage is more a portrait of a marriage than a thriller. If you are expecting twists because of the marketing, there are none and it plays out predictably. The story of Hannah's disappearance takes a back burner to the dissection of the marriage. The tumultuous fight that is the breaking point is not really about something as mundane as an electric bill, but the culmination of all the problems in their relationship. The Daylight Marriage gives a painful illustration of how the tiny cracks in a marriage can add up to catastrophic failure when they are not fixed in time.
Hannah is the settler and Lovell is the reacher. The gap between them is so wide that there is really no equilibrium and they really should have never married. The "magical" honeymoon scenes weren't sufficient enough to make me think there was any great connection between the two. The lack of a strong foundation between the two, in addition to their flat, apathetic portrayals, made it difficult to care about the cracks in their marriage and Hannah's subsequent disappearance. Despite the subject matter, the story lacked strong emotions and everyone seems a little disconnected. I wonder if some of the shallowness was because the book is so short. Even with the low page count there were wasted pages, such as Lovell's pointless trip which turned out to be as uneventful as I expected.
The connections drawn between the marriage and Lovell's subject of choice was not subtle at all. Their fifteen year old Janine is the WORST. The gay neighbors exist solely so that Janine can View Spoiler »volunteer to be a surrogate « Hide Spoiler. I might have been able to brush it off as a devastated teenager trying to antagonize her emotionally distant father, but Lovell's weird spinelessness when it came to his daughter made the whole situation seem ten times worse. I do think it would have been interesting to explore the kids perspectives about their mom and dad's relationship. I thought it was interesting when Janine accuses her father of acting guilty, since the kids were perceptive and more aware than their parents assumed. At the end, Hannah View Spoiler »seems resigned to her fate, so even her last scene is unemotional. She had so many chances! « Hide Spoiler
If you are interested in domestic noir, you might like this book but I wouldn't put it at the top of the list.
Related Posts