I received this book for free from First to Read in exchange for an honest review. This does not affect my opinion of the book or the content of my review.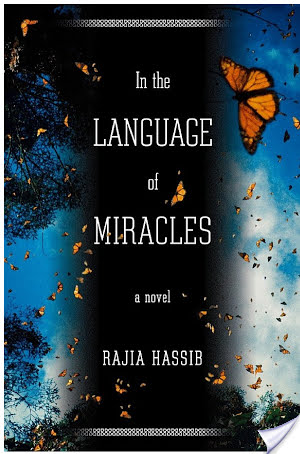 In the Language of Miracles

by Rajia Hassib
Published by Penguin on August 11th 2015
Genres: Fiction, Literary, General
Pages: 288
Format: Electronic ARC
Source: First to Read
Buy on Amazon
Goodreads


…Khaled remembered what he had originally intended to tell his father, what he had hoped his father would recognize: the fascinating possibility of finding the way back to a home that one has never known. No one knew how the second- or third- generation monarchs found their way back north when they had never been there before. Even now, when he was too old to believe in any of Ehsan's fables, Khaled would sometimes remember her stories of lost boys following unseen clues home and imagine that the butterflies, like those boys, had an inner compass that directed them to where they were supposed to be, and the idea of a home that one carried within filled him with hope and peace.
Touching, beautifully written debut novel about an Egyptian-American family trying to work through shock and grief, after the oldest son Hosaam kills himself and his neighbor/girlfriend. The story takes place one year after the murders, in post-9/11 New Jersey. After a short lull, tensions begin to escalate again when flyers for the young murdered woman's memorial are taped up all over town. Samir, who has a history of making situations worse, wants to make amends by speaking at the memorial, but his family doesn't think that is a great idea.
His new Facebook page contained a picture of him in profile, the sun shining so brightly in the background his face was visible only as a dark silhouette, the shade of his skin undecipherable, his features one dark mass. Those whom he befriended on Facebook could see a couple of other pictures in which he was recognizable but his surroundings were not: self-portraits of him out on his hikes, with backdrops of trees and open meadows. His face, a dark tan that could have easily passed for any ethnicity, from mixed to Hispanic, was not antagonistic. People did not object to his face, he learned, as much as they objected to his name. And his initials, though they were still his, could imply any name. Karlos Aguilar, with roots both in Puerto Rico and the Dominican Republic. Khristos Agathangelos, standing in the front yard of his Mediterranean villa in the Greek isles. Or, his favorite, Kevin Anderson.
The Al-Menshawys have been accepted members of their Somerset community for two decades, but their idyllic, suburban town quickly turns on them when the tragedy strikes. The family experience bigotry and public shaming, as they and their entire culture get blamed for the singular actions of their son. The family becomes isolated from the community and each other. Samir, Nagla, Khaled and Fatima all live under the same roof, but they are each carrying the burden of the tragedy on their own. Samir, who has always desperately wanted his family to blend in and belong, has to cope with his family being ostracized. Nagla struggles with both the grief of losing her son and the anger at his actions, while also blaming herself for ignoring the past hints that now seem like obvious clues of what was to come. Khaled worries about living in the shadow of his brother and starts to pull away from his culture, while his sister Fatima begins to embrace it. Their grandmother Ehsan is visiting from Egypt to help the family during their time of grief. Ehsan's "old ways" and superstitions sometimes frustrate and embarrass the Al-Menshaways in their modern environment, but she is the common thread that binds them all together.
Again one of Nagla's convictions was confirmed: A lifetime of watching American movies had not taught her mother anything about American social norms. Yet every single breach of American notions of etiquette that Nagla witnessed her mother commit resulted in a connection with someone, a momentary intersection between her mother's life and a stranger's that, paradoxically, Nagla could not find fault with, perhaps even envied.
Each chapter begins with an epigraph of a saying in both its Arabic and English(when applicable) renditions. It is interesting to read how similar sentiments translate in two very different cultures. It serves as a reminder of the basic values we all share, despite cultural differences. The narrative is very focused and there aren't any unnecessary side plots. It is a simple, yet complex, story about a family dealing with tragedy. The author is able to seamlessly integrate many important issues in a natural and compelling way: coping with grief, being the family member of the perpetrator of a violent crime, the cultural conflicts between the older and younger generation, the role of culture in grounding a person, the role of the Internet and social media (which in this novel provides a fertile ground for mob cruelty, as well as comforting anonymity), and being a Muslim immigrant in the United States after 9/11. Rajia Hassib's writing flows so beautifully that this quiet book becomes a page-turner, even though it is not one in the traditional sense. The characters don't always make the best choices, but it is easy to understand their motivations. The family is so well-drawn, that the reader desperately wants the family to find peace and acceptance.
My only disappointment is that this is a debut novel, so I can't seek out the author's other books yet! I recommend this work for fans of Everything I Never Told You, and to a lesser extent, The Book of Unknown Americans.
Khaled wished he could tell his father what he had only now realized: that they were all trying to undo something that Hosaam did, hoping that, by their hands or by God's, fate would change course and all would be well again. But they were damned no matter what they did, not by God, but by a nineteen-year-old boy who had lost the will to live, and, perhaps, by their own failure to see it coming, to prevent disaster rather than scramble in a futile attempt to change the past. First surrender. And then learn to fly.
Related Posts