I received this book for free from LibraryThing Early Reviewers in exchange for an honest review. This does not affect my opinion of the book or the content of my review.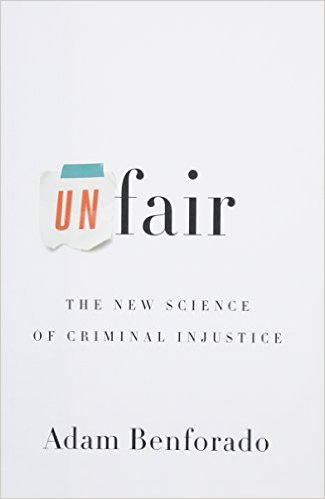 Unfair

by Adam Benforado
Published by Crown/Archetype on June 16th 2015
Genres: Psychology, Cognitive Psychology & Cognition, Law, Criminal Law, General, Political Science, Public Policy
Pages: 400
Format: Print ARC
Source: LibraryThing Early Reviewers
Buy on Amazon
Goodreads


Unfair: The New Science of Criminal Injustice is an enlightening and well-structured book about the ways in which the current US criminal justice system fails us. Adam Benforado, an associate professor law and a former attorney, focuses on how our hidden biases affect the justice system. He explains the problems in each part of the legal process and offers possible solutions.
In fact, we are not such cool and deliberate detectives; rather, we are masters at jumping to conclusions based on an extremely limited amount of evidence. The automatic processes in our brain (commonly referred to as System 1) quickly take in the scene and then reach a conclusion about the victim based on what is right in front of us, without considering what we might be missing. Ambiguity and doubt are pushed to the side.

In certain circumstances, our deliberative and effortful mental processes (System 2) can override those initial impressions–and raise the specter of uncertainty–but often, they do not. The less we know, the easier it is for us to produce a coherent story, and it is the consistency of the narrative that predicts how much confidence we will have in our assessment. The unfortunate result is that we may become overconfident precisely when we have limited or weak evidence.
The book opens with an example of medieval justice. Benforado suggests that just as we laugh at the irrationality of our ancestor's legal methods, our descendants will be shocked at the naiveté behind our modern day legal processes. The author walks the reader through each part of of the legal process, explains the current problems, and suggests solutions. Some of the solutions are surprisingly simple to implement, e.g. data collection on judicial decisions to show hidden biases. The book is extremely well-organized. Here is the table of contents:
Part 1: Investigation
1. The Labels We Live By – The Victim
2. Dangerous Confessions – The Detective
3. The Criminal Mind – The Suspect
Part II: Adjudication
4. Breaking the Rules – The Lawyer
5. The Eye of the Beholder – The Jury
6. The Corruption of Memory – The Eyewitness
7. How to Tell a Lie – The Eyewitness
8. Umpires or Activists? – The Judge
Part III: Punishment
9. An Eye for an Eye – The Public
10. Throwing Away the Key – The Prisoners
Part IV: Reform
11. What We Must Overcome – The Challenge
12. What We Can Do – The Future
Bibliography. Endnotes are available at the author's website.
The cases and experiments mentioned were fascinating. Some aspects this book reminded me of Predictably Irrational and Freakonomics series, but Unfair is deeper, more focused and more academic. Some of the interesting topics discussed: how disgust makes people's moral judgments significantly more severe, how women labeled as virgins or married are viewed as more responsible for sexual assault than when labeled as a divorcée, how we are all still closet physiognomists, how the act of holding a gun biases the gun holder's assessment of threat, how camera position during arrests and interrogations can sway the verdict, the impact of race on the severity of punishment, the impact of facial features on the severity of punishment ("in cases where the victim is white, the more stereotypically black a defendant's facial features, the more likely he is to receive the death penalty"), how a terrorist attack can impact unrelated cases, how the time of day can affect punishment, how a video of brutality shown in slow-motion can alter juror perception of an event, and how judges aren't quite as objective as they would like to believe.
Research suggests that once we have summed someone up, we search for data confining that identity and disregard or minimize evidence conflicting with it. Of course, it doesn't feel that way. It feels as though we are just dispassionately sorting through the details. But really our minds are bending the facts, sawing off inconvenient corners, and tossing away contradictory information so that everything can be fit into our ready-made boxes.
Some of my key takeaways from this book:
(1) We all have hidden biases that we are not consciously aware of; police officers, judges and lawyers are not immune to these hidden biases. Most people aren't actively trying to be unfair.
(2) It is surprisingly easy to rationalize unethical behavior.
(3) We tend to see our motivations as purer than they actually are (seeking justice vs. seeking vengeance).
(4) Some aspects of punishment are counterintuitive to the results expected, e.g excessively long solitary confinements.
This is not a quick and easy read, but it is really interesting and enlightening. I would recommend this to book to everyone, especially voters in the United States and people who are interested in the intricacies of the human mind and its inherent biases. There is a bit of a liberal bent in parts of the book which might deter some from reading it, but I don't think you have to be comfortable with 100% of Benforado's proposed solutions in order to find value in this book. In addition to this book, I would also recommend Nonsense: The Power of Not Knowing because of overlapping themes (blind certainty and cognitive dissonance).
Doubt isn't the enemy of blind justice–blind certainty is.
Related Posts