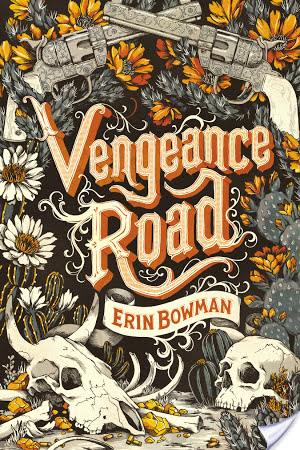 Vengeance Road

by Erin Bowman
Published by Houghton Mifflin Harcourt on September 1st 2015
Genres: Young Adult Fiction, Westerns, Action & Adventure, General, Romance, Girls & Women, Historical, United States, 19th Century, Lifestyles, Farm & Ranch Life, Young Adult, Love & Romance
Pages: 330
Format: eBook
Buy on Amazon
Goodreads


Well-paced and action-packed young adult western, featuring an ornery, tough-talkin' female lead. I usually groan inwardly when my husband puts a western on the TV (I prefer my movies have a more lively color palette…embarrassingly superficial, I know!), but I loved this book! I would have passed it up, if it weren't for the good reviews that popped up in my newsfeed. The gorgeous cover didn't hurt either! This book was a good reminder to branch out of my comfort zone more often.
The thought of being confined to town—standing behind a grocer's counter or waiting at home for a husband to return—is stifling. Every day the same. Marrying for security and nothing more. I can fire a rifle as good as any man. 'Parently I can kill another just as dead too. I don't see why I should act like I can't just 'cus it ruffles everyone else's feathers.
A gang of outlaws murders Kate Thompson's father and burns down her home. Left with nothing, she decides to avenge her father's death. Disguised as a boy named Nate, Kate hops on her horse and rides through the dangerous, blood-soaked Arizona wilderness to seek vengeance and hopefully find out why the notorious Rose Riders targeted her father.
Vengeance Road is set during 1877, in the Arizona Territory. A helpful map is provided in the beginning, so it is easy to follow the journey. The plot is linear and the whole story plays out very cinematically. The story is told from Kate's point-of-view, in a cowboy dialect. The dialect made me feel even more immersed in the Old West setting.
"You know, I lost my ma in a bad way. Not to a gang of outlaws but to a band of Indians. It were ages ago, and it hurt for a long, long while. Still does on occasion. But the hurt fades with time. You always feel it, but it becomes a duller sting, 'stead of sharp. Course, that's assuming you don't ride the road of vengeance. You got good intentions, Nate, but that path's like rubbing salt in the wound. Yer cut'll never scab over."
Kate reminded me a little of Jo in Little Women, which was probably intentional since Little Women is mentioned halfway through the book! She is brave and unapologetic, but she also has a good heart. Kate ends up reluctantly teaming up with a few equally stubborn characters who have their own motivations. I loved the banter between them all. Kate's observations made me laugh, especially when it came to Jesse Colton's squinty eyes! There is real danger lurking behind every shadow and there are more than a few violent shoot-outs. This author does not shy away from the gritty parts of the Wild West! A romance does begin to emerge, but it happens naturally at a regular pace. It never overwhelms the main plot or engulfs the characters. Kate isn't the type of character that pines after a guy and mopes around. She simply doesn't have time for that!
And this is where we differ, me and the Coltons, 'cus for them, walking out of those mountains matters. But I only want to avenge my father's blood. It ain't like I gotta live through it to be successful.
Kate learns that it is okay to ask for help and that maybe getting revenge isn't as fulfilling as you would think. The author's notes at the end are also worth a read, because she reveals the details of the legend she was inspired by. Vengeance Road is an entertaining book that leads the reader to some surprising and unexpected places! It also made me realize how thankful I am for Google Maps and that we don't have to rely on landmarks, like "oddly shaped tree next to three rocks." 😉 I would recommend to anyone who is looking for some entertaining, action-filled escapism and doesn't mind when things get a little rough!
View Spoiler »I thought I'd feel better when it were all said and done. I thought I'd feel like the world had reset, like things made sense. But I'm still just as alone, just as mad Pa were taken from me, just as furious it can't be changed. « Hide Spoiler
Related Posts