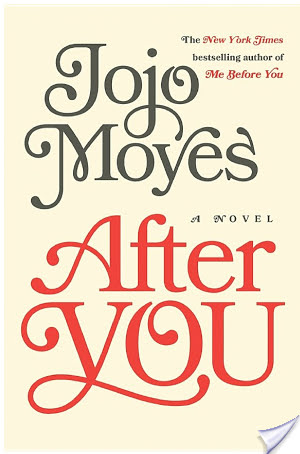 After You

by Jojo Moyes
Published by Penguin on September 29th 2015
Genres: Fiction, Contemporary Women, Romance, General, Contemporary
Pages: 368
Format: eBook
Buy on Amazon
Goodreads


Satisfying, realistic update and pleasant read, but lacks the magic of Me Before You.
.
.
(Me Before You spoilers ahead)
.
.
"Eighteen months. Eighteen whole months. So when is it going to be enough?" I say into the darkness. And there it is, I can feel it boiling up again, this unexpected anger. I take two steps along, glancing down at my feet. "Because this doesn't feel like livinåg. It doesn't feel like anything." Two steps. Two more. I will go as far as the corner tonight. "You didn't give me a bloody life, did you? Not really. You just smashed up my old one. Smashed it into little pieces. What am I meant to do with what's left? When is it going to feel—" I stretch out my arms, feeling the cool night air against my skin, and realize I am crying again. "Fuck you, Will," I whisper. "Fuck you for leaving me."
Me Before You ended on an optimistic note, but After You begins with Louisa in a really dark place. Eighteen months after the end of Me Before You, she is waitressing at an airport bar, she is not speaking to her family and she drinks too much. At her lowest point, a person from Will's past appears and helps give her life purpose. After You is about Louisa working through her grief and learning to live again.
"But that's just a fairy-tale ending, isn't it? Man dies, everyone learns something, moves on, creates something wonderful out of his death…I've done none of those things. I've basically just failed at all of it."
Not much actually happens in this novel, aside from one shocking bombshell. Since the main story arc is Louisa confronting her grief, a lot of the subplots seem like ways to lengthen the novel (hi-jinks with Mr. Garside, feminism, silly misunderstandings etc.). In that way, it kind of reminded me of The Rosie Effect, except I didn't end up despising any of the characters after reading this one!
So here is the thing about being involved in a catastrophic, life-changing event. You think it's just the catastrophic, life-changing event that you're going to have to deal with: the flashbacks, the sleepless nights, the endless running back over events in your head, asking yourself if you had done the right thing, said the things you should have said, whether you could have changed things had you done them even a degree differently. My mother had told me that being there with Will at the end would affect the rest of my life, and I had thought she meant me, psychologically. I thought she meant the guilt I would have to learn to get over, the grief, the insomnia, the weird, inappropriate bursts of anger, the endless internal dialogue with someone who wasn't even there. But what I now discovered is that it wasn't just me. I had become that person and in a digital age I would be that person forever. It was in that faint swivel of heads when you walked through a busy street—"Is that—?" Even if I managed to wipe the whole thing from my memory, I would never be allowed to disassociate from Will's death. My name would always be tied to his. People would form judgments about me based on the most cursory knowledge—or sometimes no knowledge at all—and there was nothing I could do about it… Now, when I read newspaper stories about the bank teller who had stolen a fortune, the woman who had killed her child, the sibling who had disappeared, I found myself not shuddering in horror, as I once might have, but wondering instead at the part of the story that hadn't made it into print. What I felt with them was a weird kinship. I was tainted. The world around me knew it. Worse, I had started to know it too.
I like how Moyes chose to start this novel in a realistic way, even though it is painful to see how much Louisa is struggling. Will's shadow is constantly lurking in Louisa's mind. Louisa had tried to follow his wishes and "just live," but she is just going through the motions and she keeps others at an arms-length. It can be so frustrating watching her self-sabotage, but I like how she didn't become a completely new person after Me Before You. Her family is also dealing with the after effects of Louisa's involvement with Will's controversial death. Will Louisa every be more than "The One Who" again? Will she be able to make amends with her family? Will she ever be able to live life to its fullest, like Will would have wanted? With the help of a few new friends, Louisa will discover that moving on doesn't mean she loved Will any less.
You learn to live with it, with them. Because they do stay with you, even if they're not living, breathing people anymore. It's not the same crushing grief you felt at first, the kind that swamps you and makes you want to cry in the wrong places and get irrationally angry with all the idiots who are still alive when the person you love is dead. It's just something you learn to accommodate. Like adapting around a hole. I don't know. It's like you become . . . a doughnut instead of a bun.
I liked the love interest that is introduced. They don't have the quick banter that Will and Louisa did, but he is a nice, patient guy. The relationship allows Louisa to work through her fears of disrespecting the relationship she had with Will and the fear of forming a deep connection with another person.
There's only one response, and I can tell you this because I see it every day. You live. And you throw yourself into everything and try not to think about the bruises."
The feminism aspect seems a little bit out of place and like most superficial treatments of the subject, there is an overreliance on the hair grooming discussion! However it did serve its purpose in giving Louisa and her mom parallel arcs. While Louisa is weighing her responsibilities for her new charge versus moving forward with her life, Louisa's mom discovers feminism. Like some people do when they discover something new and exciting, she throws herself into it and takes it to a weird extreme. While navigating their new experiences, Louisa and her mother learn that you don't have to choose between taking care of yourself and being there for your loved ones. Louisa's father, who was struggling with the change in marital dynamics, learns that just because his wife takes time for herself doesn't mean that she will leave him behind.
"You don't have to let that one thing be the thing that defines you."
Jojo Moyes is an excellent storyteller. I love how she is able to inject humor in not-so-humorous situations and I love her subtle use of foreshadowing. I don't think that this was a necessary sequel, but Louisa and her family are likable enough to make this a satisfying update to the story and a pleasant read. I am actually a little curious about the course of Louisa's life after this novel, not matter how mundane the circumstances!
You never know what will happen when you fall from a great height.
Related Posts