I received this book for free from First to Read in exchange for an honest review. This does not affect my opinion of the book or the content of my review.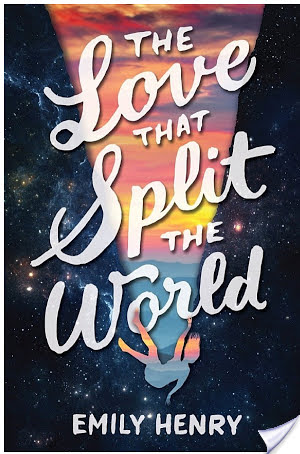 The Love That Split the World

by Emily Henry
Published by Penguin on January 26th 2016
Genres: Young Adult, Love & Romance, Social Themes, Emotions & Feelings, Fantasy & Magic, Social Issues
Pages: 400
Format: Electronic ARC
Source: First to Read
Buy on Amazon
Goodreads


"It's hard to feel like you belong when you don't know who you are, and it's hard to know who you are when you don't know where you come from."
Captivating young adult/coming-of-age/sci-fi/romance with an extremely relatable female lead and complex relationships. I received a copy of this book from Penguin Random House in exchange for an honest review. This book will be released on January 26, 2016.
Natalie is three months away from leaving her rural Kentucky hometown for Brown University, when she starts experiencing a brand new type of hallucination. Sometimes her entire town disappears and she finds herself standing in a field of buffalo. She is no stranger to odd visions. Since she was a little girl, she has been receiving late night visits from an apparition of a wise, old woman she has named Grandmother. After a three year absence, Grandmother briefly reappears and gives Natalie a cryptic message: "Three months to save him, Natalie." Shortly after she receives that confusing message, she meets a mysterious boy named Beau and it seems like he might be the answer to everything.
I loved Natalie! She has a great sense of humor and is very self-aware. She is Native American and was adopted by a white family. The adoption and her heritage add a unique angle to the usual struggles of transitioning from high school to college. Natalie loves her family immensely, but sometimes she feels like an outsider. She struggles with wanting to fit in, but also wanting to find out who she really is and where she came from.
I really liked the relationships Natalie had with all the other characters and it was great that she had solid relationships outside of the romantic relationship with Beau. Beau becomes an important part of her life, but he is not her entire life. She is close with her family and they are extremely supportive of her. There is an ex-boyfriend who she knows she doesn't want to be with romantically, but it is important to her that they maintain their friendship. There is a great best friend who who she has humorous conversations with and those conversations aren't all about the men in their lives. (I loved the scene in the garage before Megan left for college!) She is hurt deeply by another friend, but she handles it relatively maturely and they work their way through it. The relationship with Beau is sweet. There is an instant curiosity and attraction, but the relationship doesn't escalate too quickly.
Some of my favorite parts of the book were Natalie's recollections of Grandmother's past visits. Grandmother tells Natalie ancient parables with Native American and biblical origins. It was a great way to help Natalie make sense of her world and show illustrate how stories unite us ("None of us is alone, Natalie. Her story is my story is your story."). I also thought the author handled the sci-fi elements well. Stories with time travel and/or multiple dimensions can be complicated to understand and do make my head hurt a little, but the author simplified it enough where I got the gist of it. This would be a great book to read again, once you know what is going on!
I do have trouble with first person, present tense in scenes that are less action-oriented or when the story starts drifting into the trivial. Natalie is extremely likable, so the perspective/tense choice only pulled me out of the story a few times. The ending was great and I love how the author brought the storytelling motif full circle. I read the last thirty pages twice and I liked the ending even more the second time. View Spoiler »I was hoping for a little more of a 'gut-punch' a la The Butterfly Effect. Since the relationship with Beau was so new, I wish there were a few other reasons for the high stakes choices she made at the end. There was the Matt situation, but maybe if there was something that was going on with her family that helped her make her choices even more heart-wrenching and understandable (and actually I thought it was going that direction with her little brother). « Hide Spoiler
The publisher describes The Love that Split the World as Friday Night Lights (LOVED!) meets The Time Traveler's Wife (loved the movie, book not so much). I think that sets the mood pretty accurately! This book includes so many complex issues and it spans several genres, but the author handles them so deftly that it never felt overwhelming. I could say so much more, but I don't want to spoil too much and I am trying not to pull too many quotes from the galley! This book was really enjoyable to read.
Related Posts