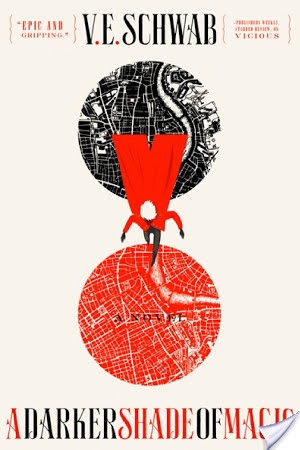 A Darker Shade of Magic

by V. E. Schwab
Published by Macmillan on February 24th 2015
Genres: Fiction, Fantasy, Historical, General
Pages: 400
Format: Audiobook
Buy on Amazon
Goodreads


Rousing, fast-paced adventure full of magic.
"Aren't you afraid of dying?" he asked Lila now. She looked at him as if it were a strange question. And then she shook her head. "Death comes for everyone," she said simply. "I'm not afraid of dying. But I am afraid of dying here." She swept her hand over the room, the tavern, the city. "I'd rather die on an adventure than live standing still."
Kell is an Antari, one of the few people left who can travel to parallel dimensions. There are 4 Londons in Kell's world:
• Grey London – Ruled by King George. Magic is not really a thing here.
• Red London – Kell's home, which is ruled by the Maresh Dynasty. Magic is respected and practiced with balance.
• White London – Ruled by whoever managed to murder their way to the throne this time, currently the cruel Dane Twins, Astrid and Athos. Magic is a limited resource and this London has been savaged by the craving for it. It is a dangerous place to visit.
• Black London – Devoured by magic. It has been closed off and people do not speak of it.
(Or as Delilah Bard would summarize it: "There's Dull London, Kell London, Creepy London, and Dead London," she recited, ticking them off on her fingers. "See? I'm a fast learner.")
When Kell isn't delivering letters between the royalty of the different worlds, he illegally smuggles artifacts between the Londons. This bad habit gets him into more trouble than he bargained for when he ends up in possession of a relic that could cause terrible consequences for all of the worlds. While on the run, he crosses paths with a cross-dressing thief named Delilah Bard who robs him and then ends up saving his life. Lila insists that she joins him on his travels so she can have a proper adventure. What follows is a dangerous journey, as Kell and Lila try to keep the stone from getting into the wrong hands.
"You know so little of war. Battles may be fought from the outside in, but wars are won from the inside out."
I received this audiobook via the now defunct Ford Audiobook Club. A Darker Shade of Magic is one of V.E. Schwab's adult novels, but it will appeal to young adult readers as well. I was surprised when I saw the book was 400 pages, because it doesn't seem like there are 400 pages of action when I describe it to others. It doesn't get caught up in subplots and it can be easily summarized. It is so fast-paced! There was a cinematic feel to the whole book. I love how a sense of magic and chilliness permeated throughout the whole story! The setting was really different from what I usually read, so I am glad the author spent a large portion of the book developing the four worlds and explaining how the magic works. I was a little overwhelmed and confused with all the new information at first, especially since I was listening to an audiobook. I am glad I stuck with it, because it was such a fun book!
"I apologize for anything I might have done. I was not myself." – View Spoiler »Rhy « Hide Spoiler
"I apologize for shooting you in the leg. I was myself entirely." – Lila
Kell is a complicated and grumpy character. He has an almost nostalgic fascination with the dull, magicless Grey London. I loved Delilah in contrast with Kell. She is impulsive and sarcastic. Her greatest dream is to be a pirate and have her own ship. How could you not love her? Sometimes I start to feel a sense of dread when the two main characters are opposite genders; like here we go, a forced romance, blech. Fortunately, A Darker Shade of Magic avoids taking that path. There are some few-and-far-between friendly flirtations, but they just add to the fun of the book. It 99.9% ADVENTURE! I have absolutely no clue what direction Schwab is going to go with Kell and Delilah and I love it!
"Bad magic, Kell had called it.
No, thought Lila now. Clever magic.
And clever was more dangerous than bad any day of the week."
The voice narration is done by Stephen Crossley and he is brilliant. The story is told in third person and I felt like I was sitting in front of a warm cobblestone fireplace riveted while an old man was telling me a legend as it gently snowed outside. (Oddly specific, I know! 🙂 ) The only downside to his narration was I kept picturing Kell as much older than 21, though that could be in part because of his maturity level next to 19-year-old Lila! I would not recommend listening to this book over several months like I did. (November and December are terrible months for me to start audiobooks!) The world is so complex, especially for readers who don't typically read books with worlds much different from our own. It is helpful to have everything fresh on your mind when you return to it.
The ending gives some closure, but there are enough questions to get me excited about the next one. [book:A Gathering of Shadows|20764879] (Shades of Magic #2) is coming out February 23, 2016 (TOMORROW!). I hope we get to find out Lila's background and get to visit some of the places we didn't make it to in the first one!
Related Posts