I received this book for free from First to Read in exchange for an honest review. This does not affect my opinion of the book or the content of my review.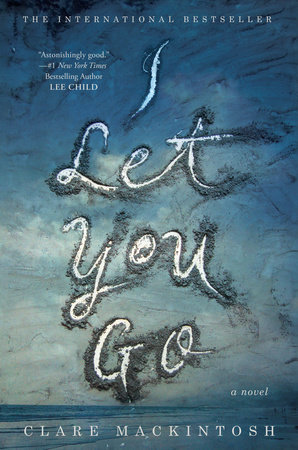 I Let You Go

by Clare Mackintosh
Published by Penguin Publishing Group on May 3rd 2016
Genres: Fiction, Mystery & Detective, Police Procedural, Thrillers, Crime, Psychological
Pages: 384
Format: Electronic ARC
Source: First to Read
Buy on Amazon
Goodreads


3.5 Stars. Suspense novel with a gradual build and some shocking moments. Vague keywords for anyone who might be sensitive to certain issues that frequently appear in suspense novels: View Spoiler »domestic abuse, rape « Hide Spoiler (The spoiler-tagged text in this review is all vague/non-critical and no more than I have already seen posted elsewhere, but it is all stuff I would have rather not had on my mind while reading!)
On a rainy afternoon in Bristol, a mother lets go of her five-year-old son's hand and he runs into the street. A speeding car hits and kills him. The callous driver quickly drives away from the scene. Visibility was low and there is very little evidence. I Let You Go is about the hunt for the driver and a woman consumed by the grief caused by the accident and the loss of her child.
The grief I feel is so physical it seems impossible that I am still living; that my heart continues to beat when it has been wrenched apart. I want to fix an image of him in my head, but all I can see when I close my eyes is his body, still and lifeless in my arms. I let him go, and I will never forgive myself for that.
Part One felt more like women's fiction than a suspense novel. The story starts out slowly, but it was the kind of slow I like. Woman dealing with a traumatic incident and starting a new life near a chilly beach, complete with rocky cliffs? SOLD! In Part One, the police have very little to go on and are desperately searching for clues. The lead detective also has some domestic drama; his work has taken a toll on his marriage and his son is having issues at school. The lead investigator's chapters alternate with Jenna Gray's chapters. Jenna is traumatized by the accident and has fled to an isolated coastal community in Wales to grieve and start a new life. View Spoiler »I loved Patrick the veterinarian! « Hide Spoiler
And the photos of the son I loved with an intensity that seemed impossible. Precious photographs. So few for someone so loved. Such a small impact on the world, yet the very center of my own.
Part Two is when the plot kicks into high gear and it starts feeling more like a thriller. I gasped! View Spoiler »The transition into Part Two was the most shocking part of the book for me! I had to go back and read the first few chapters to make sure I hadn't accidentally skipped over something. I was so mad at myself because I had questioned specific things, but I just came up with an excuse for them. I quibbled over Jenna thinking Patrick said "Don't open the doors, whatever you do," when he actually said, "Whatever you do, don't open the doors too quickly." and I didn't see that twist coming? It was one of the more fun twists I have experienced recently! In Part Two we are also introduced to the terrifying character of Ian. His parts are written using second person POV and it made me feel extra uncomfortable during his chapters. Ian is a total sociopath and he chilled me to the bone from his very first sentence. I really got a sense of the isolation and manipulation involved with domestic abuse and why it is so hard for a woman to reveal their problems to a trusted loved one or to escape the situation. « Hide Spoiler
I see the look on his face […] I used to tell myself it was contrition—although he never once apologized—but now I realize it was fear. Fear that I would see him for the man he really is. Fear that I would stop needing him.
The parts I didn't like:
• Young, hard-working recruit is totally open to the advances of her middle-aged married boss. Just once I'd like the young woman to be like, "Ew, no," but I guess that isn't much of a story. View Spoiler »The married man did learn that his wife was a human being with feelings and opinions too, so there's that. « Hide Spoiler
• View Spoiler »There was a lot of disturbing domestic violence in this book, but something about the last scene of violence made me feel guilty for "watching." « Hide Spoiler
• View Spoiler »The last twist was extremely far-fetched, like a twist for the sake of having a twist. « Hide Spoiler
View Spoiler »I have the absurd urge to tell him that I'm not like the usual occupants of his court. That I grew up in a house like his, and that I went to university; held dinner parties; had friends. That I was once confident and outgoing. That before last year I had never broken the law, and that what happened was a terrible mistake. But his eyes are disinterested and I realize he doesn't care who I am, or how many dinner parties I have held. I'm just another criminal through his doors; no different from any other. I feel my identity being stripped away from me once more. « Hide Spoiler
Despite the subject matter, the writing style is really pleasant and I was really captivated by this book. At first I Let You Go reminded me of What She Knew (woman makes split second decision that results in a traumatic incident for her child), but it quickly became its own unique story. It also covers a much longer period of time. I recommend this book for those who are fans of both suspense novels and women's fiction.
"They'll put everything straight," he says. "It'll be like it never happened."
No, I think, it could never be like that.
Related Posts