I received this book for free from Henry Holt and Company, NetGalley in exchange for an honest review. This does not affect my opinion of the book or the content of my review.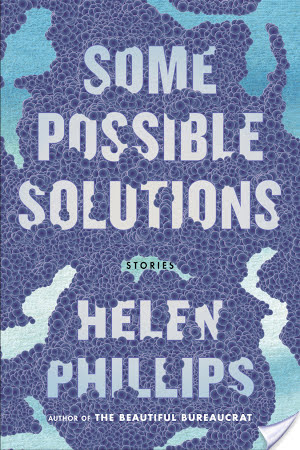 Some Possible Solutions

by Helen Phillips
Published by Macmillan on May 31st 2016
Genres: Fiction, Literary, Short Stories (single author)
Pages: 224
Format: Electronic ARC
Source: Henry Holt and Company, NetGalley
Buy on Amazon
Goodreads


(3.5 Stars) Strange and unsettling collection of short stories. This title will be released on May 31, 2016.
It never ceases to amaze me that, even as our country forges into the future with ever more bedazzling devices and technologies, the archaic infrastructure rots away beneath our feet, the pavement and the rails, the schools and the DMV. (The Knowers)
I really enjoyed Helen Phillips's The Beautiful Bureaucrat, so I was ridiculously excited to read her latest book. Some Possible Solutions is a collection of eighteen short stories. Many of the stories were set in an altered version of reality or in the not-so-distant dystopian future. The circumstances and dilemmas are familiar enough to modern life to be deeply unsettling. Some of them are observations about major life experiences, rather than beginning-middle-end type stories.
The stories zero in on the contradictions and strangeness of everyday life. There is an eerie Twilight Zone feel and everything feels gray-tinged. Many of the stories directly confront the inherent weirdness of aging, marriage and parenting. There are also themes of loneliness, disconnection, and survival against all odds in hostile environments. The stories don't provide many answers and are usually open-ended, but they are satisfying kind of open-ended that give me something to think about.
Despite the serious themes, it also made me laugh. Helen Phillips has a way of taking uncomfortable truths and passing thoughts, things many will relate to but usually keep to themselves, and bluntly putting it all out in the open with such wit. One of the funniest stories was the title story Some Possible Solutions, which proposes a number of absurd solutions to romantic predicaments.
The deeper that sorrow carves into your being, the more joy you can contain. (The Knowers)
My immediate favorites were the ones that most closely followed a typical story structure and were clear to me upon first reading:
1) The Knowers – A woman struggles with knowing the exact date of her death.
2) The Doppelgängers – An exhausted new mom discovers that her town is filled with women who look exactly like her.
3) The Messy Joy of the Final Throes of the Dinner Party – A woman walks into a dinner party and finds that time has frozen for everyone but her.
3) The Joined – A world where you have the option to be matched to an alien on another planet and reach true transcendence.
4) The Children – A woman is certain that her children are aliens.
There are others where the full weight of them didn't hit me until I revisited them:
1) Life Care Center – A woman visits her sister at a nursing home and observes the strangeness of the situation. This one became more powerful to me after reading the non-fiction medical memoirs The Shift and When Breath Becomes Air.
2) The Worst – Interesting look at perspective. It reminded me of an incident a couple weeks ago when my sister exclaimed, "There is nothing worse than a paper cut!"
3) Flesh and Blood – A woman is able to see through people's skin and lives in a state of permanent disgust. Favorite line: "It was bad enough to see strangers and acquaintances this way. But to see your own parents. To be forced to acknowledge the architecture of their bodies, the chaos of their blood vessels, the humility of their skulls. To know that this vulnerability was the place from which you arose."
I don't truly understand all the stories yet, like How I Began to Bleed Again After Six Alarming Months Without. But even when I didn't have a full understanding, I still experienced strong emotions from the overall atmosphere and the unsettling events.
The thing is, the organism survives no matter what; the organism even thrives. (Contamination Generation)
This book's impact was not immediate for me; I liked it as I read it, but a really liked it after I reflected on it. It has made a permanent impression on my mind. Helen Phillips's writing makes me feel uncomfortable, mostly because it forces me to confront feelings and eventualities that would be easier to avoid. There is a strangeness to her stories that makes it difficult to recommend for all readers, but I can recommend it to those who like speculative fiction and are in the mood for something strange and surreal. If you read this book, I recommend taking breaks between each story, to fully absorb the message. If you enjoy Helen Phillip's writing, you might also enjoy the TV series Black Mirror, which is available on Netflix streaming.
And thus life was good and bad, abundant and lean, ecstatic and tragic, blessed and cursed, all at once, on and on, forever and ever, until the end of time. (One of Us Will Be Happy; It's Just a Matter of Which One)