I received this book for free from Henry Holt and Company in exchange for an honest review. This does not affect my opinion of the book or the content of my review.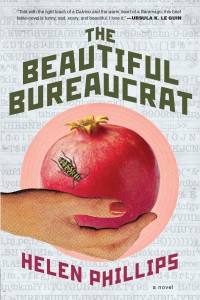 The Beautiful Bureaucrat

by Helen Phillips
Published by Henry Holt and Company on August 11, 2015
Genres: Speculative Fiction, Suspense
Pages: 192
Source: Henry Holt and Company
Buy on Amazon
Goodreads


A young wife's new job pits her against the unfeeling machinations of the universe in this dazzling first novel Ursula K. Le Guin hails as "funny, sad, scary, beautiful. I love it."

In a windowless building in a remote part of town, the newly employed Josephine inputs an endless string of numbers into something known only as The Database. After a long period of joblessness, she's not inclined to question her fortune, but as the days inch by and the files stack up, Josephine feels increasingly anxious in her surroundings-the office's scarred pinkish walls take on a living quality, the drone of keyboards echoes eerily down the long halls. When one evening her husband Joseph disappears and then returns, offering no explanation as to his whereabouts, her creeping unease shifts decidedly to dread.

As other strange events build to a crescendo, the haunting truth about Josephine's work begins to take shape in her mind, even as something powerful is gathering its own form within her. She realizes that in order to save those she holds most dear, she must penetrate an institution whose tentacles seem to extend to every corner of the city and beyond. Both chilling and poignant, The Beautiful Bureaucrat is a novel of rare restraint and imagination. With it, Helen Phillips enters the company of Murakami, Bender, and Atwood as she twists the world we know and shows it back to us full of meaning and wonder-luminous and new.
The description from the back: A young wife's new job in an enigmatic organization pits her against the unfeeling machinations of the universe.
The Beautiful Bureaucrat is a weird and interesting little book with a strange cast of characters and eerie settings. Josephine and her husband begin mind-numbing database entry jobs that turn out to be anything but ordinary! I felt a sense of foreboding throughout the entire book, as if there was something ominous lurking behind the bare, stained walls. It was like traversing a surreal, Kafkaesque nightmare.
Still, the distance between four o'clock and five o'clock, between 148 files and 166 files, often felt interminable. Sometimes, in the depths of the afternoon, Josephine would have a thought–an intense, riveting thought, incongruous with her current task and location, something she ought to share with Joseph, a hint of a scene from a dream or a forgotten memory from when she was a kid, a complicated pun or a new conviction about how they ought to live their lives–then the moment would pass and the thought would be lost, trapped forever between the horizontal and vertical lines of the Database. She'd spend the rest of the workday mourning the loss, resenting the jail cell from which her thought would never escape.
I like how Josephine's appearance deteriorates as the unfeeling gears of bureaucracy seem to grind at her soul. The antagonists aren't your typical bad-to-the-bone villains, but are "just doing their job." The chirpy lack of humanity is terrifying! It is only 177 pages and it reads like a fast-paced thriller, so it only took a few hours to read.
Only he had stood on street corners beside her and their piled detritus. Only their two minds in the entire universe contained the same specific set of images: a particular pattern of shadow on the ceiling above a bed, a particular loop of highway ramp circled just as a song about a circle began to play on the radio. Tens of thousands of conversations and jokes. Without him she was just a lonely brain hurtling through space, laughing quietly to itself.
The frequent word plays got a little irritating to read, because they seemed so non-sensical and the sheer amount of them really broke the flow of the narrative. But I think the word games were a source of comfort to Josephine, as her world as she knew it seemed to be disintegrating. It also set up the "file" realization, but that was a little cheesy. I did expect View Spoiler »a little bargaining at the end, which didn't happen. « Hide Spoiler
I really liked this book, but I am sucker for stories where really weird things happen to extremely ordinary people with mundane, monotonous lives. I also have an affection for vague settings and odd characters that are only identified by a single characteristic or job title! If you liked this book or if even if you you just like the concept, you might want to try out Jose Saramago (All The Names especially and Death With Interruptions). Warning: He is stingy with periods! I also thought about these movies as I was reading: The Adjustment Bureau (based on a short story by Phillp K. Dick), Stranger than Fiction and Enemy (based of The Double by Saramago).
Related Posts