I received this book for free from Grand Central Publishing, NetGalley in exchange for an honest review. This does not affect my opinion of the book or the content of my review.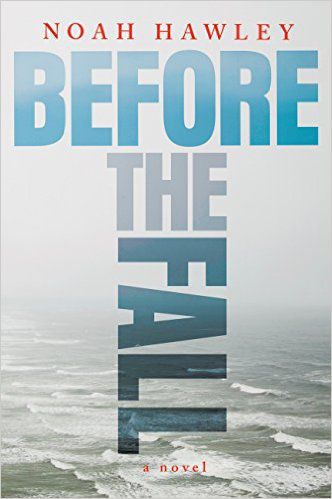 Before the Fall

by Noah Hawley
Published by Grand Central Publishing on May 31st 2016
Genres: Fiction, Literary, Thrillers, Suspense
Pages: 400
Source: Grand Central Publishing, NetGalley
Buy on Amazon
Goodreads


Plane crash mystery with bigger ideas. I had a blast reading Before the Fall! Plane crash + Martha's Vineyard + wealthy people with secrets + critique on the 24-hour news cycle = a guaranteed winner for me.
"I don't have to tell you how that's going to look," says Gus. Scott nods. "Since when does how a thing looks matter more than what it is?"
Sixteen minutes after takeoff, a private plane flying from Martha's Vineyard to New York plunges into the ocean. Artist Scott Burroughs and four-year-old JJ Bateman are the only survivors. While Scott tries to make sense of his new life in the public eye, the authorities and the media try to piece together the mystery with no physical evidence. The plane hasn't been found and Scott has very little memory of the incident. It might have been a case of pilot or mechanical error, but many of the adults on board were potentially the target of foul play or had motive to bring the plane down.
Once anointed a hero by your fellow man, you lose the right to privacy. You become an object, stripped of some unquantifiable humanity, as if you have won a cosmic lottery and woke one day to find yourself a minor deity. The Patron Saint of Good Luck. It stops mattering what you wanted for yourself. All that matters is the role you played in the lives of others. You are a rare butterfly held roughly at a right angle to the sun.
This book has one of my favorite openings ever! The beginning chapters are so thrilling, especially the scene directly after the plane crash. The story played before my eyes like a movie. I felt dread and urgency throughout the entire book, even though I already knew most of the character's fates. The story unfolds more like it would in real life, rather than the typical mystery/thriller. The media tries to keep the story going, by nitpicking at every little detail and trying to find a ratings-winning angle. They quickly turn on Scott, who was initially seen as the hero. Scott attempts to hide from the media's scrutiny, which is a suspicious act to many in the media. He forms a really sweet bond with JJ Bateman and that also raises their suspicions. Scott occasionally communicates with Gus Franklin, the NTSB agent in charge of the case and the most objective person in the book. There are other government agencies involved and each agency has tunnel vision about their pet theory. I really appreciated that the story stays focused on the crash and doesn't get sidetracked by any unnecessary romances, especially since Scott is a single man.
Everyone has their path. The choices they've made. How any two people end up in the same place at the same time is a mystery. You get on an elevator with a dozen strangers. You ride a bus, wait in line for the bathroom. It happens every day. To try to predict the places we'll go and the people we'll meet would be pointless.
While a majority of the book is about the media handling of the case and Scott grappling with unwanted attention, the answers to the mystery are revealed via the character portraits interspersed throughout the chapters. (I don't know if the print version has a table of contents, but avoid it if it does.) These profiles give some background on the passengers and details about their trail on the day of the crash. Even though we are only briefly acquainted with each character, I really cared about these people. I was hoping that somehow they would get a different ending. The passengers of the plane were:
The Bateman Family: 
• David, 56: Head of ALC News, a 24-hour news network with a point-of-view. Due to David Bateman's high profile and controversial job, the Batemans receive constant threats.
• Maggie, 36: David's wife and former teacher. She has been frustrated with David's work schedule.
• Rachel, 9: Daughter. Was kidnapped and held hostage for a few days in July 2008.
• JJ, 4: Son.
• Gil Baruch, 48: Israeli ex-pat and head of the Bateman's security for four years.
The Kiplings:
• Ben, 52: May have been under investigation by the SEC
• Sarah, 50: Ben's wife. Also frustrated with her husband's work. Not aware of any potential trouble.
• Scott Burroughs, 47: Recently sober artist whose career might be on the cusp of something big after years of failure. Maggie invited him on the plane, raising suspicions that they may have been having an affair. He is protective of his bag when he boards. Coincidently, he has painted a series of disaster scenes, including one of a plane crash.
The Flight Crew:
• James Melody, 50: Experienced pilot. Raised in a doomsday cult.
• Charlie Busch, 30: The first officer. Nephew of a senator and a partier with a bit of a substance abuse problem.
• Emma Lightner, 25: Flight attendant. There is a weird vibe between her and Charlie.
To Netflix an episode of The Care Bears with your children, and then later that night (after the kids are in bed) search for amateur couples who've filmed themselves breaking the laws of several states. To video conference from your work computer with Jan and Michael from the Akron office (about the new time sheet protocols), then click (against your better instincts) on an embedded link to a jihadi beheading video. How do we separate these things in our brains when the experience of watching them—sitting or standing before the screen, perhaps eating a bowl of cereal, either alone or with others, but, in any case, always with part of us still rooted in our own daily slog (distracted by deadlines, trying to decide what to wear on a date later)—is the same?
The central media figure is Bill Cunningham, a popular and corrupt political commentator on ALC. "Mr. Straight Talk, Mr. Divine Righteousness, who sat in our living rooms and shared our pain, who told us what we wanted to hear, which was that the reason we were losing out in life was not that we were losers, but that someone was reaching into our pockets, our companies, our country and talking what was rightfully ours." He is close to the Bateman family and was Rachel Bateman's godfather. He plays on people's emotions and he is convinced that Scott has something to do with the crash.
Discussion about the modern news media and the 24-hour news cycle fascinates me! Even though I don't subscribe to cable, I can't escape its influence. A majority of the televisions I encounter in waiting rooms, restaurants, and living rooms are set to a news network, primarily one specific major network. The content dominates conversations, usually mimicking the tone of the commentators. Before the Fall explores the tendency to forget that real people aren't characters in a movie and the thin line between speculation and accepted fact. It also asks if the constant inundation of news in our daily lives is making it difficult to separate entertainment from reality. 
All he wants is to be left alone. Why should he be forced to clarify, to wade into the swamp of lies and try to correct these poisoned thoughts? Isn't that what they want? For him to engage? To escalate the story? When Bill Cunningham invites him on the air, it is not to set the story straight so the story ends. It is to add a new chapter, a new twist that propels the narrative forward into another week of ratings cycles. A trap, in other words. They are setting a trap. And if he is smart he will continue to ignore them, move forward, live his life. As long as he doesn't mind the fact that nobody on earth will ever see him as he sees himself again.
If this was a straight suspense novel, I think I would've been disappointed in the ending, but I thought the ending was appropriate in context of the greater message. With all the speculation about complex plots that took the plane down–Cunningham mentions ISIS at one point–I was fine with how the greater mystery was tied up. I was confused about how Scott showed a remarkable amount of clarity at the end, especially considering his state of mind during the rest of the book. It also ended really abruptly. I wanted to know what the fall-out after the last scene was! Of course, that's how it happens in real life too; stories are promptly dropped after there are clear answers, especially if they don't suit anyone's agenda or incite any conflict.
Two things happen at the same time. By mentioning them together they become connected. Convergence. It's one of those things that feels meaningful, but isn't. At least he doesn't think it is? How could it be? … How many millions of other activities begin and end at the same time? How many other "facts" converge in just the right way, creating symbolic connectivity?
Before the Fall is relevant and fast-paced. Highly recommended for anyone who is looking for commentary on modern life with a little bit of mystery.
Related Posts