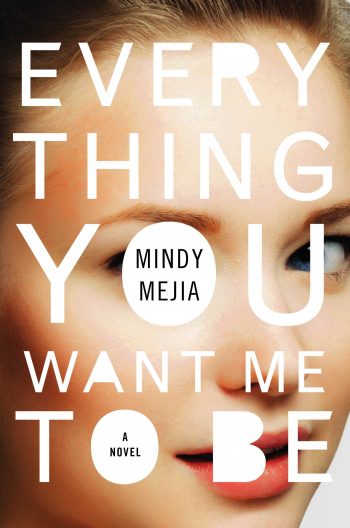 Everything You Want Me to Be

by Mindy Mejia
Published by Simon and Schuster on January 3rd 2017
Genres: Fiction, Thrillers, Suspense, Coming of Age, Contemporary Women
Pages: 352
Format: Electronic ARC
Source: Atria Books, NetGalley
Buy on Amazon
Goodreads


Eighteen-year-old Hattie Hoffmann has big dreams of leaving her rural Minnesota town for New York City and becoming a professional actress. Hours after her well-received performance as Lady Macbeth in a high school play, she goes missing. The next day her body is found in an abandoned barn. It turns out that her acting was not just reserved for the stage; the investigation reveals how much of a performance Hattie had been putting on for everyone around her.
I've always gravitated to the tragedies, where even witches and ghosts couldn't distract the audience from this central psychological truth: our own natures, we are all inherently doomed. Shakespeare didn't write anything new. He didn't invent jealousy, infidelity, or the greed of kings. He recognized evil as timeless and shone a spotlight directly, unflinchingly on it and said, This is what we are and always will be. [Peter]
Pine Valley is a farm town where everyone knows each other and nothing ever happens, so the close-knit community is shocked when one of their own is brutally murdered. The plot will be familiar to many, but it's still an enjoyable and addictive read. The small town investigation isn't heart-pounding or twisty, but I really liked the steady pace it maintained throughout. The most interesting part was not the investigation, but how the characters confront the situations they end up in. Two of the narrators are well-read and all the literary references (Macbeth, Jane Eyre, V., etc.) add richness to the narrative. It's interesting how they were able to be so analytical about the lives of fictional characters, yet they still make similar mistakes.
Every book changes you in some way, whether it's your perspective on the world or how you define yourself in relation to the world. Literature gives us identity, even terrible literature.
The story alternates between three perspectives:
• Hattie, the victim – Her chapters take place over the 2007-2008 school year, her senior year of high school. Her brother Greg was deployed to Afghanistan and the Hoffman's thought Hattie was the child they didn't have to worry about. They had no idea how many secrets Hattie was keeping. She spent most of her life playing a different character for everyone she encountered, even her family members. Sometimes I got the feeling that I was supposed to see her as a budding sociopath, but most the time she comes across as your average high-achieving, impulsive teenager. She's more mature than most of her classmates, but her life inexperience is conspicuous. She's manipulative and unrelenting when she wants something. She feels completely in control of her life and those around her, but is she prepared for when people go "off-script"? I liked Hattie, but I enjoyed reading about her more through the other character's eyes. One of my favorite lines describing her: "girl who kept shedding masks like a matryoshka doll, each one more audacious than the last, a psychological striptease that racked me with the need to tear her apart until I found out who or what was inside."
• Del, the local sheriff – His chapters take place after Hattie's death. Del is best friends with Hattie's dad and has known Hattie since she was born. He faces the challenge of leading an investigation while intimately knowing most of the parties involved. He wrestles with his legal obligations and his duty to his friend. The fact that he's even considering putting his friend first is a huge blow to his self-image as a lawman.
• Peter, new high school English teacher – His chapters take place over the 2007-2008 school year. Peter and his wife moved to Pine Valley from Minneapolis to take care of his ill mother-in-law. He always thought of his wife as a sophisticated urbanite, but she immediately settles back into farm life. His mother-in-law is dismissive of him and he feels like an outsider. He assumed the move was temporary, but there's no end in sight. His repeated attempts to reconnect with his wife are consistently rebuffed and he starts looking for an emotional connection in inappropriate places. Peter had a higher opinion of himself than I did, but I thought he was the most interesting character because he seemed to have the furthest to fall. I successfully predicted how his story would play out, but it was still fascinating to watch him circle an ethical line.
A child with a woman's body. [Hattie] didn't even know how young she was. She probably thought she was grown up and ready for the world, with her acting career and her endless quips and comebacks and that brain that soaked up everything around her. She probably thought there were only a few years between us, but it was a lifetime—dark, undiscovered caverns of disappointment and compromises. She was the adult idealized. I was the adult that really happened.
In Everything You Want Me To Be, desire and hubris become the characters' undoing. They make choices they know are wrong and succumb to temptation despite being cognizant of the potential consequences. Identity also plays a huge part. Hattie wears many masks, often to elicit specific behaviors from others. Can you spend your life pretending to be someone else without losing yourself? Other characters either become someone they don't recognize or watch someone they thought they knew morph into a completely different person. Can you ever truly know anyone—even yourself? Do we all have a dark side? I'm always going to be drawn to stories about the dark side that most people keep hidden and the secrets in a small town! I'd rate it a little lower if I was only thinking about plot, but all the other elements elevated it for me. I'll be anxiously awaiting Mindy Mejia's next book!
Books I thought about while reading:
• Everything I Never Told You: the title, a teenager who was pretending to be someone she wasn't, a broken marriage between two people who want different things, and the addictive quality of the writing. Admittedly, EINTY is on a completely different level (mystery isn't the first word that comes to mind when I think of it), but the part of me that loved reading EINTY liked Everything You Want to Be.
• Theme-wise it reminded me of Tana French's The Trespasser, the disastrous consequences of trying to exert extreme control over your life and treating other people like puppets.
• Cruel Beautiful World: Some of the character dynamics.
Related Posts