I received this book for free from NetGalley in exchange for an honest review. This does not affect my opinion of the book or the content of my review.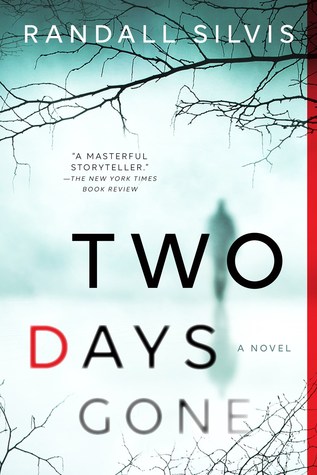 Two Days Gone

by Randall Silvis
on January 10th 2017
Genres: Fiction, Thrillers, Crime, Mystery & Detective, General, Police Procedural
Pages: 400
Format: Electronic ARC
Source: NetGalley
Buy on Amazon
Goodreads


I'm beginning to think that I have a bias against books centered around college professors! (See also: Listen to Me, All Things Cease to Appear) I didn't dislike Two Days Gone. I just couldn't get into it. The writing was lovely, but the story and characters were just okay for me.
Tom Huston's wife and three young children were stabbed to death and he's on the run. Could the beloved college professor and bestselling author have slaughtered his family? Sergeant Ryan DeMarco leads the search for the missing professor. Perhaps Tom's latest manuscript holds the answers to this mystery? The investigation takes DeMarco from the campus of Tom's university to seedy strip clubs.
I'm reminded of Nabokov's contention that there are always two plots at work in a story. The first is the plot of the story, but above it, hovering ominously like a fat-bellied cloud, is the writer's consciousness, which is the real plot of everything he writes. If a book is filled with love, it is because the writer longs for love. If the book drips violence, it is because the writer burns to levy justice, to decimate his enemies. The writer composes such books as a means of survival. Otherwise, his psyche would unravel. And the unraveling, depending upon its form, can be either pitiful or disastrous.
RYAN DEMARCO
Amazon calls this book a Ryan DeMarco Mystery, so I'm assuming it will eventually be part of a series. DeMarco is the character we spend the most time with. He was the inspiration for one of Tom's fictional characters, so they had previously become acquainted during Tom's research. DeMarco is disdainful of academics, but he immediately identified with Tom despite their many differences. He is shocked when the picture perfect Huston family is found murdered, presumably by Tom's hand.
The banter between DeMarco and his boss (his former subordinate) at the station was sometimes amusing, but I felt like I'd missed an earlier book in a series. I liked DeMarco most when he was doing fieldwork because the investigative interviews allowed me to know Tom from different perspectives. The two worlds that Tom was traveling between couldn't have been more different: (1) a university campus filled with grudges and professors fighting to make a name for themselves & (2) the strip club with tight-lipped employees who would rather stay off the grid. The closer DeMarco gets to finding Tom, the more he has to look to the literary greats to get a view into the suspect's psyche.
DeMarco suffers from a lonely and empty home life. His personal life slowly takes over the narrative, which might have been why I wasn't overly enthused by the story as a whole. He and his wife Laraine separated after the tragic death of their only child. Laraine lives in a cottage where she entertains random lovers. DeMarco sits outside her home and watches, occasionally becoming one of his wife's nighttime visitors. (Their story would have been right at home in Roxane Gay's Difficult Women!) While I wasn't that interested in DeMarco's personal life, the description of his relationship with his estranged wife had a good mix of the intimate and the everyday that made their relationship feel authentic.
THE HUSTON FAMILY
He was both a fiction and the truth. The stronger of the two was truth, however, and the truth sickened him and hollowed him out.
When we first encounter Tom Huston, he has just disposed of a large knife and is on the run. Unable to process what happened to his family, he begins to disassociate and think of himself as a fictional character. He decides to contact the mysterious Annabel, the only person who can help him piece together what happened. I was disappointed when his frenzied perspective became less frequent as the story continued!
The death of Tom's entire family was objectively horrifying, but I never got a real sense of Tom as a family man so I had a hard time linking into his grief or caring whether he was guilty or innocent. The humanizing parts where there (victim intros and the Huston/DeMarco interviews), but I wasn't completely sold–maybe because the family was just a little too perfect. At round 75% there's a picture of family life which gave me inklings of emotion, but it was already too late.
Tom's beautiful wife Claire is such a perfect extension of him that her portrayal, as minor as it was, irritated me. She felt more like wish fulfillment than a real-life person. The most interesting thing about her was that she and Tom used to spend nights in abandoned buildings, "places where their only real concern was how far through the night Claire's cries and moans might carry." I was rolling my eyes by the time she murmurs "Baby, make love to me again. I can never get enough of you."
Doesn't every guilty man hide his deeds behind his words and hid his thoughts behind his smile? Or behind other deeds?
I liked what I assumed was the dramatic finale, but the story just kept going and added an unnecessary complication. It was beautifully-written. Even the acknowledgments were a pleasure to read! I just didn't care about the characters enough to care about the other elements. Since what makes a character and their relationships compelling differs for everyone, I'm going to end with links to two positive reviews from Kirkus and Publisher's Weekly.
"What I have to do now is that which is not easy. That which I most fear. If I keep accommodating my fears, I can only move in reverse. That would be fine if by moving in reverse I could move back through time, but the past is a wall, a solid and impermeable wall. The past is a fortress that cannot be stormed."
Related Posts