I received this book for free from NetGalley, St. Martin's Press in exchange for an honest review. This does not affect my opinion of the book or the content of my review.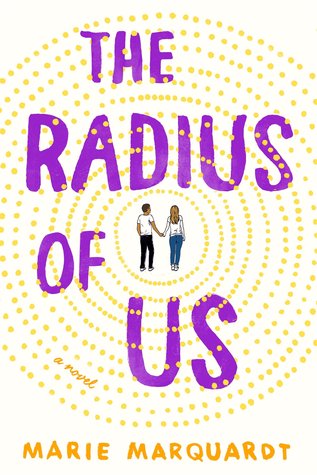 The Radius of Us

by Marie Marquardt
Published by St. Martin's Griffin on January 17th 2017
Genres: Young Adult Fiction, Social Themes, Emigration & Immigration, People & Places, United States, Hispanic & Latino, Romance, General
Pages: 304
Format: eBook
Source: NetGalley, St. Martin's Press
Buy on Amazon
Goodreads


3.5 Stars. High school senior Gretchen Asher's life changed forever the night she was attacked. She has lived in fear for the past six months. One day, she has a panic attack after seeing a young man who resembles her attacker. She realizes it couldn't possibly be the same person, so she finds him to apologize. The young man's name is Phoenix (18) and he just recently arrived in the United States. He and his brother Ari (12) fled their home in El Salvador to seek asylum in the United States. Gretchen and Phoenix quickly bond. She doesn't have to pretend with him. He's the first person who asks the questions that matter and really listens to her replies. For Phoenix, it's hard being an outsider in a new country where the people are automatically suspicious of him. Gretchen's attention makes this place feel like a home. Sadly, the pair might not have much time together. Phoenix has little hope of being granted asylum.
"Don't let that stuff from your past tell you who you are."
The chapters alternate between Gretchen's and Phoenix's perspectives. At first, I thought this book may be a little too YA for me, but these two characters slowly stole my heart as their background stories were revealed. The thoughtful gestures they made to each other as their friendship developed were so sweet. The story behind the title is a really 'aww'-worthy moment! Gretchen and Phoenix are able to lean on each other, but sometimes it seems that Gretchen is the one that demands the most support. When she realizes the disparity in the relationship, she steps up for Phoenix in a meaningful way. I'm leery of love stories, but it helped that these two characters were interesting as individuals. They had their own issues to deal with outside of falling in love and other interesting relationships besides each other. Their connection solidified because they were are able to empathize with each other in a way that others weren't able to.
"All of those people—they don't know what we know."
Gretchen has been suffering from PTSD since she was attacked. She can barely leave the house, never knowing what will trigger a panic attack. Well-meaning people try to talk to her about her incident, but they always seem more interested in the attacker's appearance or explaining to her what they would've done. She knows she'll never be the same, but all her friends and family are waiting for her to revert back to her old self. At the same time that Gretchen is trying to get a handle on her PTSD, she is also experiencing typical teen problems. Her boyfriend moved off to college and they're drifting apart. Her best friend Bree acts completely different since getting a boyfriend. One thing I liked about that storyline was that while Gretchen is a little annoyed by the new boyfriend, he ends up being a great friend to her and Phoenix. This isn't the only time that Gretchen's preconceived notions are challenged.
"My American Dream's way more simple than that. I just wanna be able to go for a walk in the woods alone—get on one of those little trails in the forest and walk for hours. That would be so awesome. Or maybe head over to a friend's place after dinner to watch a football match on TV, and not have to look behind my back every five seconds, not have to worry about whether I'll make it home alive."
In El Salvador, Phoenix and Ari get forced into a life-or-death situation. Phoenix sees only one way to protect his brother: flee. The four-month journey to the US was long and brutal. After the brothers reached the US border, they were detained and put into separate detention facilities. Phoenix was sent to Atlanta, Georgia, while Ari is in Texas. Phoenix is frustrated that Ari hasn't spoken one word since they were separated, traumatized by the horrors they witnessed. As an "unaccompanied minor," Ari has a good chance of staying in the United States, but only if he's able to communicate. Phoenix was fortunate enough to be taken in by a local family, but he has little chance of being granted asylum–and even less of a chance if anyone looks deeper into his past. In an unforgiving legal system, Phoenix is unable to put that past behind him. The thought of returning home is terrifying because he will almost certainly be killed. Phoenix's chapters shine a light on the United States immigration system, the conditions in detention centers, and what happens to young people once they reach the border.
Gretchen and Phoenix both survived things that no one should have to experience. They support each other as they learn how to overcome feelings of guilt and keep living a full life despite their past trauma. The Radius of Us is more than a story about two young people falling in love. Through the character's unique perspectives, the reader learns (1) about overcoming preconceived notions, (2) what it's like to be a victim of a violent crime, (3) how to be a supportive friend, and (4) why a person might leave the only home they've ever known and what awaits them at the other side. It also gives exposure to another country and culture that many might not be familiar with. On that last note, this book encouraged me to seek out more information on El Salvador. Phoenix's descriptions of pupusas had my mouth watering and I've already found a few local Central American/Salvadorean restaurants that I'm going to try! Recommended for young adult readers. Books like these are important for spreading awareness and fostering empathy.
___________________
Notes: How did the violence in El Salvador get so out of control? Hundreds of thousands of Salvadoreans fled while their country was immersed in a twelve-year civil war, many settling in the United States. In some areas, gangs began to form as a protective mechanism for these new neighborhoods. The US introduced new tougher immigration legislation in 1996 and began deporting large numbers of gang members back to their home countries. Still reeling from the effects of civil war, El Salvador was a fertile ground for violent gangs to thrive. (Sources: How El Salvador Fell Into A Web Of Gang Violence & Who's to blame for El Salvador's gang violence?)
Related Posts